World Health Organization 'Deeply Concerned' by Bird Flu Research
Some scientists have engineered a form of the deadly H5N1 virus that is easily transmissible and could cause lethal human pandemics.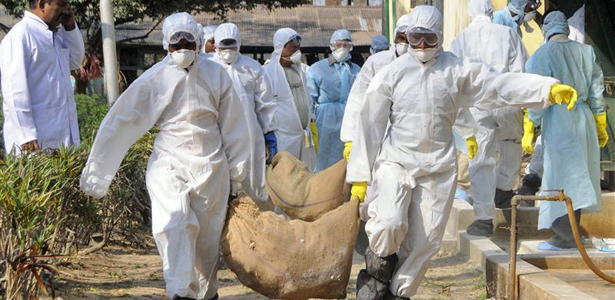 The World Health Organization (WHO) issued a stern warning on Friday to scientists who have engineered a highly pathogenic form of the deadly H5N1 bird flu virus, saying their work carries significant risks and must be tightly controlled.
The United Nations health body said it was "deeply concerned about the potential negative consequences" of work by two leading flu research teams who this month said they had found ways to make H5N1 into a easily transmissible form capable of causing lethal human pandemics.
The work by the teams, one in The Netherlands and one in the United States, has already prompted an unprecedented censorship call from U.S. security advisers who fear that publishing details of the research could give potential attackers the know-how to make a bioterror weapon.
The U.S. National Science Advisory Board for Biosecurity has asked two journals that want to publish the work to make only redacted versions of studies available, a request to which the journal editors and many leading scientists object.
In its first comment on the controversy, the WHO said: "While it is clear that conducting research to gain such knowledge must continue, it is also clear that certain research, and especially that which can generate more dangerous forms of the virus ... has risks."
H5N1 bird flu is extremely deadly in people who are directly exposed to it from infected birds. Since the virus was first detected in 1997, about 600 people have contracted it and more than half of them have died.
But so far it has not yet naturally mutated into a form that can pass easily from person to person, although many scientists fear this kind of mutation is likely to happen at some point and will constitute a major health threat if it does.
MUTATIONS
Flu researchers around the world have been working for many years trying to figure out which mutations would give H5N1 the ability to spread easily from one person to another, while at the same time maintaining its deadly properties.
The U.S. National Institutes of Health funded the two research teams to carry out research into how the virus could become more transmissible in humans, with the aim of gaining insight on how to react if the mutation occurred naturally.
The WHO said such research should be done "only after all important public health risks and benefits have been identified" and "it is certain that the necessary protections to minimize the potential for negative consequences are in place."
The agency also said it was vital that new rules on the sharing of viruses and scientific know-how were enforced to ensure those countries at most immediate risk from H5N1, mainly developing countries in Asia such as Indonesia, Vietnam, and others, would benefit from advances in research.
During the H1N1 swine flu pandemic in 2009-2010, many developing countries complained they had no life-saving antivirals or vaccines to combat the new virus, despite having made samples of the virus available to researchers and pharmaceutical companies to develop the medicines.
It is normally laboratories in wealthy developed countries that have the level of scientific expertise needed to work on complex flu viruses, while bird, or avian, flu viruses themselves often come from less well developed Asian countries.
A new Pandemic Influenza Preparedness Framework was agreed and adopted by all WHO member states in May 2011 to set rules for sharing flu viruses that have pandemic potential, and sharing the benefits of the expertise gained.
"WHO considers it critically important that scientists who undertake research with influenza viruses with pandemic potential samples fully abide by the new requirements," the U.N. agency said in its statement.
Image: Stringer/Reuters.