'We're Going to Be in Trouble': AIDS Groups Plan for Funding Cuts
For 30 years now, AIDS service organizations have played the role of advisor, caregiver, and friend, but they need to consolidate -- or die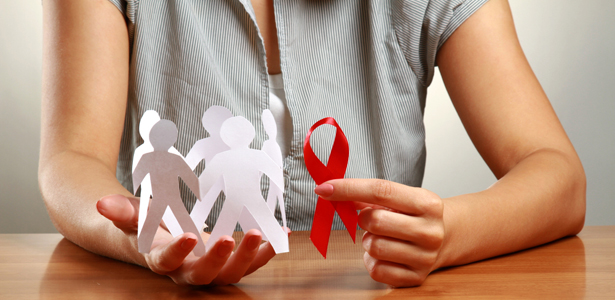 Thanks to effective treatment, many HIV-positive men and women today can live a healthy, normal life. But it all comes down to their being able to access medical care and adhere to a daily regimen of pill-taking, regular blood work, and at least quarterly doctor visits. Not everyone has the kind of organized, privately insured life it takes to manage such a regimen without assistance.
That's where AIDS service organizations have played the role of caregiver, advisor, advocate, and friend for their clients. For 30 years, these community-based agencies, usually started by volunteers, have worked in towns and cities throughout the country to provide or keep clients plugged into the medical and social services they need to live independently and well.
Fighting a global scourge.
A special report
Whether offering free meals, transportation to medical appointments, or support groups for the newly diagnosed, AIDS groups have captured the hearts of many communities with their passion and high-quality services, lovingly offered.
They have proved the cost-effectiveness of home-based care and support services for people living with chronic illness, a model that is ready to be applied to those with other chronic conditions, including diabetes and hypertension, even the frail elderly.
But the groups' role is uncertain going forward as the federal government, the biggest funder of HIV services, is now defining HIV care and prevention in narrow medical terms.
How and where to provide the "wraparound" services the AIDS groups have perfected is the question tying hundreds of organizations, and their government funders, in knots.
THE CARE ACT'S DUBIOUS PROSPECTS
Since its 1990 passage, the Ryan White CARE (Comprehensive AIDS Resource Emergency) Act has been the federal government's third -- after Medicaid and Medicare -- largest source of funding for AIDS care and support.
President Obama has requested $2.4 billion to fund the CARE Act in fiscal 2012. The government estimates that 500,000 of the 1.2 million believed to be living with HIV in this country receive some type of service paid for by Ryan White.
It is also the main source of funding for most AIDS service organizations.
But as the CARE Act's 2012 expiration draws near, it's uncertain whether Congress will reauthorize the nation's only disease-specific act for a fifth time.
Lower-income HIV clients already are being shifted from Ryan White-funded programs into Medicaid programs as the Patient Protection and Affordable Care Act (ACA) focuses on integrated services, prevention, and wellness. The year-old National HIV/AIDS Strategy's emphasis on efficiency and measurable outcomes also means big changes are afoot for organizations that don't provide direct medical services.
Laura Cheever, M.D., deputy associate administrator in the Health Resources and Services Administration's HIV/AIDS Bureau, which oversees CARE Act programs, told me the Ryan White program was always intended to fill gaps that private or public insurance programs don't fill.
She pointed out that gaps will remain in the Medicaid programs, and local need assessments will be used to determine how to fill them. She said AIDS service organizations "have to look at their own business model and see where they can partner and connect," adding, "We are not going to tell them how they need to evolve."
RETOOLING FOR THE FUTURE
Clearly it's up to the organizations themselves to recognize and seize the new opportunities within the restructured medical-centered paradigm.
One such opportunity will be to partner with Medicaid and Medicaid Managed Care organizations to provide non-emergency transportation and other wraparound services.
Barbara Edwards, director of the Disabled and Elderly Health Programs Group within the Center for Medicaid and CHIPS (CMCS), part of the federal Centers for Medicare and Medicaid Services, said the types of support services AIDS service organizations provide could be funded by Medicaid.
She also suggested that these alliances could help replace income that would be lost if the CARE Act is cut or ended. "These new contracts would open additional revenue streams for the organizations in lieu of solely relying upon donations or Ryan White funding," said Edwards.
Another traditional role AIDS-focused groups have played is in providing HIV prevention programs. From billboard campaigns to one-on-one peer counseling, the groups have the widest reach in their communities because they also have the deepest roots.
Janet Cleveland, deputy director for prevention programs at the Centers for Disease Control and Prevention's Division of HIV/AIDS Prevention, said, "We see CBOs (community-based organizations) and ASOs (AIDS service organizations) continuing to have an essential role in terms of prevention in this country."
But even HIV prevention is being redefined in medical terms, focusing on ways to keep HIV-positive clients on their meds and thereby less infectious. Cleveland called this "high-impact prevention," and said there is "more of a focus on working with prevention for positives."
So merely offering prevention services could require partnering with a medical facility.
PARTNER -- OR FOLD
From his vantage point as president and CEO of AIDS United, a lobbying group in Washington representing more than 400 community-based AIDS organizations, Mark Ishaug told me, "There is no future for the AIDS stand-alone, AIDS 'silo service sector' as we once knew it."
Then he added, "Part of me feels like a real Janus face: Do we need AIDS-exceptional services? Mostly I think not. But do we need services that provide exceptionally smart HIV care? Yes. It's not a contradiction."
Ishaug's predecessor at AIDS United, Rebecca Haag, is director of Boston's AIDS Action Committee, the largest and oldest AIDS service organization in Massachusetts. She has already overseen the merger of her organization with two smaller community groups, and she sees more mergers and consolidations ahead.
"Any AIDS service organization that believes it can remain singly focused on HIV and AIDS I think is totally putting care at risk for people with HIV/AIDS because there is no way that system can be maintained," she told me.
At Chicago's Howard Brown Health Center, one of the nation's pioneering HIV/AIDS service providers, president and CEO Jamal Edwards said, "Partnerships are going to be key, particularly with healthcare providers and hospitals."
He predicted that HIV care would become more routine, as has been the case for other chronic illnesses such as diabetes. "You don't see a bunch of diabetes organizations," said Edwards. "Every doctor is trained to diagnose and treat it. HIV is going to be the same way."
Economics alone are a driving force in reshaping the AIDS services landscape. Limited resources are today's reality. Squeezing every dollar until it leaks green ink is everyone's goal.
Shawn Lang, a longtime AIDS activist and policy director for the Hartford-based Connecticut AIDS Resource Coalition, said, "Given that there's diminished resources and more people in need, how do we maximize the resources that are out there, make sure that people with HIV and AIDS have their needs met, and not be duplicative?"
She pointed out that there are three AIDS service organizations in New Haven alone. "Do we need three AIDS organizations in one city? Is that the best use of resources?"
KEEP THE GOLD STANDARD
Long-time advocates for people with HIV/AIDS are concerned that the successful continuum-of-care model pioneered and, many believe, perfected by AIDS service organizations will disappear as the federal government -- by far their largest funder -- shifts its focus to medical care, including "treatment as prevention," and as the CARE Act's purpose and continuation hang in the balance.
National Association of People With AIDS president Frank Oldham said, "We fought very hard during three decades to build an infrastructure that delivers quality care and treatment to people living with HIV/AIDS. We should be working to bring the high standards that Ryan White has developed to a national health care system for all people in America."
Paul Jellinek, a consultant for private foundations with New Jersey-based Isaacs Jellinek, was a vice president with the Robert Wood Johnson Foundation in the late 1980s when the foundation launched its AIDS Health Services Project to replicate the continuum-of-care model of AIDS services across the country.
He said the model -- also called the "San Francisco model" because the hard-hit city created the most highly regarded, widely studied network of community-based HIV/AIDS services -- is not only extremely cost-effective, but can be readily adapted to serve those with other chronic or debilitating illness, or the homebound elderly.
Preserving the lessons learned from 30 years of HIV/AIDS services and adapting them to improve healthcare for all is certainly an ideal; ultimately, it's a secondary benefit. Keeping people with HIV well, and protecting others from potential infection, is still the top priority.
Joel E. Gallant, M.D., one of the leading HIV specialists in the U.S. and a professor of medicine and epidemiology at the Johns Hopkins University School of Medicine in Baltimore, warns that that if Ryan White disappears and HIV is "just another disease" covered by Medicaid, "we're going to be in trouble."
He explained, "I have no doubt that the first to go will be AIDS service organizations and services not seen as part of medical care. If we see the disappearance of adherence counseling, social work, etc., it's going to mean a larger proportion of patients will drop out of therapy and not be effectively treated. Just as we learn that there is a 96 percent lowered risk for HIV transmission, we're going to see more HIV transmission."
LOOKING AHEAD
At Washington, D.C.'s Whitman-Walker Health, executive director Don Blanchon told me his agency has joined many other large AIDS service providers in broadening its scope beyond HIV/AIDS, reclaiming its original mission as an LGBT health clinic.
Having gone through it so recently at Whitman-Walker, Blanchon had advice for other groups. "Taking an honest assessment," he said, "of programs and services starts leading you down the path toward asking, 'Can I be a stand-alone organization?' 'Can I be part of someone else? Maybe formally linked but not merged with an existing center like Whitman-Walker?'"
Blanchon sees the "new" Whitman-Walker's integrated health and medical services as a good development for HIV clients. "We believe that by being a community-based group that can serve anybody who walks through the door, you are taking the stigma of HIV away. So if you walk in now it's not presumed that you have HIV."
In the final analysis, the best gauge for all medical and social services for people with HIV/AIDS should be how well they contribute to diagnosing and managing clients' HIV infection, said Gregory Pappas, M.D., director of the HIV/AIDS, Hepatitis, STD and TB Administration within the District of Columbia health department. "We've got to measure and evaluate what we're doing in terms of our contribution to suppress the virus in individuals and in the community," he said.
No matter whether services are provided by an organization with "AIDS" in its name, or a hospital, Pappas said the main thing is supporting HIV clients' adherence to treatment; everything else is details.
"If people don't take their meds," he said, "their housing needs won't matter because they'll be dead."
Image: sheff/Shutterstock.