Very Early Preterm Boys Face More Complications Than Preterm Girls
The survival odds for babies born long before they're fully developed are much better than in years past, but boys are still lagging behind.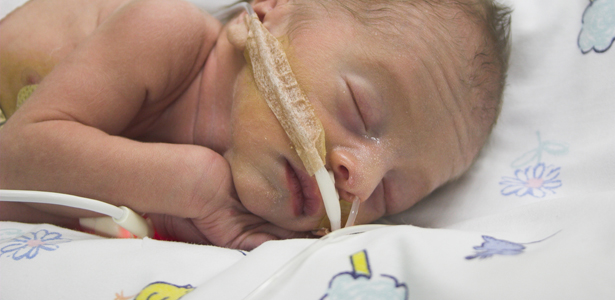 Babies born extremely prematurely have much better survival odds now than in years past, but boys seem to be lagging behind girls despite advances in medical care, according to an Australian study.
Researchers whose findings appeared in Pediatrics found that of more than 2,000 infants born very preterm -- in the 28th week of pregnancy or earlier -- boys had a somewhat lower survival rate and were more likely to have long-term neurological problems like blindness, deafness, or cerebral palsy.
"In the modern era of neonatal management, male infants still have higher mortality and poorer long-term neurologic outcome," wrote lead researcher Alison Kent, of Canberra Hospital and the Australian National University Medical School.
Of 1,394 baby boys out of the more than 2,500 infants studied, 23 percent died in the hospital compared with 19 percent of girls. The extreme preemie boys had a higher rate of moderate to severe "functional disability" by the time they were three years old, with nearly 20 percent affected versus 12 percent of girls.
But the gender gap appeared to disappear among infants born during the 27th or 28th week of pregnancy, though researchers said the pattern should be "interpreted with caution."
Pregnancy normally lasts about 40 weeks, with babies born before the 37th week considered preterm and those born before the 34th week being "early preterm." In the United States, between three and four percent of births are early preterm.
It is well known that the earlier an infant comes into the world, the greater its risks of death or long-term health problems. But what is not so clear is why very early birth seems more dangerous for boys. The Y chromosome, which determines male sex, also influences certain health factors, Kent said in an email. It is known, for instance, that more male fetuses than female are lost to miscarriage.
"There is also evidence that there are sex differences in how the brain responds to injury, which may account for the differences in neurological outcome," she added. Another possibility could be differences in boys' and girls' "cardiovascular responses," Kent said.
Problems in the cardiovascular system, such as blood pressure dysfunction, are more common the earlier an infant is born. If boys are less able to handle those problems, it might help explain why the gender gap is seen in the very earliest births, but not at week 27 or 28.
Kent said she expected that results would likely be similar in other nations with intensive infant care comparable to Australia's. But since most of the infants were white, it was unclear if the findings would be similar in a more diverse population.
Image: Gert Johannes Jacobus Vrey/Shutterstock.