The Anatomy of a Medical App
The CEO of eMedia Interactive, a medical education app publisher best known for Pocket Body, discusses user-centered design, content models, and reaching a wide audience.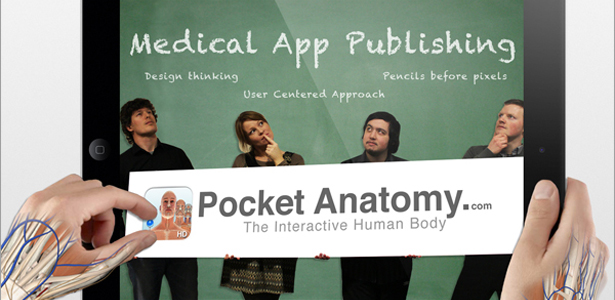 Medgadget has been featuring a large number of medical apps and their developers over the last year -- apps that are slowly changing the delivery and quality of health care in their own way. One such company is eMedia Interactive, a medical education app publisher based in Galway in the West of Ireland, with a strong focus on user-centered design. eMedia's flagship product, Pocket Body, is a detailed 3-D anatomy learning app, which we have been following at Medgadget since its release in 2010.
We visited eMedia's headquarters earlier this month to catch up with CEO Mark Campbell and members of their interaction design team to find out a little bit more about what's involved in producing their intuitive and content rich anatomy apps. As a holiday season/New Year token of goodwill, and to coincide with our feature, Mark and his team are offering a 50 percent discount for the Pocket Body for the iPad (normally $29.99) and iPhone (normally $19.99) until early January on the iTunes store.
Where did the idea for Pocket Body come from?
The idea for Pocket Body came about while getting to know, understand, and observe how medical students, health care professionals, and the general public learn, communicate, and visualize the complexities of the human body.
Our team's background stems from multimedia design and development for university schools of medicine, private medical companies, and hospitals. With the emergence of the iOS, it was a nice next step for us to migrate from creating detailed 3-D animations and Web-based medical eLearning courseware for our health care clients to publishing our own unique suite of mobile medical education apps.
What is the major primary and secondary markets Pocket Body is targeting and how is it benefiting these end-users?
Our primary market is the medical student seeking an intuitive anatomy study aid. Our app is hugely popular with this cohort. We've also found it interesting to learn that this group use the app a lot in informal learning settings -- i.e. using our multiple choice quizzes for self-testing and revision when on a coffee break, waiting for a bus, or taking the subway.
Outside of this core group we are noticing increased interest and use from residents looking to refresh their gross anatomy while working in a clinical setting.
Lastly, we regularly receive feedback from health care professionals who are using Pocket Body to engage with their patients when communicating a diagnosis. Instead of pointing to a wall chart or plastic model, they are using our app. Furthermore, not only do patients better understand their diagnosis, but they also find it easier to relay their condition to their families.
What is common to each of these groups is that they all share an interest in visualizing the human body.
You have mentioned user-centered design as a core value for eMedia. How do you carry out your end user validation of your products?
We see ourselves as being different in that we co-develop with medical students and professionals for medical students and professionals. In the creation of Pocket Body, we deliberately set out to engage with our primary audience -- the medical student. We worked with groups of medical students to show us how they currently learn anatomy and what resources they use (i.e. flash cards, study notes, highlighter pens, video, cadaver lab notes, online quizzes, as well as existing Web and mobile apps). We discussed the positive and negative aspects across each resource and wondered: How can we bring about something meaningful and beautiful, that will complement these learning behaviors, and create a powerfully engaging learning experience using this new iOS technology?
The validation process began in 2009 with our continued close relationships with local and U.S.-based medical students and professionals, and has continued through the daily feedback we receive, enabling us to push out meaningful updates to our community of users worldwide. In 16 months, this community has benefited from nine major updates to our Pocket Body app, with 90 percent of these changes emanating from medical practitioners' and students' feedback and suggestions. With each update freely available, it's a win-win for all concerned. Many of our new users hear about us through word-of-mouth from existing users who are pleased to see us responding to the community's collective needs.
How do you develop the models and content for you products?
Content and models within our apps are developed both in-house as well as licensed externally.
What is the challenge for the relatively small team at eMedia in producing such significant products to a wide audience?
Our unique mix of pedagogy, medical expertise, software development, and user-centered design works really well for us, as it allows us to build in the individual feedback we receive into our user-centered design and agile software development processes.
We are in a growth stage right now, and our major challenge is to continue to make advancements while maintaining our creative dynamic and user-centered spirit. We also want to continue to work with our community of users in developing first-class medical education software ... but these are nice challenges to have.
Where would you see eMedia Interactive and Pocket Body two to three years from now?
I think the introduction of game-based learning, gamification techniques, and social learning technologies into the medical education sphere is where things are going. We want to be there too, as that's where we see medical education moving in the coming years.
We love what we do and if we can still get the same satisfaction out of what we do in three years' time, as a creative company, punching above our weight, building beautiful and meaningful medical education apps, then great!
Image: eMedia Interactive.
---
This post also appears on medGadget, an Atlantic partner site.