Santa Visits the Girl Who Was Born Twice at Texas Children's Hospital
For the past 17 years, Timothy Bella's father has been dressing up as Santa Claus to bring gifts to kids at the nation's largest children's hospital.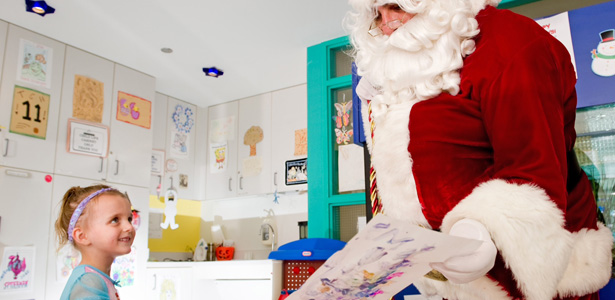 When I was six, I didn't believe that the man dressed as Santa Claus was actually Kris Kringle. Turned out, I was right. It was my father. (Between you and me, I still don't think he's gotten over the night I informed him that the Santa who had dropped off a Stimpy doll minutes earlier was a fake.) He's been playing Santa for 34 years, 17 of which have included visits to Texas Children's Hospital in Houston, the nation's largest freestanding children's hospital with the bittersweet distinction of having more than 400 beds in use.
This year, I decided to see for myself what my father does around the holidays. Walking into the hospital, I find three Santas, around 30 volunteers, and tens of thousands of dollars worth of donated gifts, from boxes of Barbies to board games to basketballs, each gift bundle assembled for ages 0 to 18. There's even a bag for a 24-day-old baby boy.
Being Santa at a children's hospital has its own dynamic, Dad tells me. It serves as more of a general distraction than pure entertainment. Conversation ranges from the kids' favorite school activities to whether LSU and Alabama can score more than 15 total points in the BCS Title Game, but it never centers on their medical condition or when they're going home. For some, that day will never come.
"I can hide a lot of emotion under my beard," Dad says.
Going room to room, my father -- in his velvet red suit, white wig and beard, white gloves, black boots, and gold glasses -- surveys the hallways. There are rooms with pink signs, meaning Santa cannot enter because the child's condition doesn't allow for it. In between rooms, Dad reminds me of last year's run-in with several players from the Houston Texans, who had also come to visit the children. Santa, a Texans season-ticket holder, pointed his index finger in the direction of quarterback Matt Schaub and others, and, in so many words, ordered them to stop slacking off. (After going 6-10 last year, the Texans are making the franchise's first playoff appearance this season. Coincidence?)
Meeting with a hospital official, I'm invited to speak to a patient and her family.
"You have to meet Macie McCartney," she tells me. "She was the baby born twice."
"Wait, say that again?" I ask.
"She was born twice."
Macie McCartney doesn't know it, but four years ago, doctors didn't expect her to be here today. On February 15, 2008, just 23 weeks into her pregnancy, Keri McCartney and her husband, Chad, went in for an ultrasound to find out the gender of their fifth child. Keri was hoping for a girl. During the examination, the sonogram tech looked around the room, remaining quiet. Finally, she spoke.
"She said the baby had a very large mass growing on her tailbone," Keri McCartney remembers. "She said, 'It's probably as big as the baby.' She told me right away it was sacrococcygeal teratoma."
Keri and Chad learned that one in every 40,000 babies develops this non-cancerous yet potentially fatal external tumor. The tumor, which turned out to be the size of a grapefruit, was growing so rapidly on Macie McCartney's tailbone that it was stealing blood her body needed to develop properly inside her mother's womb. Keri's OB gave Macie a one-in-10 chance of survival.
And the options were emotionally complicated and medically risky: Either Macie would have to be delivered at around 25 weeks, with the strong possibility that she wouldn't be able to live outside the womb, or doctors would have to perform fetal surgery to take Macie out at 25 weeks, remove the tumor, and place her back into the womb to recover.
Less than two weeks after finding out about the tumor, the McCartneys decided to go ahead with open fetal surgery, a procedure that had been successfully completed fewer than 20 times worldwide. It would be the first time the operation would be conducted at Texas Children's Hospital. But with Macie's heart getting weaker by the day and excess fluid building up around it, there wasn't much time to deliberate.
On February 28, 2008, doctors performed a C-section, working with 80 percent of Macie's body outside the womb while her head and upper body remained inside and blood continued to flow from her placenta. Keri McCartney remembers nothing of the procedure; she told me she was given seven times the normal dose of anesthesia so that her uterus would stay completely at ease during the surgery.
"I just saw her little foot, her little leg," Keri McCartney says. "To see the size of the tumor next to her little leg just broke my heart."
In the days following the surgery, Keri McCartney had a short conversation with her husband, Chad. "The first thing I asked was, 'Is Macie alive?' He said, 'Yeah, she made it.' I said, 'Did they get out the tumor?' He said, 'Yeah, they got the tumor.'"
Macie stayed in her mother's womb for another 10 weeks before being born again on May 7, 2008, this time tumor-free. Three years later, a six-inch scar runs down her tailbone and over her bottom, stitched up from recent plastic surgery. Two drains hang from her side, serving as pouches for any fluid resulting from the procedure. She may not be able to sit normally for a while, but last week's plastic surgery was the final scheduled operation for Macie McCartney. The three-year-old tells doctors and her parents that she wants to have a butt that looks like her sister Mya's.
Today, the little girl is playing with farm animal toys -- rabbits, cows, zebras, chickens, anything but snakes -- in her aqua-blue Disney fairies T-shirt and purple-sequined headband. She is minutes away from being discharged from Texas Children's Hospital for what will likely be the final time. Upon hearing this news, I offer her a high-five. She doesn't reciprocate, although she does smile, still not quite sure what to think of me.
Her mother reflects on Macie's upcoming release. "I think you're just reminded about what's important in life and how blessed we really are and have been," she says. "We don't have all the Christmas preparations ready by any means, but we're just so thankful that we can have hope."
Meanwhile, Macie still believes in "him."
"Oh my gosh, you'd better get ready," Keri McCartney tells her youngest daughter. "Is that Santa?"
I can hear my father's bells jingling down the hall of the 11th floor. Macie McCartney's ears perk up at the sound of "Ho! Ho! Ho!" He is a few doors away, but she smiles, continuing to paint her Christmas tree, looking out the glass window of the play center. Then, just as he has done for the past 34 years, he barrels in, banging the sleigh bells on his belt, wishing anyone within a few feet of him a Merry Christmas. Macie jumps up, her tubes still sticking out from underneath her shirt. The expression on her face -- bright, curious, infinitely happy -- was the one I had as a kid whenever the Santa with the familiar-sounding voice came back into my life right before every Christmas.
My father showers Macie with gifts. She smiles, still curious about the man in the red suit.  In exchange, she gives him the Christmas tree painting, which includes just about every color except red. She signs her initials at the top.
"Santa loves you," he tells her, hugging her. She gives him a high-five, and I accept the fact that a three-year-old will more readily give a high-five to Santa than to some reporter in a sports blazer. Minutes later, the mother and daughter are discharged from the hospital. Their family's Christmas present has arrived a couple of days early.
Macie McCartney believes in Santa Claus. And if she does -- well, I do, too.
"So how did that go?" my father asks me later, wanting to hear about my reporting. "Did it go well?"
"Yes, it did," I tell him. "Thank you, Santa."
Image: Allen Kramer/Texas Children's Hospital.