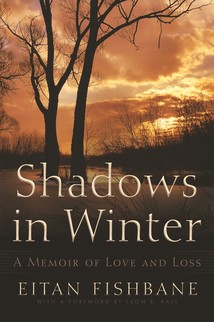 I didn't know it then, but those moments before the seizure would be the last time I would speak to Leah (at least when she was conscious) -- and it was the last she would speak to me. From that instant, she would never regain consciousness. Remembering it now, I wonder what her last thought was before slipping under: Was her mind thinking clearly enough at that point to harbor any organized consciousness, or was it just the moving slides of fleeting perception? Did she intuit that these would be her last moments of awareness and seeing? Was she thinking of Aderet? Was she thinking of me?
The doors to the CT scan room open; the team of doctors emerges. It is Dr. A. who speaks to me first.
"Mr. Fishbane."
The haze of my waking dreams drifts out and passes over me again.
"The scan shows a large mass in your wife's brain. From the CT we can't tell whether it is a tumor or a bleed, and we'll need to do an MRI to determine that."
Again I am outside of myself. The odd sensation of unreality.
Did he actually just say that? Did I imagine the whole thing? I suddenly understand that each moment of terror on this otherwise ordinary Tuesday has led to this, each step leading us with an inexorable force to the worst-case scenario. Now falling, falling -- into the emptiness of the nonexistent, of disbelief, into a story that is not mine. Not mine...