Is There Still an AIDS Crisis in the U.S.? It Depends on Who You Are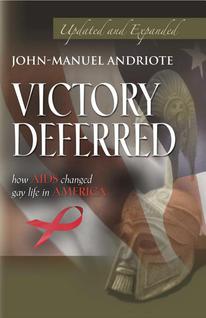 As three decades of AIDS were marked in 2011, it was startling to see the degree to which Americans' notoriously short memories had already begun to airbrush away the experience of their gay countrymen's devastation and defiance in the plague years. Used by now to thinking of the "face" of AIDS as that of an impoverished, dark-skinned African woman or baby, even the nation's best-educated young people seem not to be aware of the plague's impact here in their own homeland, beginning in the very decade when many of them were born.
"The de-gaying thing really worked," said author and Dartmouth College professor Michael Bronski. "For better or worse, we did our jobs." As evidence, Bronski described a class about AIDS he taught, called "Plagues and Politics." He said his students couldn't understand why he spoke of AIDS as a "gay disease." Even a lesbian student told him, "I thought it was a little weird you were talking so much about 'gay.'" She believed AIDS "was Africa and inner-city drug users, but mostly Africa." Another student said, "I was wondering how you were going to bring in the U.S. part."
Young gay men can be forgiven for not knowing the details of their community's recent travails. They didn't live through the nightmare, after all. At the start of the millennium, the New York Times noted that a generation of young gay men had by then already come of age without seeing their peers suffer and die from the horrific and disfiguring effects of HIV before Highly Active Antiretroviral Therapy (HAART) brought such dramatic change for many of those living with the virus.
Older gay men, many having lost lovers and friends and possibly living with HIV themselves, seem to prefer more pleasant subjects than the horrors we lived through. It's understandable, to an extent. Like returning war vets, the grief and shock sustained by our wounded warriors keeps so many of us silent.
Unfortunately, our silence means our younger brothers are far less likely to learn about the bravery, courage, and creativity with which our people faced the fight of our lives, for our lives. "Gay men in their forties and fifties don't want to talk about AIDS," said long-time activist and former National Gay and Lesbian Task Force director Urvashi Vaid. Hundreds of men in that very age group streamed by as we talked on a brilliant August Saturday outside Joe, the Provincetown coffeehouse. They looked festive, if grayer and a bit less slender than when we partied in our 20s at the Boatslip's daily tea dance. "We all have PTSD [post-traumatic stress disorder]," said Vaid.
Our silence means the organizations we created to care for our sick and dying friends and neighbors are struggling to raise funds as they continue to care for people with HIV. In Miami, Rick Siclari, the chief executive officer of Care Resource, said, "White gay men are not giving as much today." Now the agency is hoping its new clients, many of them black and Latino, will participate in fundraising by giving them the chance to make smaller donations in the five to ten dollar range.
It's as if we haven't learned one of the most important lessons that we ourselves taught the world: "Silence = Death," as ACT UP famously put it. It would seem that silence is inexcusable when gay and bisexual men of all races continue to bear the overwhelming brunt of the American AIDS epidemic. Extraordinary numbers of us continue to become infected with HIV. And thousands of our brothers each year are still dying from AIDS because they don't know their HIV status until it's too late. They likely don't have the means to access life-saving medical treatment or the stable life needed (including housing) to use it properly, or else their bodies simply don't respond to the medication.
In 2010, the Centers for Disease Control (CDC) released figures showing that, although the agency estimates gay and bisexual men to account for only two percent of the U.S. population over age 13, we are 60 times more likely than heterosexual men and 54 times more likely than women to be diagnosed with HIV. We account for 48 percent of the more than one million people living with HIV in the United States, an estimated 532,000 men. We comprise nearly half (48 percent) of all new HIV infections in the U.S., an estimated 28,700 new infections a year. In 21 major U.S. cities, one in five gay men is HIV-positive. Of 8,153 gay and bisexual men tested in the cities, 1,562 were positive. In Baltimore, 38 percent were positive; 29 percent in New York City; 26 percent each in Dallas and Houston; Miami, 25 percent; 23 percent in San Francisco; and 21 percent in New Orleans.
HIV infection has steadily increased among gay and bisexual men in the United States since the early '90s, even as it has decreased among heterosexuals and injection drug users. Most new infections among black and Hispanic gay/bi men are among young men between the ages of 13 and 29. Young black MSM (men who have sex with men) are twice as likely as their white and Hispanic peers to get HIV. White gay/bi men are mostly being diagnosed in their 30s and 40s. Half of all infected gay/bi men don't know they are HIV-positive. More than two-thirds of infected black men, and nearly 80 percent of HIV-positive young men aged 18 to 24, are unaware they have the virus. And there is still the death toll of AIDS, in spite of medical advances that have allowed many to live well with HIV rather than die in short order from AIDS. By the end of 2007, AIDS had killed an estimated 282,542 gay and bisexual men in America, most in the prime of life.
Long-time Los Angeles gay activist David Mixner in August 2010 called it the best and worst moment in the plague's three decades. "The good news is indeed reason to celebrate," he said. "Real progress is being made in fighting this disease." As for the bad news, Mixner said the recessionary economy was "wrecking havoc with HIV/AIDS budgets, international funds to fight HIV, research and treatment and care." In particular, Mixner noted that the federal AIDS Drug Assistance Program (ADAP) has either cut back or frozen in place. "Unless this situation is totally corrected," said Mixner, "it could mean a death sentence for some people with HIV/AIDS."
At the time of Mixner's comments, more than 3,000 individuals in this country were on ADAP waiting lists in 13 states, hoping the program would enable them to receive the life-saving medications they can't afford on their own. In early summer 2011, the Kaiser Family Foundation reported that 8,100 Americans were now on the ADAP waiting lists across the country. Without guaranteed access to HAART for everyone who is HIV-positive and can't afford the expensive medications on their own, any hope of treating our way out of the epidemic is wishful thinking. And for those with HIV denied the medication they need to suppress the virus -- rendering them less infectious -- the chance of developing horrific illness and death from AIDS increases with each passing day, even in 2011.
In the summer of 2010, the Presidential Advisory Council on HIV/AIDS (PACHA) called on President Obama and secretary of Health and Human Services, Kathleen Sebelius, to work closely with Congress to provide adequate emergency federal ADAP funding in the current fiscal year ($126 million) to eliminate wait lists, reverse cost-containment measures, and meet the increased demand for treatment. PACHA further asked for adequate federal Ryan White CARE Act funding in fiscal 2011 and beyond to meet the growing need for the care, treatment, and essential support services the Ryan White program supports. Finally, the council asked for immediate expanded access to Medicaid for people with HIV through the enactment of the Early Treatment for HIV Act. PACHA noted that although the Patient Protection and Affordable Care Act of 2010 "will greatly improve access to affordable, high quality health care for many people living with HIV and AIDS," most of the provisions relevant for people with HIV do not take effect for years to come. This means insurance companies will be allowed to continue denying coverage to people with HIV and other pre-existing conditions until the practice is finally banned in 2014.
Fighting a global scourge.
A special report
For now, health care reform means that if people who are currently uninsured want and can afford the high premiums of private insurance, they are by and large limited to a group policy or a state risk group plan. Some Medicare provisions affecting lower-income people won't go into effect until 2020. Though not speaking directly of the crazier-than-ever quilt of an American health care system, PACHA understatedly said, "People living with HIV and AIDS confront significant barriers to access to care and treatment right now."
Not all the barriers to effectively managing HIV disease are the result of being uninsured or poor. Even HIV-positive white middle-class gay men with private insurance aren't all doing nearly as well on HAART as the treatment triumphalists want to believe. Dr. Christopher Hall, an HIV specialist, told me, "The reality is that, in general, the clinical management of the disease has evolved tremendously beyond where we were in the '80s." Yet Hall still sees patients with many challenges they wouldn't have without HIV. "It's not commonly the case," he said, "that someone finds out about their infection, begins on therapy and experiences no inconvenience or setback on that therapy. There are setbacks. I think people miss that. They don't appreciate the inconvenience of having to take meds once or twice a day. They don't appreciate the burden of having an infection that is potentially transmissible, or what it means for relationships, for disclosure. They don't think about the inconvenience of having to make medical visits three or four times a year." They also are unlikely to understand the sharply increased risk of people with HIV, as we age, for cancers, heart disease, organ damage, changes in body shape, and any number of other potentialities we don't yet know about because long life with HIV is still a new concept. Many of those risks stem from the cumulative effects on the body of long-term chemotherapy, which is exactly what HAART is. "Not everybody is going to have that easy a walk with HIV," said Hall. "The public perception has evolved almost to ignore that there are still individuals and communities for whom HIV is just as destructive and debilitating as it ever was. It's hard to convey that complexity in the sound bites and billboards."
Is there still an AIDS crisis in gay America? It depends on who you are, said Sarah Schulman, a noted ACT UP/New York activist, author, and college professor. "If you are someone who can afford these treatments, and you have the lifestyle that enables you to take them appropriately, then you can live a full life having to tolerate a lot of pretty awful side effects. But that profile does not apply to most PWAs [people with AIDS] in the world." In fact, the estimated 532,000 gay and bisexual men living with HIV in the United States as of 2010 comprise a mere sliver, less than one in 63, of the 33.4 million living with HIV worldwide. Of course, as the CDC has reported, the actual number of HIV-positive gay and bisexual men is likely much higher since this figure only accounts for known cases; it estimates that another 50 percent are believed not to know their HIV status. We don't know for sure how many are receiving treatment, though worldwide, five million people total are on HAART. The rest will likely sicken and die of what are mostly preventable AIDS-related causes.
Gregg Gonsalves, a former ACT UP/New York member and still a noted HIV treatment activist, returned to Yale to finish the bachelor's degree he had put aside when AIDS became his passion in the early '90s. He's living well with HIV, but knows that only continued access to effective treatment and medical care will keep him well. He minces no words. "After 1996," said Gonsalves, "when the drugs came on line, it was like gay men packed up their bags and went home. Now they could live normal, middle-class, privileged lives." AIDS in America at the opening of the 21st century's second decade, thirty years since it was first reported among urban American gay men, isn't only about gay vs. straight, or even white vs. black. "It's about class," said Gonsalves.

Excerpted from John-Manuel Andriote's
Victory Deferred: How AIDS Changed Gay Life in America