How Sunless-Tanning Lotions May Reduce the Risk of Skin Cancer
According to an Emory University study, it's not just a safe alternative to sunbathing; it may help motivate women to limit harmful UV exposure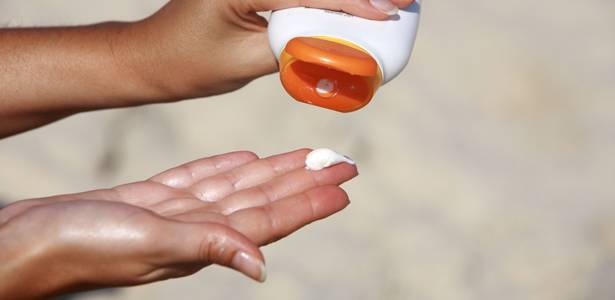 Women who use sunless tanning lotions and gels tend to cut back on outdoor sunbathing and trips to tanning beds, according to a new study from Georgia.
Researchers said the findings -- close to 40 percent of women surveyed said they had limited time in the sun because of the products -- mean that the products may be a way to convince women seeking a tan to reduce ultraviolet (UV) radiation exposure, which is linked to a higher risk of skin cancer.
"The message that I give is, your natural skin color is where you were born to be, but if you really want to be tan get it out of a bottle," said Dr. Suephy Chen, a dermatologist from the Emory University School of Medicine in Atlanta, who worked on the study. "Getting a tan out of a bottle is incredibly safe, whereas getting tanned from tanning beds and laying out is not."
Chen told Reuters Health that there's still controversy among skin doctors about whether they should be promoting any tanning product, or if the only message should be that a person's natural skin color is best. But years of warnings about cancer risks from other forms of tanning clearly aren't getting through to the younger generations on their own, she added.
The National Cancer Institute estimated that there were more than one million new cases of non-melanoma skin cancer in 2010 in the United States, and less than 1,000 deaths. For the more dangerous melanomas, 2011 was expected to see about 70,000 new cases and close to 9,000 deaths.
CUTTING BACK ON UV EXPOSURE
The new findings come from surveys of 415 women living on or around the Emory University campus. The women ranged in age from 18 to 71, but most were under 26. They were surveyed at campus fitness centers, dining halls, and sororities.
On the surveys, women reported how often they tanned outside or in tanning beds or used sunless tanners, as well as their reasons for using or avoiding those products. About half of them said they'd used sunless tanning lotions, gels, or spray-ons in the past year, and at least 70 percent reported tanning in the sun. One-quarter of the survey participants said they'd recently visited a tanning bed.
While women who used sunless tanning products were also more likely to seek other types of tans, close to 40 percent of them said they had decreased their intentional sun exposure or their use of tanning beds because of the products. Survey participants who had used sunless tanners at least five times in the last year were the most likely to say they'd cut back on their other tanning behavior.
The top reasons for using sunless tanning were its safety and to avoid wrinkles, Chen and her colleagues reported Monday in the Archives of Dermatology.
Dr. Daniel Sheehan, a dermatologist at Georgia Health Sciences University in Augusta, said that some dermatologists might consider it a "mixed message" to suggest sunless tanning products to their patients when they really shouldn't want to tan at all. "On the other hand, I don't think that standpoint recognizes the reality that people really want a tanned appearance, and many of them are going to get it one way or another," said Sheehan, who wasn't involved in the new study. "We're probably better off encouraging people to pursue a safe tan instead of a UV tan."
A HEALTHY SUBSTITUTE
Chen said that people with sensitive skin may get a rash from sunless tanning products, but that in general they are safe.
Sheehan agreed that he didn't know of any serious safety concerns with the products. "That doesn't necessarily mean that we won't one day find something, but these products have been around for a long time now," he told Reuters Health.
The U.S. Food and Drug Administration has approved the main ingredient in sunless tanning products for use in creams and lotions, but hasn't approved it for spray tanning done in salons, where there may be a risk of eye exposure and inhalation.
Do-it-yourself sunless tanning lotions typically cost about $10 a bottle. Getting a spray-on tan in a salon is more like $25, said Sherry Pagoto, a behavioral medicine researcher who has studied tanning and sunless tanning products at the University of Massachusetts Medical School in Worcester. The tans last a few days or a week.
Pagoto, who also didn't participate in the new research, said that in her experience sunless tanners are often an intermediate step between sunbathing or using tanning booths and quitting tanning altogether. Sunless tanning "provides a really nice alternative" to more risky options, she said.
"For a few unhealthy behaviors like smoking and overeating, we don't have a lot of healthy substitutes," Pagoto told Reuters Health. "With tanning, we do have a healthy substitute."
Image: ostill/Shutterstock.