Before Occupy: How AIDS Activists Seized Control of the FDA in 1988
An activist recounts how ACT UP demonstrators used a mastery of media and medicine to push their careful agenda. Occupiers, take note.
SEIZE CONTROL OF THE FDA
Food and Drug Administration Headquarters, Rockville, Maryland, October 11, 1988
Our takeover of the FDA was unquestionably the most significant demonstration of the AIDS activist movement's first two years. Organized nationally by ACT NOW to take place on the anniversary of the March on Washington for Lesbian and Gay Rights and just following the second Washington Showing of the Names Project quilt, the protest began with a Columbus Day rally at the Department of Health and Human Services under the banner HEALTH CARE IS RIGHT and proceeded the following morning to a siege of FDA headquarters in a Washington suburb.
Fighting a global scourge.
A special report
If "drugs into bodies" had been central to ACT UP from the beginning, the protest at the FDA represented both a culmination of our early efforts and a turning point in both recognition by the government of the seriousness and legitimacy of our demands and national awareness of the AIDS activist movement. This turning point occurred for two interrelated reasons: 1) the demonstrated knowledge by AIDS activists of every detail of the complex FDA drug approval process, and 2) a professionally designed campaign that prepared the media to convey our treatment issues to the public.
The entire body of ACT UP was schooled in advance with knowledge of complicated issues that until then had largely remained in the province of Treatment and Data Committee members. The latter, who had been studying treatment issues for over a year and had also profited from knowledge garnered by AIDS activists in other U.S. cities, prepared an FDA ACTION HANDBOOK of more than 40 pages and conducted a series of teach-ins for ACT UP's general membership. This information was then distilled by the Media Committee for presentation to the press. The FDA action was "sold" in advance to the media almost like a Hollywood movie, with a carefully prepared and presented press kit, hundreds of phone calls to members of the press, and activists' appearances scheduled on television and radio talk shows around the country. When the demonstration took place, the media were not only there to get the story, they knew what that story was, and they reported it with a degree of accuracy and sympathy that is, to say the least, unusual.
ACT UP's fundamental contention was that, with a new epidemic disease such as AIDS, testing experimental new therapies is itself a form of health care and that access to health care must be everyone's right. Although Reagan conservatives and pharmaceutical companies attempted to co-opt our agenda, our demands were very different from their profit-driven desire for deregulation. AIDS activists want consumer interests protected, not the profits of pharmaceutical companies. We want drugs proven safe and effective, but we want them faster, and we want them equally accessible for everyone who needs them. Our demand to the FDA included the following*:
Shorten the drug approval process. The

FDA

must ensure immediate free access to drugs proven safe and theoretically effective -- that is, as soon as Phase 1 trials are completed -- together with clear information that the drug has not yet been proven effective.
No more double-blind placebo trials. Because giving a placebo to someone with a life-threatening illness is unethical, the

FDA

must inform designers of clinical trials that it will not accept data based on placebo trials. Instead, new drugs must be measured against other approved drugs or, where there are none, against other experimental therapies, different doses of the same drug, or against what is already known of the natural progression of

AIDS

.
Include people from all affected populations at all stages of

HIV

infection in clinical trials. The

FDA

must mandate that drug trials recruit participants from all groups affected by

HIV

infection, including women, people of color, children, poor people, IV drug users, hemophiliacs, and gay men. If a trial requires a homogeneous population, parallel trials must be conducted in other affected populations. Moreover, trials must be opened to people at all stages of

HIV

infection, not simply those with

CDC

-defined

AIDS

.
Medicaid and private health insurance must be made to pay for experimental drug therapies.
The

FDA

must support rather than harass community groups working to keep community members alive -- in other words, trying to do what the federal bureaucracy has thus far failed to do.
These demands, whose articulateness stemmed from in-depth knowledge of the history and workings of the drug approval bureaucracy, formed the background to ACT NOW's civil disobedience at FDA headquarters. Affinity groups from around the country engaged all day in skirmishes with the Rockville police, who had clearly been ordered to keep the number of arrests low to minimize media drama. When we blocked the departure of buses full of arrestees (176 activists did manage to provoke arrest), they dragged us out of the street and left us sitting in the grass. When we tried to enter the building, they forcible restrained us, but refused to arrest us. We did, though, manage to stop business as usual, to occupy FDA headquarters at least symbolically. ACT UP graphics and banners covered the building's facade, and demonstrators staged one piece of theater after another as the television cameras rolled on.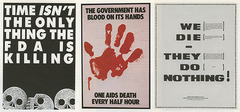 Most affinity groups improvised their own costumes and props for the occasion. ACT UP's Majority Actions Committee made a reproducible design for T-shirts and posters, WE DIE -- THEY DO NOTHING, spelling out in fine print who WE are [People of color, whether we are Afro-American, Native American, Hispanic Latino, or Asian, women, men, IV drug users, partners of IV drug users, lesbians, gays, straights, the homeless, prisoners, and children affected by the AIDS crisis], who THEY are [Ronald Reagan, George Bush, Michael Dukakis, the NIH, the FDA, the U.S. Congress, the Congressional Black and Hispanic Caucus, our national media, our national minority leaders], and declaring, around the border, WE RECOGNIZE EVERY AIDS DEATH AS AN ACT OF RACIST, SEXIST, AND HOMOPHOBIC VIOLENCE. Gran Fury reworked an earlier image -- the bloody hand -- for placards, stickers, and t-shirts. The bloodied hand print that had initially appeared to protest New York City health commissioner Stephen Joseph's cut in projected AIDS cases now said THE GOVERNMENT HAS BLOOD ON ITS HANDS. ONE AIDS DEATH EVERY HALF HOUR -- a statement that has unfortunately remained true, so the graphic is still in use by AIDS activists.
The success of SEIZE CONTROL OF THE FDA can perhaps best be measured by what ensued in the year following the action. Government agencies dealing with AIDS, particularly the FDA and NIH, began to listen to us, to include us in decision-making, even to ask for our input. Six months prior to SEIZE CONTROL OF THE FDA, members of ACT UP's Treatment and Data Committee had forwarded a detailed critique of the AIDS Clinical trials Group (ACTG -- a recognized version of the former ATEU system) to the National Institute of Health. The critique called for a system of parallel trials for experimental AIDS therapies that would allow people excluded from clinical trials to receive the drugs after Phase 1 studies had been completed. Following the FDA action, ACT UP continued to lobby for parallel trials, meeting with NIH and FDA officials, negotiating with pharmaceutical companies, and testifying before congressional committees. One year after SEIZE CONTROL OF THE FDA, ACT UP's idea, now called Parallel Track, was accepted by the NIH and FDA and went into effect for ddI (dideoxyinosine), the first antiviral AIDS drug to become available since AZT.
---

Excerpted from Douglas Crimp's
AIDS

Demo Graphics
.
*List of demands was abbreviated. Main image: Joseph F. Major/AP.
---
MORE ON AIDS ART & ACTIVISM: