Are Seriously Ill Patients a Waste of Doctors' Time and Resources?
A survey of doctors and nurses who work in intensive care units found that most believe they're spending too much time on individuals.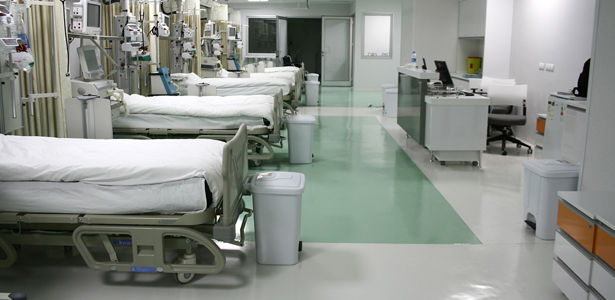 A third of doctors working in intensive care units (ICUs) believe one or more of their patients is getting inappropriate care, with slightly fewer nurses sharing the sentiment, a European poll shows. In most cases, ICU staff felt they were giving too much medical care to their patients.
"What this study shows is that a striking number of ICU physicians and nurses on any given day are providing care they perceive to be inappropriate," Dr. Scott Halpern, who wrote an editorial about the findings, told Reuters Health. "What it doesn't tell us is why they are doing it," he said.
While patient and family preferences about life-and-death medical decisions have been at the center of discussion for years, Halpern said, there hasn't been much focus on what clinicians think. Nevertheless, that could have a big impact on the quality of the care they deliver.
"We live in a society where life-support and aggressive care are provided by default," said Halpern, who studies critical care at the University of Pennsylvania Medical Center in Philadelphia. When providers feel their efforts are too aggressive, he added, "that may highlight situations where the goals of care could usefully be changed toward comfort measures in a more timely fashion."
The new findings are based on information from more than 1,600 doctors and nurses at hospitals in Europe and Israel. The providers answered questions about their work experiences and whether they felt any of their patients had received inappropriate care in the past 24 hours. A quarter of the nurses believed they delivered inappropriate care to at least one patient, while 32 percent of the doctors thought so.
The most common problem was "too much care," followed by the sense that other patients would have benefited more from intensive care, according to Dr. Ruth Piers of Ghent University Hospital in Belgium and colleagues.
The researchers note in the Journal of the American Medical Association that other studies have found ICU physicians often feel they are treating patients whose chances of survival are slim to nothing. While it's unclear if the new findings apply in the U.S., one recent survey showed nearly half of American primary care physicians believe their patients are getting too much medical care.
In the latest survey, providers were less likely to feel bad about their care when nurses were involved in treatment and end-of-life decisions. "Integrating the perspectives of nurses and the physicians may lead not only to greater mutual understanding with fewer conflicts, but also to better end-of-life decision making and care for the patients and their families," Piers and her colleagues write.
Staff who thought they gave inappropriate care were also more likely to be thinking about leaving their jobs, the team found. However, Halpern warned it isn't clear that the perception of care itself is to blame. It's possible that disgruntled doctors are simply more prone to be unhappy about their jobs and the care they give, he said.
He added that it's also murky exactly what the study is measuring, noting that hospital staff often disagreed about the appropriateness of a particular patient's care.
Still, Halpern said, the study highlights the need to explore health providers' view of the care they give and why they give it if they think it's wrong. "We haven't had any national dialogue about what weight, if any, we should give clinicians' viewpoints in patient care," he told Reuters Health.
Image: muss/Shutterstock.