Are Boring Packages Enough to Keep Teenagers From Smoking?
According to the British Heart Foundation, more than a quarter of teenagers make assumptions about the harm of cigarettes from the wrapping.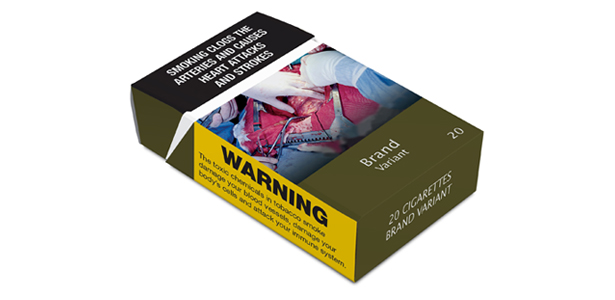 Heart health campaigners urged the British government Thursday to follow Australia's lead and ban all eye-catching designs and branding from cigarette packs to stop young people being lured into smoking. Australia is preparing to become the first nation to introduce so-called "plain" packaging on tobacco products by the end of 2012. The packs will show graphic health warnings about smoking but banish attractive colors and logos.
A survey by the British Heart Foundation charity released on Thursday found that more than a quarter of young people make assumptions about the relative harm of cigarettes based on the packaging alone.
The survey, which collated responses from more than 2,700 16 to 25 year-old smokers and non-smokers, found that three quarters of those who responded thought selling cigarettes in packs with no colorful brands or logos, and larger health warnings, would make it easier for people to smoke less or quit. One in six, or 16 percent, said they would consider the pack design when deciding which cigarettes to buy, and 12 percent said they would choose a brand because it was considered 'cool.'
Experts say half of all smokers will eventually die of a tobacco-related disease and the World Health Organization (WHO) describes tobacco as "one of the biggest public health threats the world has ever faced." Smoking causes lung cancer, which is often fatal, and other chronic respiratory diseases. It is also a major risk factor for cardiovascular disease, the world's number one killer.
The BHF is calling for the introduction of plain packaging which has no eye-catching colors or brands but is mostly covered with graphic warnings about the health dangers of smoking. The British government is due to start a public consultation early in 2012 on whether the nation should switch to plain packaging for tobacco.
"As informed adults we know that smoking is a deadly addiction," said Betty McBride, BHF's director of policy and communications. "But young people are not always fully aware of the risks, and the power of branding holds more sway."
Australia is planning to complete the introduction of its tough and world-first legislation by the end of 2012. The proposed law was cleared by parliament in November and is being closely watched by governments considering similar moves in Europe, Canada, and New Zealand. But it has angered cigarette makers and three of the world's four largest tobacco firms, Philip Morris International, British American Tobacco, and Imperial Tobacco are fighting it in Australia's High Court.
In Britain, Health Secretary Andrew Lansley says he is eager to cut the number of young people who take up smoking. Smoking-related illnesses kill 80,000 Britons a year and Lansley has said dissuading people from taking up the habit is a public health priority.
Government data show some 200,000 children and young people in England start smoking each year and more than two thirds of Britain's 10 million smokers started before they turned 18.
Tobacco advertising is banned in the U.K., but campaigners say the fact that tobacco companies can still use their packs to promote their brand is "an absurd loophole" in the law. "The tobacco industry takes full advantage ... to lure in new young smokers," McBride said.
Image: Vocus PR.