Study of the Day: How Meditation Can Treat Psychiatric Disorders
In a new study, functional MRIs show that meditators may be able to switch off areas of the brain linked to autism and schizophrenia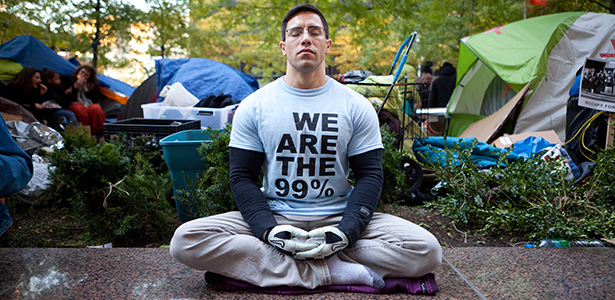 PROBLEM: Meditation is powerful. It can aid in curbing smoking, coping with cancer, and preventing psoriasis; and its ability to help people stay focused has been associated with increased happiness. Can understanding what happens in the brain when we sit and focus lead to clues on how to treat psychiatric disorders as well?
METHODOLOGY: Yale researchers led by assistant professor of psychiatry Judson A. Brewer conducted functional magnetic resonance imaging scans on both experienced and novice meditators as they practiced different meditation techniques.
RESULTS: Experienced meditators had decreased activity in the brain's default mode network -- areas that have been linked to disorders such as anxiety, attention deficit, hyperactivity, and Alzheimer's disease. When this network was active, brain regions associated with self-monitoring and cognitive control were activated as well in experienced meditators but not in novices. This suggests that trained meditators may be able to simultaneously monitor and suppress the emergence of "me" thoughts and the urge to daydream. In pathological forms, these states are associated with diseases such as autism and schizophrenia.
CONCLUSION: Skilled meditators appear to be able switch off areas of the brain associated with daydreaming and psychiatric disorders, such as autism and schizophrenia.
IMPLICATION: Expert meditators may have developed a less self-centered default mode network that could be explored for potential clinical applications. "The hallmarks of many forms of mental illness is a preoccupation with one's own thoughts, a condition meditation seems to affect," says Brewer in a statement. "This gives us some nice cues as to the neural mechanisms of how it might be working clinically."
SOURCE: The full study, "Meditation Experience Is Associated With Differences in Default Mode Network Activity and Connectivity," is published in the journal Proceedings of the National Academy of Sciences.
Image: John Minchillo/AP.