Study of the Day: Computers Beat Humans in Breast Cancer Analysis
Researchers at Stanford have developed a computational pathologist that more accurately evaluates images of cancerous tissues
Researchers from Stanford University have developed a computational pathologist that can more accurately evaluate images of cancerous tissues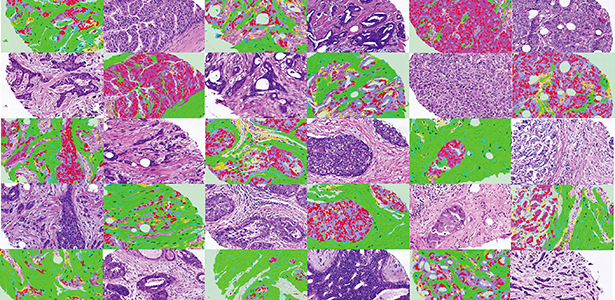 PROBLEM: Breast cancer pathology has remained pretty much the same since 1928. With the aid of a microscope, doctors examine tumors and score them using a scale developed eight decades ago. These scores are then used to assess the severity of the cancer and calculate the patient's treatment options and chances for survival.
METHODOLOGY: Computer scientists at the Stanford School of Engineering and pathologists at the Stanford School of Medicine collaborated to train computers to analyze microscopic images of breast cancer and act as computational pathologists, or C-Path. The computers pored over images of tissue samples taken from existing patients whose prognoses were known, measured various tumor structures, and used those structures to predict patient survival. By comparing results against known data, the computers gradually figured out what features of the cancers matter most and adapted their models accordingly. Once trained, C-Path evaluated unknown cancerous tissues that were also analyzed by human pathologists.
RESULTS: The computers yielded findings that were a statistically significant improvement over human-based evaluation. C-Path also discovered that the characteristics of the cancer cells and the surrounding cells, known as the stroma, were both important in predicting patient survival.
CONCLUSION: C-Path can more accurately identify structural features in cancers than humans. It can look at thousands of factors that are relevant to survival, while traditional pathologists are only trained to spot specific cellular structures of known clinical importance.
IMPLICATION: The findings add weight to the contention by many scientists that cancer is an ecosystem. As pathology professor and study co-author Matt van de Rijn puts it in a statement, "Through machine learning, we are coming to think of cancer more holistically, as a complex system rather than as a bunch of bad cells in a tumor."
SOURCE: The full study, "Systematic Analysis of Breast Cancer Morphology Uncovers Stromal Features Associated with Survival," is published in the journal Science Translational Medicine.
Image: Science/AAAS.