Study of the Day: Biking to Work Could Save 1,100 Midwesterners
New research from U. Wisconsin projects the benefits of active transport in terms of improvements in air quality and physical fitness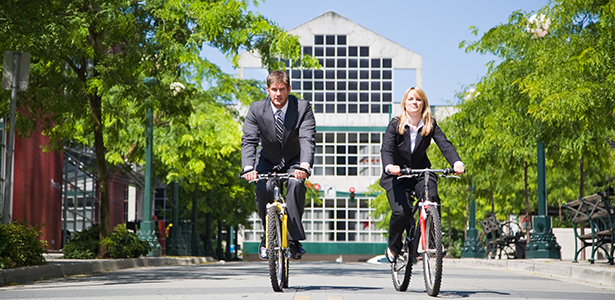 PROBLEM: Biking is a cost-effective, eco-friendly way to commute. But what are the health-related advantages of riding a bicycle to work instead of driving?
METHODOLOGY: Researchers led by Maggie Grabow, a Ph.D. candidate at the University of Wisconsin-Madison's Nelson Institute, identified the air-pollution reductions that would result from eliminating short car trips in the 11 largest metropolitan statistical areas in the upper Midwest. They then computed for the savings associated with avoided mortality and reduced health care costs during the six months with optimum weather, when cycling is quite feasible in the region. The investigators, however, did not account for foregone auto trips due to walking or using mass transit.
RESULTS: Overall, the authors projected that encouraging the use of bikes in the Midwest for short-distance trips could save an estimated $7 billion, including 1,100 lives each year from improved air quality and increased physical fitness. The biggest savings of about $3.8 billion per year was due to prevented complications with conditions like obesity and heart disease.
CONCLUSION: Replacing short car trips with active transport could yield major cost savings and health benefits.
IMPLICATION: Cities should make biking infrastructure safer with better parking, separate bike paths, and more bike racks on buses and trains. Co-author Jonathan Patz says in a statement: "If there are so many health benefits out there, we ought to try to redesign our cities to achieve them without putting new riders at risk."
SOURCE: The full study, "Air Quality and Exercise-Related Health Benefits From Reduced Car Travel in the Midwestern United States," is published in the journal Environmental Health Perspectives.
Image: Supri Suharjoto/Shutterstock.