At an event inaugurating the U.S.-China Forum on the Arts and Culture, the Chez Panisse chef made the case for artisanal, organic foods
"It needs a little je ne sais quoi," Alice Waters said, looking at a table covered with an enormous basket of apples. It wasn't an easy request. The table was set against a painted-brick wall in the austerely handsome, clearly institutional complex that is the American embassy in Beijing, which employs about 1,000 people and looks more like a foundation or a well-endowed secondary school than like Chez Panisse.
Few of Waters's requests for a dinner inaugurating the first U.S.-China Forum on the Arts and Culture were easy. She wanted to move a lot of furniture around the ebassy, not just the tables, set open fires to welcome guests, and bring in many non-embassy cooks and crates of ingredients from farms that had never heard of security, let alone run up against the embassy's multiple layers of screening.
And this was just part of a week of ambitious, first-time undertakings the forum undertook: a concert with Yo-Yo Ma, the dancer Charles "Lil Buck" Reilly, and Chinese artists including Wu Tong, a rock star who sang and played a white multi-pipe instrument like Pan; a screening of Iron Lady, a new film about Margaret Thatcher starring Meryl Streep, followed by a rivetingly open Q&A with her; and panels and discussions in which the artist Eric Fischl guided the audience through his oeuvre, Joel Coen discussed direction and film structure, Amy Tan and Yo-Yo Ma discussed artistry and cross-cultural marriages, Alice Waters and Michael Pollan discussed food policy, and the artist Liu Xiaodong called Ai Weiwei, a friend and colleague when they both lived and worked in New York City, a "bad boy" a bit too given to pranks for his own good.
Designing panel discussions and performances with 28 participating artists whose schedules book up years in advance, arranging coordination with the Chinese People's Association for the Friendship of Foreign Countries, the government sponsoring organization, and maintaining a careful balance between American and Chinese voices, keeping a large group moving around a notoriously traffic-clogged city -- that's challenge enough, though in the hands of Orville Schell, Arthur Ross Director of the Center on U.S.-China Relations, and his colleagues from the Asia Society, which in affiliation with the Aspen Institute were the forum's conveners, it seemed easy. Almost. Finding 150 organic ducks -- that's hard.
Schell, a former dean of the Berkeley Graduate School of journalism and the author of 14 books and many articles for The Atlantic, including his current look at Walmart's opening of China, is a sort of planet who exerts his own gravitational pull, and Baifang Liu, his wife, keeps that planet and others spinning just where they're supposed to be. In China, as anyone who reads James Fallows knows, that is an extremely unlikely achievement. Nothing, Schell told the visiting artists on the morning after they arrived, happens in China without "extraordinary effort," and so it had been in the two years of planning for the forum. "We're long past the point at which engagement is optional," he said, assuring the artists, "You should know that the Chinese want this to happen." The hardest part would be introducing the quality least apparent in officially sanctioned gatherings: "We're trying for actual spontaneity, something that's very rare."
Would the Chez Panisse team, which gathers from many corners of the world like a traveling circus and, in various formations, had visited Beijing to scour the city and surrounding region for enough reliable, scandal-free organic food to prepare dinner for a possible 300 guests, pull off the dinner? Without making Chinese guests feel patronized by holier-than-thou American cooks? Could the gathering in a formal, hierarchy-obsessed institution if not country be the convivial, relaxed, noisily chaotic evening Waters had in mind?
In her own attempt to bring spontaneity to the embassy, Waters arranged, as she always does, tables in long parallel rows, the idea being that conversations can erupt at any section and spread down the table. On the afternoon before the opening dinner, though, the four-story atrium of the brightly lit building, with regimented rows of tables and 250 white-plastic and metal-tube chairs in single-file lines, had a school-cafeteria look. Together with Blake Bachman, a Los Angeles-based events designer who often helps her, Waters went from table to table, moving apples, autumn-leaved branches, and bunches of leeks and garlic still caked with dirt in order to create the casual, in-from-the-woods feel she always strives for. She pushed rows of glasses out of their military alignment and, minutes before the pre-dinner reception began, shooed away a group of waiters carrying little round trays of pre-poured drinks. "Put those glasses back," she told the surprised servers. "I want everyone to feel like they're being served by friends."
And so friends opened wine behind the reception tables and poured glasses for guests, and the Chez Panisse veterans served hors d'oeuvres. Waters greeted guests carrying a bowl of walnuts, almonds, and hazelnuts toasted with salt and rosemary -- perhaps the most irresistible of the foods at the reception. Charlie Hallowell, now of the Pizzaiolo and Boot and Shoe Service restaurants in Oakland, broke up pieces of herb-flecked flatbread he had baked in the kitchens of Culinary Capers, a local caterer the Chez Panisse team had partnered with, to be served with sauteed greens topped them with Yunnan ham, which Sam Lee, one of the Chinese cooks who had been helping the team, sliced to precision thinness. Samin Nosrat, a cook and teacher and Atlantic Life channel contributor, massaged cheese curds for hand-made mozzarella, explained to curious guests the pulling process, and gave them pieces to try on grilled bread. She put me to work beside her, cutting grilled slices of locally Beijing-made sourdough bread (from a bakery with the jaunty name Boulangerie Nanda) already soaked in olive oil from the McEvoy Ranch, in Petaluma, California; the oil, along with five donated Californian wines, was the only American ingredients used. I spread the bread with a crumbly, nicely cheesy handmade ricotta made by Liu Yang--a Beijing native who spent six years in France making cheese before moving back and starting a business he calls Le Fromager de Pekin--and drizzled more oil on top. And I broke into bite-sized chunks a Parmesan-like gouda made by Marc De Ruiter, a Dutch cheese maker in Shanxi, for his Yellow Valley cheese company (he recently closed it, unable to afford the expensive milk-testing equipment the government told him he must buy). Cheese is a great rarity in lactose-intolerant China, and many of the guests wanted to know where they could find it.
Story continues after the gallery.
---
As we worked, we could smell the rosemary Waters had prevailed upon the embassy authorities to let staff members burn at open grills set beside the reflecting pools just outside the doors to the reception. I could see why the officials might have hesitated: it smelled like a very familiar California crop was being burned, and not rosemary.
Like many of the ingredients Waters's team had sourced, those artisanal, organic foods at the reception are in fact very hard to find and buy in Beijing. That's something the Chez Panisse team wanted to remedy: by giving the makers publicity at a very high-profile dinner, they hope to help increase their market by creating regular organic farmers' markets, which don't exist in Beijing, and get more organic food into schools. Yes, the food at the dinner would be Western. But the Chez Panisse cooks who visited in the months before avidly explored all the regional Chinese restaurants they could find in Beijing, and they wanted to build awareness of organic food being grown by Chinese farmers for Chinese food.
The demand is there. In his current Atlantic article, Schell runs down the recent food scandals, like melamine in milk, and quotes a shopper at Walmart who tells him she wants organic produce "because there are so many fake products on the market, and I am worried about my health."
"People don't believe anything they buy and I don't blame them," Lillian Chou, a former staff member at Gourmet who now works at Time Out Beijing, told me. Chou, the chief "forager" for the meal -- a now-common term that Chez Panisse coined for restaurant employees who visit and evaluate farms -- said she wouldn't buy from farms that the government had designated as organic without "going to every field myself" to check on their practices and meet the farmers. She put out a "nationwide call" for lemons, oranges, and ham, and found worthy suppliers of many, but not all--for instance, "not a single organic kumquat, though there are kumquats everywhere now." Ducks, the original and obvious choice for main course, turned out to be a problem she couldn't solve: one large-scale farm that claimed to be organic wouldn't let her visit; others didn't have enough ducks of one variety to allow consistent cooking for a large dinner; one farm that did turned out to make foie gras, which she didn't think would fit with the Chez Panisse/California ethic.
But mostly she succeeded. She found, among many other ingredients, carrots and celery worthy of being blanched and featured on the petite aioli, with a garlicky mayonnaise and beautiful halved egg, barely hard-boiled and with an orange-red yolk, and orange-fleshed winter squash close to Japanese pumpkin. That was for tortellini filling, mixed with (Italian) amaretti and Parmigiano-Reggiano, in hand-rolled dough using a locally milled "black flour" -- made from a heritage wheat that Samin Nosrat, known for her delicate hand with pasta, worried would actually turn the pasta black, so dark are the milled particles. The dough turned only a nutty acorn brown; the pasta, like the buttery dough for the open galette with the God's Grace Garden apples Chou constantly sliced as we talked, was heartier-textured than usual and deeply flavored.
(Noodles with texture are something Beijingers, in a northern wheat-growing region as opposed to the Southern rice cultures, are used to. The chewy oat noodles I fell in love with at China Poblano, in Las Vegas, and wrote about in an Atlantic column are a regional specialty, as I learned in Jen Lin-Liu's Serve the People, an excellent introduction to the food culture of Beijing and most valuable for a closely observed look at the hardscrabble lives cooks there lead.)
If finding trustworthy products was hard for Chou, the longtime Chez Panisse chef Samantha Greenwood, who visited in July, and the other Chez Panisse cooks who came to help, it is much harder for anyone not of the Chinese elite who want what Slow Food, which is just gaining a toehold in China, calls "good, clean, fair" food. Just finding an organic apple, Chou told me, takes planning a "special trip to a special market" or arranging home delivery from the few farmers willing to brave Beijing traffic: "There's nothing spontaneous about it." So she is trying to start an organic farmers' market by next spring. Given Beijing's tangle of red tape, the market might be at the Daystar Academy, which has begun a school lunch program using produce from local farms and is starting an Edible Schoolyard. In today's "money-talks" China, she said, "farming is a bitter punishment, and you have to prove that organic is lucrative" before it will be widely accepted. Even if Chou, like many people I met on the trip, worries that the pursuit of money has broken down the ethics of China's traditional culture, she told me that the farmers she found were uniformly "welcoming and committed."
I had a chance to see this for myself when, a few days after the dinner, one of the guests took me, Robert Kenner, the director of Food, Inc (which was screened during the Forum), and Michael Pollan to two organic farms a bit over an hour from Beijing. Yinghui Zhang-Carraro, our guide, is a writer and organic-food activist who wants to make organic food more widely available, even if, she told us, transport to the city discourages almost all farmers from delivering it, and people often have to pay triple for it.
The farmers were indeed welcoming, though the farms weren't what we're used to -- not open fields or even fields at all but rows and rows of large greenhouses we would call hoop houses or tunnels and that Yinghui, who lives in England, called "polytunnels," for their tarplike polyethylene roofs. They greenhouses at both farms had impressive brick entryways, with quilts shielding the openings to the growing areas to keep in heat, and on one long side solid brick wall with rammed-earth ramparts that keep in heat during the winter. They were the largest, highest, most densely planted earth-floored greenhouses I've ever seen, tidily kept and planted with yellow plastic insect attractors like flags on dowels. Pollan was more adventurous than I, eating cucumbers, cherry tomatoes, and radish slices straight from the vine and the hands of the farmers, and pronouncing them as strongly and finely flavored as any he'd had. The second, smaller farm, more diversified -- and with loud white geese, ducks, and chickens all living in surprising, noisy fellowship in a mud-covered, fenced-in yard -- raises, in addition to Chinese herbs and vegetables, basil, bulb fennel, and other Western produce for restaurants and customers who ask for them.
By now Chou and the other cooks had brushed more than 20 rolled-out rectangles of dough with almond-egg frangipane, covered that with artfully layered and angled thin apple slices, sprinkled the slices and crust with sugar, and brushed it with butter. "Staff dinner will be out of the ovens in 15 minutes," Greenwood said briskly. "Then we can get going."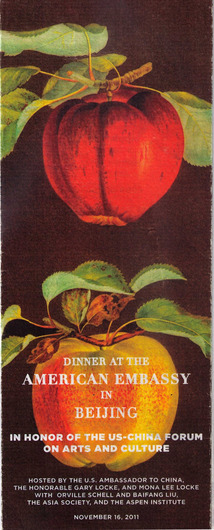 And once they got going, the courses flew. While the guests, all of them seated at places determined by Baifang Liu, listened to U.S. Ambassador Gary Locke, Schell, and Waters make opening toasts, all the cooks and Chez Panisse friends gathered around an enormous rectangular table and arranged the vegetables and aioli in classic fashion -- that is, just so, but to look as if they somehow fell beautifully into place -- on white plates, and were gratified to see empty plates come back. They tended huge rectangular pans of white beans with braised greens for the main course for those who'd said they were vegetarian, and stirred a pot of nutty, coarse-grained polenta made from corn a miller had milled by hand just days before; it was like a dense, slightly lumpy porridge, bright yellow and very good. The tortellini, which followed the aioli, were placed at the bottom of shallow bowls, and a double chicken broth (made one day, simmered the next with fresh chicken) was poured from pitchers filled from a gigantic silver stockpot in the middle of the table, so the dish would be hot. Then came the pork, placed beside the puree, a thick red-wine sauce drizzled below and around them. The tarts, baked more golden and less golden-brown than I would have chosen (surprisingly, no one asked my opinion) were cut into even, two-inch wide strips and served with honey ice cream and a dollop of whipped cream.
The only food that came back in quantity were the cups of mint-steeped tea, or the tisane that finishes every Chez Panisse dinner. "They're not wolfin' it down," Hallowell said, fretting slightly. "At the restaurant, Alice makes everybody drink their tisane."
It didn't matter. By the time the tart went out, everyone in the kitchen -- American and Chinese cooks, embassy helpers, guests who came in to see what the set-up was like, encouraged by the freewheeling spirit as people circulated among the dinner tables -- was taking shards of flaky, buttery crust and dipping them into the whipped cream, swallowing leftover diamonds of dark-orange fruit gelee that looked like quince paste but was made of the traditional Chinese sweet hawthorn fruit, and sneaking bits of chocolate-almond crumble that were served along with the gelee. The back kitchen had somehow flooded during the main-course service, and the cooks blocked the entry with trash cans. Nobody cared. As the cooks hugged each other, Nosrat said: "I'm so glad it's over." Chou supervised the packing up of the leftovers to go to an orphanage that, she'd heard, hadn't been able to pay its staff since July because of budget cuts.
The dinner, it was easy to tell, was a huge, noisy, table-hopping success. But how the meeting of American and Chinese cultural figures would go remained in the balance. As Schell wrote in an email he started on the plane back and sent when he landed, the results exceeded his hopes: "Never have we seen anything like it in all our years of being in China! The program managed to transform people from an inert audience into an spontaneous vortex of enthusiasm, which was exactly what we dreamed of (although were never quite able to imagine that we could actually accomplish it)."
And there was a quality yet more important to the longtime China observers in attendance, including Jonathan Spence, the Yale historian and professor whose classes and books had changed the lives of many participants at the Forum: a feeling of the meeting of equals. "This whole offering," Schell wrote, "left our Chinese counterparts feeling somehow honored, rather than spurned, a critical dynamic given the old and interesting problems and tensions historically dividing China and the West." With more meetings like this one -- with or without non-Chinese food, but with the open spirit Waters brought to the embassy dinner -- those tensions might become ever less divisive.
Image: Visuals Press/Dong Lin.

We want to hear what you think about this article. Submit a letter to the editor or write to letters@theatlantic.com.
Corby Kummer
is a senior editor at
The Atlantic
and the executive director of the Food and Society policy program at the Aspen Institute.