Food for Thought: What I Learned From 6 Weeks in Noma's Kitchen
Rene Redzepi demands perfection. There are no shortcuts in his Copenhagen kitchen -- and there shouldn't be any outside of Noma either.
Rene Redzepi demands perfection. There are no shortcuts in his Copenhagen kitchen -- and there shouldn't be any outside of Noma either.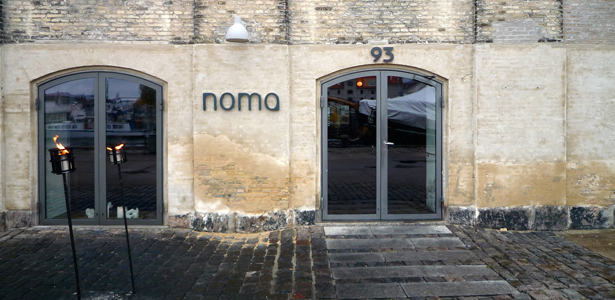 "Two hands! Two hands!"
"What?"
You have two hands, don't you chef?"
Staring stupidly, a veritable deer in the headlights, I realized what I was being called out for. Just how ridiculous and slow was it to plate a dish using only one hand? Why was my left arm limp and motionless?
In the past decade especially, many food writers have found it convenient to write about the best restaurants in the world, and to focus on their most defining characteristics, perhaps to comprehend something about an elite, if relatively foreign culture. Qualitative comparisons equally fascinate both journalists and their readers; we must seek to understand why one restaurant is "better" than another.
When the legendary El Bulli was still open, that meant asking Ferran Adria a lot of questions about the meaning of creativity and its place in a kitchen (the irony of Adria's motto, "Creativity means not copying," actually being a statement from French chef Jacques Maximin was almost always missed). Since the rise of Noma and the New Nordic style, the same writers have asked Copenhagen's Rene Redzepi what it means to cook locally, with a sense of time and place in cuisine. They want to know what drives these artists and madmen, bent over stoves, tinkering with recipes until their eyes bleed. They taste and taste and taste ... for what?
That makes for fascinating culinary coverage, but the singular problem with these reports from the field is that few if any of the writers have worked in Adria or Redzepi's kitchens. And so as someone who has at least spent six weeks in Noma's as a stagier, I never cease to find some amusement in stories proclaiming the reason why certain dining establishments rise above the rest. For in their desire to address these lofty concepts of creativity and locality, they fail to appreciate the real lessons of professional cooking -- lessons which could (and should) be applied to any field, from politics to engineering to academia.
Undoubtedly, these are simple lessons. Their plainness and brevity speak to a universal applicability; The world's best restaurants offer unique insight into basic ideas with the potential to make a lasting human impact. I am not joking when I say everyone should have the opportunity to work in a kitchen; it would make for better and more productive citizens.
Beneath the clocks in Thomas Keller's world-renowned New York outpost, Per Se, there are small signs: "Sense of Urgency." Or, put differently, as a Noma sous chef delicately told me while I was spinning what might have been the 80th potato spiral of the day for the restaurant's famous egg dish, "Hey Tom ... why don't we hurry the f---k up, eh?"
I say that not to embarrass the sous chef in question, or to reflect poorly on my time in Copenhagen. In fact, I mean the exact opposite. The chef was unapologetically correct. You have to move faster. You have to push yourself. There is no extra time. If you drag your feet, even for a half second, there is a chance you will get caught in the rush of service.
One night at Noma, as I tended to the outdoor grill area and swept ashes off the ground in the Scandinavian summer night, I was so lucky as to happen upon Redzepi yelling at that same sous chef. Curiosity got the best of me -- I couldn't help but listen:
"Why did you do that?"
"I'm sorry, chef."
"If you were sorry you wouldn't have done it."
"I'm sorry, chef."
"You're not sorry, you're sorry now ... I'm just asking you not to screw up. Is that really so much to ask? This is unacceptable. It's just unacceptable."
At Noma and at other top restaurants, anything but striving for complete and total perfection is a disgrace. And to be frank, it is still a disgrace even outside of those top kitchens. The lesson here is just as simple as having a sense of urgency: Don't bother doing anything but your best. Don't half-ass anything. It's either perfect -- or it's not.
Kitchens are so adamant about this fact that the French word, soigné, is to cooks a sacred maxim: "Make it perfect." There are no shortcuts at Noma, and there shouldn't be either when key business decisions are made, or when politicians wrangle in Washington over farm subsidies, or when a college student writes a paper for his Shakespeare class. They are all one and the same. It's not always easy; sometimes the shortcuts we take are almost unconscious. But we must strive to address these faults and to do better the next time.
Nothing explains this better than Noma's insistence that cooks and stagiers cut their labels. In Copenhagen, you do not rip tape to label a product -- you perfectly square the edges and snip the ends with scissors or a razor blade.
This of course begs the question: Why does cutting tape matter? Isn't the label identical if you rip the tape? Isn't the label temporary? Isn't this whole thing quite silly and absurd and a bit over the top?
I heard another stagier ask a line cook once about the tape issue. The cook's response was crushing: "Because that's a reflection of you."
Cutting tape isn't about the label. It's about arriving earlier and leaving later. It's about leaving as little as possible to chance. It's about always saying, "yes, chef!" -- an affirmation of the fact that nothing is impossible. It's about working harder than the person next to you. It's about never settling. It's an understanding that even when something is an accident or purportedly out of your control, it remains your responsibility.
If we all cut tape, what would the world look like?
As I am writing this, President Barack Obama tweets, "Let us not be trapped by what is. We've got to keep pushing for what ought to be."
"Two hands! Two hands! You have two hands, don't you chef?"
Food for thought, indeed.
Image: Noma/Wikimedia Commons.