Brisket: If It's Good Enough for Tina Fey, It's Good Enough for You
Recently deceased Hollywood agent Sue Mengers often served brisket at her legendary dinner parties, but that shouldn't surprise you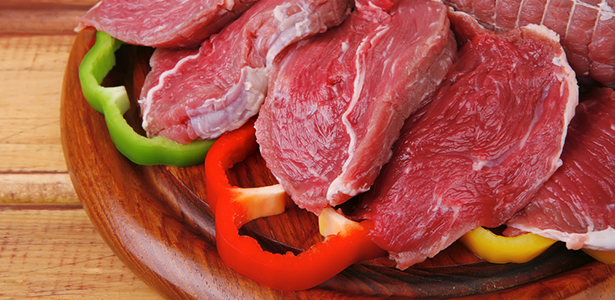 Last week I read an obit in The New York Times about recently deceased Hollywood agent Sue Mengers's legendary dinner parties. According to the article, for over 20 years, Mengers invited only "the most sought-after people in town" to these chatty, intimate weekly dinners, which were "rich with ritual and glimmering with an understated glamour." And it doesn't sound like anyone said "no thanks, we can't get a sitter" when Mengers offered up her brisket. Which meant you might run into anyone from Jack Nicholson to Martin Short, Tina Fey, Tim Robbins, Billy Wilder, Lorne Michaels, Angelica Huston, Princess Margaret, Gore Vidal, or Sir Elton John. Stars of such super-wattage that Mengers liked to refer to them as her "Twinklies."
Of course. Having just written The Brisket Book. A Love Story With Recipes, this doesn't surprise me a bit. What else says home, warmth, and "Can you believe what Meg Ryan has done to her face?" like brisket? Perhaps the "glimmering with understated glamour" part might be a stretch for brisket. It is, after all, humble in name and origin and certainly no looker. A "workhorse of a meat" according to Cooks Illustrated. And yet, as Mengers clearly knew, it is also the ultimate comfort food.
With a minimum of attention and a large Le Creuset pot, this tough hunk of meat turns into an irresistibly ambrosial dish. Achingly tender, richly sauced, deeply satisfying -- made with love and served with love. Even the aroma is delicious. As I discovered in my year of research for my book, there are very few brisket recipes that do not have the word "love" somewhere in their head notes or descriptions.
On a cooking level, brisket is a perfect culinary blank canvas, adept at adapting to everything you rub on or throw in, from garlic salt to Liquid Smoke to miso to gingersnaps to huge gulps of Dr Pepper. The Jewish cookbook author Joan Nathan rightly calls brisket the Zelig of meats.
Brisket asks for so little and gives back so much. It's as content bathed in Heinz ketchup as it is nestled in a day-after taco. It's so simple and forgiving that even the worst cook can make a good one. And it's a cross-cultural wonder -- a Jewish dish cooked in a Dutch oven with a Sicilian sauce served in North Dakota. It's a happy interfaith marriage: In Simon Hopkinson's recipe for Boiled Beef and Carrots with Parsley Dumplings and Chrain, brisket is served with classic English dumplings and sauced with a Jewish beetroot and horseradish purée.
Brisket just radiates humility. It isn't some snobby dish you can't pronounce or afford. It's not posh -- rarely has a truffle ever gone into the making of one. Culinary expert and food historian Nach Waxman (who seems to have the world's most Googled braised brisket recipe) says, "Brisket is a real family and friends meal. It's not something you'd serve at a grand déjeuner."
Sure, you can gussy a brisket up (Boeuf en Daube à la Provençale à la Julia Child), but a basic brisket requires little more than a few juicy ingredients to keep it from drying out and the patience to wait for it to cook slowly. With an oven temperature for braised brisket that rarely goes above 325F and a smoker temperature that hovers around 225F, brisket is not for the Type-A gourmet. Cooking time is anywhere from three hours for a braised brisket to thirteen hours in a smoker (a veritable miniature sweat lodge for a properly barbecued brisket) plus overnight time for the rub. Want a corned beef (a brined brisket)? Then expect your brisket to brine for up to six or seven days. Got a lot of time on your hands? Chef Todd Gray's sous vide brisket takes around thirty hours from start to finish. Time and the brisket are friends.
I think it's abundantly clear (and brisket is also abundant, with some of the best leftovers in the world, so make a lot; then make more) that brisket deserves at least as much fame as Faye Dunaway (who dined chez Mengers) and just as much attention as Fran Leibowitz (also a regular). Which is what led me to write the definitive book celebrating all things brisket. Although now I'm thinking, how definitive could it be without Mengers's recipe? Perhaps Ryan Phillipe (he was on the guest list, too) will share it with me.
Until then, here's a homey heavenly brisket recipe called Aunt Gladys's Brisket, given to me for the book by the Palmer family. As far as I know, neither Daniel S. Palmer nor his mother Abby Shulman Palmer were ever invited to any of Mengers's soirees. But they're "Twinklies" to me.
Aunt Gladys's Brisket

Serves 8

This classic is adapted from a longtime, much loved family recipe. It's simple and savory-all taste and texture -- thanks to the pucker of the sauerkraut and the sweetness of the brown sugar.

2 tablespoons vegetable oil
1 (4-pound) beef brisket, trimmed
1 onion, diced
1 (27-ounce) can sauerkraut (with juice)
1 (28-ounce) can diced tomatoes
1/2 teaspoon salt
1/2 cup brown sugar

One or two days before you plan to serve the brisket, heat the oil in an ovenproof enameled cast iron pot or other heavy pot with a tight-fitting lid just large enough to hold the brisket snugly over medium-high heat until hot. Add the brisket and brown well on both sides, 5 to 7 minutes per side. Place the onion, sauerkraut, and tomatoes on top of and around the brisket, then sprinkle with the salt. Cover, bring to a boil, then simmer gently on top of the stove for 45 minutes.

In a small bowl, combine the brown sugar with some cooking liquid from the pot, then pour the sugar mixture over the brisket. Continue to simmer gently, covered, until fork-tender, 1 1/2 to 2 hours. Turn the brisket over a couple of times while simmering, spooning some sauerkraut and liquid on top of the brisket each time. If there isn't enough liquid, add some water.

Transfer the brisket to a cutting board, allow it to cool slightly, then slice it against the grain. Place the slices in an oven-safe baking dish, overlapping them at an angle so that you can see a bit of the top edge of each slice. Spoon the sauerkraut mixture and sauce over the meat, cover the dish with aluminum foil, and refrigerate for up to 2 days. (The dish may also be frozen.)

When ready to serve, preheat the oven to 350F. Bring the brisket to room temperature, then bake, covered, until the meat is hot and the sauce is bubbling, 35 to 45 minutes. Check the seasonings, then serve immediately.
Image: Gregory Gerber/Shutterstock.