What Is It About Brisket?
When she set out to write "The Brisket Book," Stevie Pierson found that just about everyone -- chefs and non-chefs alike -- has his or her own recipe. And they all think theirs is the best.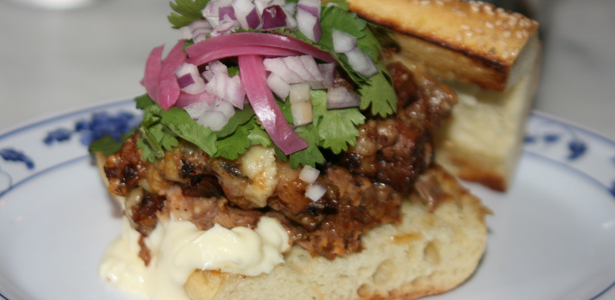 "I have heard the angels singing when I cut it," says a food blogger. And that quote pretty much sums up how I feel about brisket, too, although perhaps this blogger understates my feelings just a bit. Angels singing? How about whole celestial choir? "Some people are infatuated with Dancing With The Stars; I'm in love with my grandma's brisket," says another -- I can totally relate to this prime time Proustian sentiment. And my heart goes out to the blogger who just discovered brisket, exclaiming, "Oh juicy, tender, savory perfection, where have you been all my life?" (Of course I do not think this neophyte should be blaming brisket. Finding brisket is not exactly like hunting for truffles in Cahors. Can you say "Stop 'N Shop or Costco?)
The Brisket Book began the day that I realized that while brisket is in just about every cookbook, it had never had a book of its own. And the idea gained momentum in the weeks after, when I discovered that it's not just me that's crazy about brisket -- so are millions of others. If you enter "brisket" on Chowhound boards, you'll find a feeding frenzy of posts: "Too Much Leftover Smoked Brisket!" "Should I Have Rinsed the Corned Beef Brisket?" "Stringy Brisket -- Why?" "Has Anyone Tried Ina Garten's Brisket?" "Please, help my father's old age home hold a wonderful brisket this New Year.... Help my mother be the envy of her Mah-Jongg group...."
You would never find such immediate and heartfelt posts for rump roast or chuck or even leg of lamb. So I started to research brisket -- I called it "brisketeering." I read about the brisket lover in Oregon who "surprised" his daughter with a barbecued brisket "birthday" cake -- a large rectangular piece of smoked meat with brightly colored candles stuck in the top. (She loved it.) I saw that the Obamas now serve a brisket at their annual Passover seder in the White House. I read that a hot beef brisket "sundae" is now a big hit on the Midway menu at the Indiana State Fair (and it's every bit as healthy as fried butter). I was thrilled to see that in a tight race (food, not pennant), locally sourced Beach Pit BBQ's brisket sandwich was introduced to Anaheim Stadium and promptly won a national contest for best ballpark cuisine. Take that, ballpark franks! And speaking of franks, Michelin-star Chef Saul Bolton recently introduced artisanal "Brooklyn Bangers," one of which is a jumbo juicy brisket hot dog. This pedigreed dog is two-thirds brisket, one-third pork fatback.
In short, I learned that there are many ways to brisket bliss. And I put all of them into my book. It includes brisket recipes from brilliant brisket makers like Anita Lo, Daniel Boulud, and pit master Robbie Richter. And it's full of brisket history; brisket lore; cooking tips for braising, barbecuing, and brining (which would be corned beef); brisket etymology; brisket factoids (why brisket loves ketchup; why brisket and onions have a natural affinity); brisket talk with Michael Pollan (grass-fed vs. corn-fed); a brisket cooking lesson from Chris Kimball at Cooks Illustrated; and brisket photographs that will make you want to book a flight to Detroit tonight and try to get a seat at Slows Barbecue.
But enough about what you can learn from the book. What did I learn?
#1: With the exception of competition-level pit masters, master chefs, and Ari Weinzweig at Zingerman's in Ann Arbor, Michigan, just about everyone else believes he or she has the best brisket recipe ever. That's actually the entire dialogue. And I had it over and over.
#2: Extensive, unbiased recipe testing proved that any recipe with "Best" or "Perfect" in the title was neither.
#3: With all due respect, recipes that non-cooks have borrowed from sort-of cooks -- like "My Pediatrician's Brisket" -- will never win any awards.
#4: People aren't just proud of their brisket recipes. They can't believe someone would cook or smoke or brine a brisket any other way. As my psychotherapist friend Phyllis put it: "With most foods, there's a right way and a wrong way. With brisket, there's only my way."
#5: From Texas to Toledo, brisket recipes are passed down like treasured family heirlooms, so there are very few brisket recipes that do not have the word "love" somewhere in their head notes or descriptions.
#6: No one is perfect. Not even in Brisket Land. While there is great kindness, generosity, and tolerance, not everyone shares. I have a friend (let's call her "Rose") who would rather not divulge her grandmother's much-loved recipe. When seriously pressed, Rose confided to me that she does give the brisket recipe to someone. She just leaves out one of the essential ingredients.
Image: Stephanie Pierson.

Adapted from Stephanie Pierson's
The Brisket Book: A Love Story With Recipes
(Andrews McMeel Publishing)