Trader Joe's Locks the Doors to Rabbis and Ministers
When a social-justice group showed up to present a letter asking the chain to sign a Fair Food Agreement, no one would open the door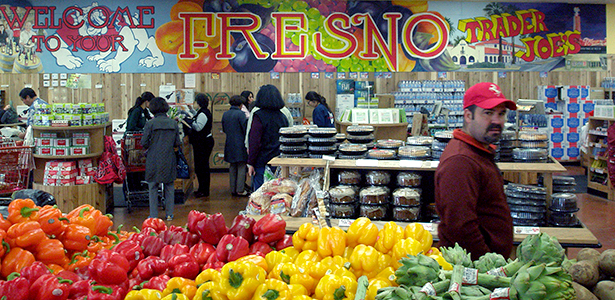 Things are getting ugly in the tomato patch.
Last week, about 400 workers' rights advocates from the Coalition of Immokalee Workers (CIW), a labor- and human-rights organization founded two decades ago by migrant tomato pickers in the southwestern Florida city of the same name, marched to the headquarters of Trader Joe's outside Los Angeles. The group was accompanied by about 20 religious leaders. They wanted to present management with two letters, one signed by 109 rabbis, the other by more than 80 California pastors.
Both letters asked Trader Joe's executives to work with the coalition to address labor abuses in the tomato fields.
In the past 15 years, seven cases of slavery involving more than 1,200 workers in Florida agriculture, including tomato workers, have been successfully prosecuted. Noting that the story of their own religion began with the "journey of our ancestors from slavery to freedom," the rabbis' letter said, "This legacy informs our moral imperative to fight modern slavery and uphold the right of every individual to be free."
For the last several months, the coalition has been trying to persuade Trader Joe's, a 360-plus store chain that brands itself as a worker- and customer-friendly bastion of all things sustainable, organic, and fair-trade, to sign a Fair Food agreement. Companies who sign the agreement promise to pay one penny more per pound for tomatoes harvested by the workers (the difference between $50 and $80 a day for a worker) and insist that growers who sell to them abide by a code of conduct that mandates no slavery or sexual harassment in the fields, accurate time keeping, a grievance procedure, first-aid training for workers, and tents to provide a bit of shade. Complying with the agreement would cost the billion-dollar company about $30,000 a year.
The religious leaders were disappointed when they were greeted at the locked doors to Trader Joe's headquarters by a uniformed security guard who said that no one at the company would accept the letters and that he didn't even know the name of anyone who worked in the building.
"I do a lot of workers' justice actions and I've never experienced a reaction like that," said Rev. Sarah Halverson of Fairview Community Church in Costa Mesa, California, in a telephone interview. "Even Walmart always sends someone out to accept our letters. I didn't expect the president of the company to come out and greet us, but they could have at least sent an assistant from the PR department." Rev. Halverson said that she peered through the glass and saw workers in the lobby wearing Trader Joe's iconic Hawaiian shirts. When they noticed her, she said, they scurried out of sight. "It's hard to believe that a group of rabbis and pastors was threatening," she said.
That rebuff was nothing compared to what happened next. Police arrived and ordered the interfaith leaders to disperse, which they did. But as Rev. Halverson walked away, she said that she saw someone open the door, step outside, rip the letters from the glass, and crumple them.
"They crossed a line," she said. "I was under the impression that Trader Joe's is a socially conscious store. Most members of my congregation are progressive, and that's why they shop there. But I lost complete respect for them. They showed their true colors."
Over the past decade, the coalition has chalked up a series of remarkable victories. Nine major corporations, including the nation's largest fast food chains and institutional food service companies, have signed the CIW's Fair Food Agreement. A year ago the Florida Tomato Growers Exchange, a cooperative of the large produce companies that grow virtually all commercial tomatoes in Florida, also agreed to take part.
But, with the notable exception of Whole Foods Market, no grocery chain has signed a Fair Food Agreement. Executives have been contacted, coalition supporters have marched on stores, and petitions have been sent, all to no avail. For its part, Trader Joe's, an ultra-secretive company owned through a trust set up by the founder of Aldi, a Walmart-like German discount chain, contends that it more than meets the coalition's demands through its own purchasing policies.
The coalition disputes that claim.
In a telephone interview, Matt Sloane, Trader Joe's vice-president of marketing, said that some of the events had been "miscategorized for effect" by the workers' group and religious leaders. He said that a Trader Joe's employee did remove the letters, which were on large sheets of heavy, poster-like paper, but that they were folded up, rather than crumpled, were not thrown away, and were still legible. The reason that no one from Trader Joe's accepted the letters, he said, was that "the group was behaving more for effect -- street theater -- not an invitation for serious discussion." He said that he had telephoned Rev. Halverson, hoping to speak to her.
Halverson welcomes the opportunity to talk to Sloane. "As a pastor, I believe everybody has good in them, and that ultimately Trader Joe's will sign the Fair Food Agreement."
Image: niiicedave/Flickr.