The Coming-Out Story That We Can All Learn Something From
After months of posting anonymous videos to the Internet, Randy Phillips finally decides to tell his dad that he's gay -- live on YouTube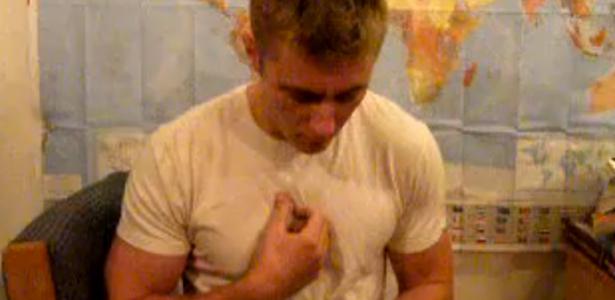 For months, Randy Phillips has been posting anonymous videos to YouTube under the name AreYouSuprised. They're always shot from the same angle, with the viewer looking directly at his torso; were the camera to tilt just a few more inches up, it would expose his face -- and out him. The videos, as you can tell from a quick scan of their titles, are all about the same thing: "When I realized I was different.", "Questions for a gay military man", "I didn't choose to be gay", "DADT should I come out".
And a quick scan is all that I've given them, too. I haven't been following Phillips' story from the beginning. No; I found my way to this page because one of his most recent videos, "Telling my dad that I am gay-LIVE", has gone viral, spreading quickly through word of mouth and social media. I was directed to it by a piece Mary Elizabeth Williams wrote for Salon entitled "The coming-out story that gripped the world."

It's 2:45 a.m. somewhere in Germany and Phillips is sitting on a chair of wood and coarse fabric in front of a large, wrinkled map of the world, cell phone in hand. It looks like one of those forgotten cubbies off of a public library. Only later will we learn that, unable to sleep, Phillips has been holding his phone for the last four hours, deciding whether or not to make the call. When he finally does, through the magic of time zones, it's quarter-to-eight back home in Alabama.
It takes more than two minutes to get to this point, but you'll keep watching -- just like nearly five million other people. There's no action, but Phillips is compelling, the title of the video enticing, and the suspense builds with each passing second. (Alabama? As if this wasn't going to be hard enough.) It's not for lack of attempts -- there were entire books and organized media campaigns -- but no single story has broken through following the recent repeal of Don't Ask, Don't Tell (DADT), the 18-year-old official policy that kept gay men and women from serving openly in the United States military, like Phillips' has.
There was interest from the beginning. Every one of AreYouSuprised's videos picked up tens of thousands of views. But then, two weeks ago, Phillips became something more than one of the millions of people with access to a webcam and a Google account. He became a role model. "U inspire me," @CodyRay0720 tweeted to @AreYouSuprised. "Im a HS senior in rural VA fighthing bullying and intolerance of LGBTs. Please help #SUPPORT" (sic).

As you might have guessed by this point, the man back home that Phillips calls "daddy" and "sir" accepts his son's coming out over the phone. It takes another minute for a visibly uncomfortable Phillips to coax some reassurance out of his father before the reveal: "Will you love me, period?" "Like, you'll always love me?" Once he's gotten that out of the way, Phillips drops the bomb: "Dad, I'm gay." "OK," dad replies. It goes back and forth like that for a few more minutes until the call nears its end, now with Phillips' father talking more than him: "I will always love you. And I will always be proud of you." But the rest doesn't matter. It's at that knee-jerk response from dad, that quick "OK," that the video peaks. Through YouTube, Phillips is doing more than raising awareness about the repeal of DADT and gays serving in the military; he's promoting a dual message of courage and tolerance that resonates with anyone, gay or straight.
Phillips is a new hero for LGBT youth struggling with their identity, to be sure. And while support for them has swelled in recent months, largely thanks to Dan Savage's It Gets Better project -- an effort Phillips also supports --  you'll never find me arguing that there are too many heroes for those kids. In fact, some of the comments on Phillips' YouTube videos supposedly show just how needed his message still is. "This being YouTube, of course, there's also plenty of stomach-churning homophobia in the mix," Williams wrote in Salon. I trust her -- because I've seen comments like that on any number of videos before, and because I don't want to go looking for them myself. Right now, all of the most recent comments are positive.

YouTube user tzuspan sums them up: "The courage and candor with which you exposed your heart to the world, and specifically your quintessential human attribute, the desire to be loved, combined with your obvious virtues, and the nature of your occupation, have made you a rare and exemplary role model not just for bisexual, gay, and transgendered American youth, but for anyone who has ever questioned the temperature of the world, or convictions of their safety net."
Image: YouTube.