That Fish Isn't What You Think It Is
Restaurant buyers who get fish on ice from dealers often have no idea that that fish was caught 40 days ago an ocean away and had been frozen until the distributor defrosted it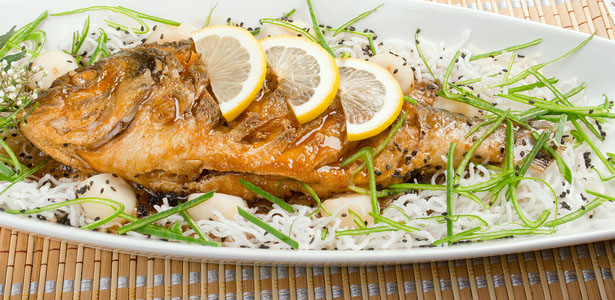 Happy Food Day! I'm off to hear Tom Menino, mayor of Boston, give an address at the Friedman School of Nutrition Science & Policy at Tufts, which I hope will say more about the city's support of a year-round public food market, something we've taken the lead on and something that exists in far too few cities. The city and state have already given money and other encouragement for a building right in the center of Boston with a target date of next year; and Boston has been ahead of other cities in putting farmers markets in underserved areas and partnering with Wholesome Wave -- including "bounty bucks" and "veggie prescriptions," two of several ways to make SNAP and other public-assistance dollars go farther when people use them to buy fresh fruits and vegetables, as I wrote about here. I hope you've found your own activity to join in on, and if you haven't, you can get ideas from Food Day's creator, Michael Jacobson, who wrote about why he came up with the idea for us last week.
[Update: just back from the talk, in which the mayor announced an RFP for the year-round market, which makes the long-announced opening target date of next fall actually look possible. He also highlighted the designation of "enterprise zones" for community gardens, including the successful revival of a dormant greenhouse in Roxbury. Also, Menino has been probably the country's leader in setting a comprehensive policy for food trucks, of which he and City Council president Mike Ross are champions, ensuring that they don't unfairly compete with each other or, crucially, bricks-and-mortar restaurants; for more on who makes all those trucks, see the piece on Atlantic Cities today here.]
Meanwhile, the piece you can't miss goes perfectly with our own observation of Food Day, Helene York's reminder that whenever we think about sustainability and food we need to think about fish, too (and as for professing concern about animal welfare and buying supermarket chicken and meat, see James McWilliams on convenient conscience oblivion this morning.) It's a two-part investigation the Boston Globe spent five months conducting on just how extensive mislabeling of fish has become on restaurant menus -- some of it willful, much of it not. (First part here, today's conclusion here.)
In classic sting fashion, the reporters, Jenn Abelson and Beth Daley, sent samples of fish from 134 Massachusetts restaurants to a DNA-sampling lab in Guelph, Ontario, and found that a full 48 percent were mislabeled on the menu. "Cod," a catchall term at best, is seldom cod but usually haddock (very good, just less known) or hake (a "trash fish" because it's mushy, but one that should be used more often). Red snapper is the far cheaper ocean perch or, especially at sushi restaurants, tilapia. Grouper is Vietnamese catfish. "Day boat scrod" is previously-frozen Pacific cod. Even our own Ming Tsai called sablefish -- a lush Pacific fish also called ling cod that anyone who grew up on Jewish deli knew as the good, expensive stuff that went before the whitefish -- butterfish, because he thinks it "sounds better." (What's wrong with the buttery feel of sable? Maybe those animal-welfare types in ritzy Wellesley don't like fur anymore. James McWilliams would have some questions for them about what they're buying at the meat counter.)
In the example that hit closest to home, sushi and other restaurants across the state regularly call escolar, an oily fish better and more accurately called snake mackerel, white tuna. It's white, yes. But it has no relation to albacore, is far cheaper, and the FDA warns against selling it because of adverse gastrointestinal effects it can have--effects I can attest to from numerous sushi and "grilled white tuna" encounters (remember the notorious two words used about the testing of the fake fat Olestra? Think those two).
But restaurant buyers who get fish on ice from reputable dealers often have no idea that that fish was caught 40 days ago an ocean away and had been frozen until the distributor defrosted it, cut it, and delivered it. Sometimes, as the reporters found when they called restaurant owners, the mistake is intentional, a way to sell items with familiar names while paying less for fish -- one of Jamaica Plain's most-loved restaurateurs, the owner of El Oriental de Cuba, freely confessed his switch to the reporters, and said he'd change. Others claimed ignorance. And others -- like the executive chef of Bertucci's pizza, Jeff Tenner -- did their own taste tests to try to tell the difference between samples of fish their distributors sent as cod. Read the reporters' good sidebar to find out their surprising choice as best -- and also look at the good video the Globe posted chronicling the reporters' restaurant trips, and the way the fish went to and came back from the DNA lab.
Today's installment drills into lax government regulation that almost encourages mislabeling, from the USDA and particularly the FDA. As Marion Nestle just pointed out, the FDA has plenty on its plate, what with the recent Institute of Medicine report on what should and shouldn't be on front-of-pack labeling, but now it's got something else to pay attention to, soon. Two sidebars drill down on the grouper vs. Vietnamese catfish question (hundreds of TGIF locations get a black eye for selling it as grouper) and how to demystify codes on labels, using a new system we all need to learn more about called Trace and Trust. It's must reading for anyone who buys, serves, and eats fish -- and another illustration of what can result from the patient, long, dedicated reporting that only adequately funded journalism can provide.
Image: Fanfo/Shutterstock.