Study of the Day: Why Apple's New iPhone Might Make You Drool
Research by Northwestern University's David Gal explains why tech products -- and other material objects -- can make our mouths water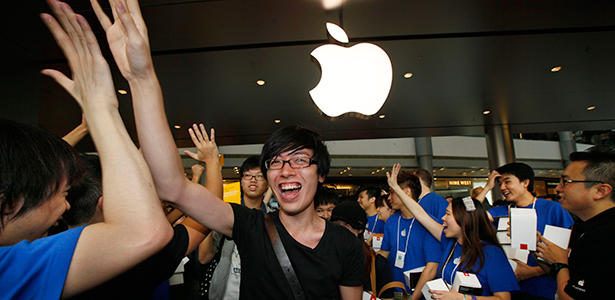 PROBLEM: Tech lust can make us do some crazy things. We entertain strong desires to destroy our outdated gadgets, and, perhaps not as willfully, we drool. Why?
METHODOLOGY: Northwestern University researcher David Gal conducted a series of experiments to understand how material desires and salivation relate with one another. In one trial, Gal manipulated 169 participants into feeling powerful or powerless, then examined how much they drooled in response to money. He measured salivation by weighing cotton rolls that participants put in their mouths.
In another experiment, Gal used photos of high-end sports cars instead of money. He primed the experimental group with a "mating goal" by showing them images of attractive potential dates because prior consumer research suggested that men purchase conspicuous luxury goods to impress women. He prompted the control group to imagine a visit to the barber.
RESULTS: Participants salivated to money more when they were in a low-power state. The men with the active mating goal drooled more than the men who were told to think of getting a haircut when they were shown images of sports cars.
CONCLUSION: Our mouths water at the sight of material objects when we feel powerless or are on the prowl.
IMPLICATION: People may salivate to non-food items to fulfill a higher goal, says Gal in a news release. All objects of desire, whether biological or non-biological, may activate the same general reward system in the brain.
SOURCE: The full study, "A Mouth-Watering Prospect: Salivation to Material Reward," is published in the Journal of Consumer Research.
Image: AP/Kin Cheung.