Study of the Day: Taller Candidates Benefit From Caveman Instincts
New research demonstrates a psychological preference for physically formidable leaders that may be due to evolution, not culture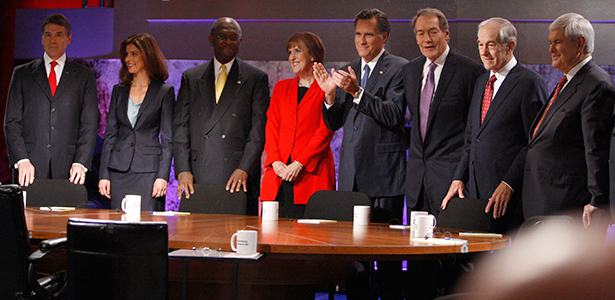 PROBLEM: Taller U.S. presidential candidates have won the majority of elections between 1789 and 2008, and have lost only three times since the rise of television in American homes. Do candidates who appear physically stronger really benefit from the so-called "Presidential Height Index"?
METHODOLOGY: Texas Tech University researchers Gregg Murray and David Schmitz reviewed past studies on tribal leadership in ancient societies as well as on the impact of physical strength on rank and status in the animal kingdoms. They then carried out two experiments with 467 participants. The first involved a figure-drawing task where the subjects described and drew figures that represented their concept of a typical citizen and an ideal national leader. In the second test, participants were asked to answer a survey about their personal perceptions of political leadership and attitudes toward running for office.
RESULTS: In the first experiment, 64 percent of students drew a leader that was taller than the typical citizen. The results of the second test revealed a statistically significant association between height and perceived leadership capability as well as interest in running for a political office. The literature review also revealed that preference for taller leaders is a universal trait that extends to various cultures and societies, including ancient Mayans, pre-classical Greeks, and even animals.
CONCLUSION: We tend to prefer taller candidates. The authors say in a news release that this preference may have helped ensure survival in ancient human history and "likely reflects an evolved psychological trait, independent of any cultural conditioning."
IMPLICATION: In 2008, a 6'1" Barack Obama towered over the 5'8" John McCain. Come November 2012, however, the President may lose his evolutionary advantage in the polls if he faces off against Rick Perry or Mitt Romney, who are 6'1" and 6'2" respectively.
SOURCE: The full study, "Caveman Politics: Evolutionary Leadership Preferences and Physical Stature," is published in the journal Social Science Quarterly.
Image: REUTERS/POOL New.