Study of the Day: More Than 1 in 4 Kids Mistake Medicine for Candy
Halloween may still be two weeks away but it's never too early to ensure that dangerous pills are out of your children's reach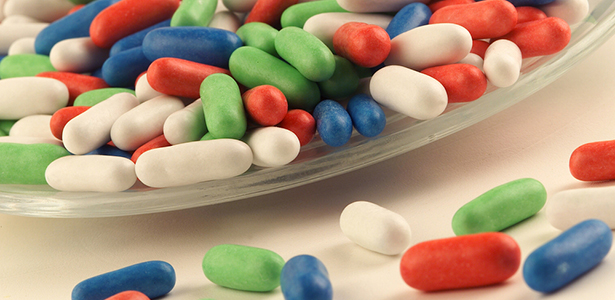 PROBLEM: Kids are getting poisoned accidentally because some candy and medicine are hard to tell apart. (To get a better sense of the issue, take this test.)
METHODOLOGY: Two enterprising elementary students, Casey Gittelman and Eleanor Bishop, along with two medical professionals obtained a mixture of 20 look-alike candies and medicines from the Drug and Poison Information Center at Cincinnati Children's Hospital Medical Center. They randomly selected 30 teachers and 30 kindergarten students, and asked them to point out which items were candies. They also surveyed participants about their age, gender, medicine intake, and how pills are stored in their respective homes. The teachers were also asked about each student's reading ability.
RESULTS: The children successfully distinguished candy from medicine at a rate of 71 percent, while teachers did so at a rate of 78 percent. Students who couldn't read did significantly worse. The most common mistakes across the groups involved M&Ms being mistaken for Coricidin, SweeTARTS for Mylanta and Tums, and Reese's Pieces for Sine-off. About 78 percent of the respondents said medicines in their homes were not locked and out-of-reach.
CONCLUSION: Pills that are circular, shiny, and with no identifiable markings are the most likely to be mistaken for candy. Neither teachers nor students store their medicines properly at home. Children who are unable to read are especially at risk of incorrect ingestion of medicine.
IMPLICATION: Families should be educated about safe storage practices of pills, the authors say in a news release. Medications should also bear distinguishable markings to reduce unintentional ingestions.
SOURCE: The study entitled "Candy or Medicine: Can Children Tell the Difference?" is slated to be presented at the American Academy of Pediatrics National Conference and Exhibition.
Image: Foodpictures/Shutterstock.