Study of the Day: 1 in 6 Cell Phones Contaminated With Harmful E. Coli
In anticipation of Global Handwashing Day tomorrow, researchers reveal yet another reason to wash properly -- especially if you're in the U.K.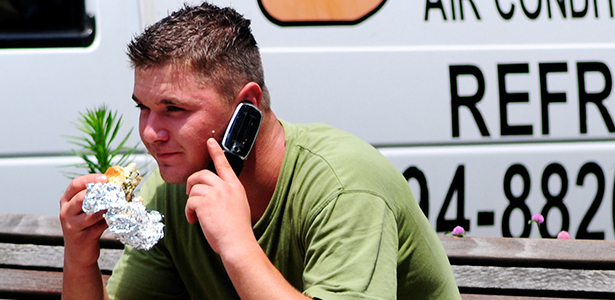 PROBLEM: Fecal bacteria can survive on hands and surfaces for hours, and every year 3.5 million children succumb to pneumonia and diarrheal diseases as a result. If the movie Contagion taught us anything, it's that disease-carrying substances transfer easily and that we put them in contact with our faces way too many times.
METHODOLOGY: Researchers from the London School of Hygiene & Tropical Medicine and Queen Mary, University of London traveled to 12 cities in the U.K. and took 390 samples from mobile phones and hands. They analyzed each of the specimens in a lab to discover the type and number of germs lurking there. They also asked respondents about their handwashing habits.
RESULTS: Although 95 percent of participants said they washed their hands with soap, 92 percent of phones and 82 percent of hands had bacteria on them. Even worse, 16 percent of hands and 16 percent of phones carried traces of E. coli, a bacteria of fecal origin that's associated with stomach upsets and serious cases of food poisoning.
CONCLUSION: Britons may not be washing (and drying) their hands effectively, as one in six mobile phones in Britain is contaminated with fecal matter. Or, as researcher Ron Cutler puts it in a news release, "People may claim they wash their hands regularly but the science shows otherwise."
SOURCE/DISCLOSURE: The study, "Survey of Hand and Mobile Phone Contamination Across the U.K.," was conducted by the UK Global Handwashing coalition, which involves GlaxoSmithKline, Initial Washroom Solutions, and Sanofi Pasteur MSD. It will be submitted for publication at a later date.
Image: Ed Yourdon/Flickr.