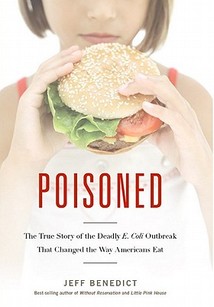 In August, we learned that salmonella in ground turkey had sickened more than 110 consumers and killed one. In September, news broke that listeria in cantaloupes had sickened more than 70 people and killed at least 15. What fatal food-borne outbreak should we expect in October?
Americans are being made ill by food with numbing frequency. The Centers for Disease Control and Prevention puts the tally at 3,000 deaths annually.
Which is what makes Poisoned: The True Story of the Deadly E. Coli Outbreak That Changed the Way Americans Eat so timely. In the book, which was published earlier this year, author Jeff Benedict tells the story of the infamous 1993 outbreak, in which more than 750 customers of the Jack in the Box fast-food chain were sickened by E-coli-contaminated hamburgers. Four children died despite the best efforts of modern medicine. Dozens more survived but were left with permanent, debilitating injuries that would require lifelong care. The wave of publicity that surrounded the incident made consumers aware for the first time that there was something seriously wrong with the country's industrial food system.
Benedict is a masterly reporter and can create characters and spin plot as crisply as any novelist, making the science behind his gritty message easy to absorb. The value of Poisoned is that it brings to life the stories behind the headlines in a way no other food safety book has done. Grim statistics are one thing, but they are nothing compared to the suffering of the children and the anguish experienced by their helpless parents -- ordinary people whose only crime was to treat their kids to a restaurant burger, "the all-American meal." Who among us has not done that?