New Natural Neccos Now Old News
A couple of years ago, Necco brought natural flavors into its product line, but, with sales falling, the company has decided to return to its bad old ways of tinny, Day-Glo colors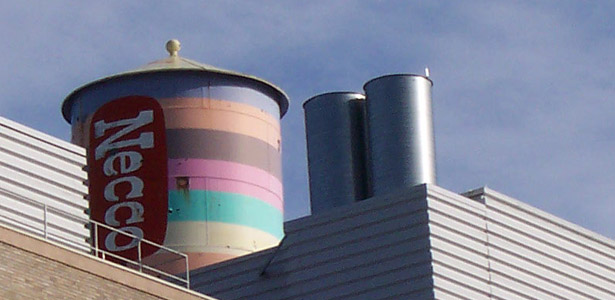 Today's Boston Globe brings tragic news: Necco's have returned to their bad old ways of tinny, Day-Glo colors and sharp, strange, unidentifiable but aggressive flavors. Oh well.
Two years ago, I wrote a column in the magazine hailing the trend of introducing natural flavors into what had long been the pleasantly lurid world of mass-produced candy -- a world entertainingly documented in my fellow Bostonian Steve Almond's Candy Freak, a tour of the old-fashioned candy makers still extant. And one of the high points of my past year was discovering in Omaha, a city that delighted me, a store devoted to just those candies: Hollywood Candy, which prominently features, opposite the shelves full of custom candy bars in various football teams' official color's, Nebraska's gift to candy making: Baker's Candies, a family-owned company in Greenwood that says it produces 20 million foil-wrapped "meltaways," lozenges of perfectly nice chocolate in various flavors.
Necco was a proud holdout in a long line of Boston candy companies: the name, New England Confectionery Company, was itself the result of consolidation of several independents that had taken place a century ago, and the antecedent opened in 1847. Today the old Candy Row of Cambridge has become a Tech Alley, thanks to its being near MIT, and though the wafer-painted water tower of the 1927 Necco building, once the largest factory devoted to candy in the country, retains its bright colors, the building is occupied by Novartis. One unmarked building, across from center-of-civilized-world Toscanini's, still does waft mysteriously alluring scents of chocolate all over the neighborhood, and makes Charleston Chews and Tootsie Rolls.
When I visited the relocated Necco factory, just outside Boston, it was just finishing a brave transition away from artificial flavors and colors to all-natural ones. This was part of a laudable trend in the candy trade, and the company substituted real peanut butter and chocolate in Clark's Bars without protest -- or, perhaps notice.
Neccos were different. You either like 'em or hate 'em. Our Nicholas Jackson: "I think they're nasty. They're so chalky!" Well, exactly. That's the texture of gum tragacanth, hallowed historic confectionery ingredient essential for wedding cakes and other elaborate pastry productions, and ancestor of today's Modernist Cuisine gums used for all manner of unexpected purposes.
I actually liked them, maybe because I'm from New England and they were always in Halloween baskets. But I knew they were an acquired taste:
I pay attention to the color of Necco wafers the way others do M&M's, which don't even change flavor by color. Necco flavors are proudly peculiar. "It's a very odd combination, fruit and spice," Jeff Green, who has been in charge of production and innovation at Necco for more than 25 years, told me. His favorite is clove: "Who makes clove?"
As it happens, clove was always my least favorite flavor, but I did like the others, and liked them considerably better with the new formulations. And I thought they were prettier.
The flavors he gave me were much, much subtler than the ones I was used to: cinnamon less like Red Hots, lemon less like paper candy dots and more like lemon-meringue-pie filling. And the colors: I was certain that Martha Stewart, who had recently featured Necco wafers on a wedding cake (historically apt; the pièces montées that made Marie-Antoine Carême perhaps the first star chef, in the early 19th century, were made of gum tragacanth, the base of Necco wafers and still the base of many wedding-cake decorations), would be designing a line of paints around them.
I was apparently alone. Sales dropped by 35 percent, and the company, embattled in recent years, couldn't take such a fall in what it calls its core product. Earlier this year it gave up an effort to sell itself, according to this article, subscription required, by Jenn Abelson, co-author of the terrific Globe series on mislabeled fish, which I wrote about yesterday and talked about with Abelson, last night on WGBH; it might try to sell again, and will need to shore up sales.
You can't change tastes, maybe. Or maybe it was those pallid Martha Stewart-subtle colors that turned people off, which is what I suspect. Michael Jacobson, just off yesterday's national success with his own Food Day, took the chance to call for national legislation to outlaw artificial dyes -- the approach I favor, too, to changing the default food environment to encourage (okay, coerce) people to eat better products without having to think about it. "People's perceptions would change," he said, "if artificial coloring were removed from all foods."
Not in time for this Halloween! Day-Glo it is. Jeff Green, the vice president of innovation, who led me through my tasting, said with a sigh, "What we found out from people was that they like the product, and they don't want to change." There's still time to find the all-natural ones: they won't be gone from the shelves for a year. I think I'll try to stock old and new for trick-or-treat testing -- though I think I also know which kind the trick-or-treaters at the door will pick.
Update: Gus Rancatore, eloquent owner of Toscanini's and Life contributor, sent this:
Soon after opening Toscanini's, one of our first memorable customers was a man who claimed to a faculty member at MIT. He came in the store during our first month of operation, "Do you know how Necco wafers luminesce?" he asked. Necco wafers were not a happy memory for me; they represented the economic calamity visited upon my parents which reverberated upon our own generation. "You know how some Necco wafers light up in the dark when you bite them?" And of course I did, because I could recall looking down the theater row where my younger brother, sitting next to my father, would be snapping Wintergreen Necco wafers like a beatnik on Dobie Gillis. The man who claimed to be an MIT professor asked to try all the ingredients in the store in an attempt to find similar illuminating foods. Was he really an MIT professor? I still see him on the streets of Cambridge, noticeably heavier, and that makes me think he has been eating other things.
Image: Wikimedia Commons.