Food Day: Working to Reform Our Food Systems From Farm to Fork
The executive director of the Center for Science in the Public Interest explains why he conceived of Food Day and what he hopes it will achieve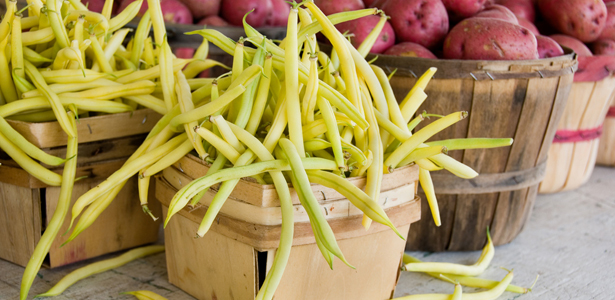 The way our food is grown, transported, processed, marketed, and ultimately eaten is not sustainable -- for the environment or our health. Diet, together with a sedentary lifestyle, cause obesity, diabetes, heart attacks, and cancers that result in several hundred thousand deaths each year. Raising livestock uses enormous amounts of energy to grow and transport feed; cattle feedlots stink up vast areas; and the animal manure often pollutes waterways. The animals generally endure miserable conditions, as do the packinghouse workers.
My organization, the Center for Science in the Public Interest, has long fought for consumer protections -- food labeling, vigilant food safety programs, and more-healthful foods. I have to admit that we, like most advocacy organizations, are usually toiling within our "health" silo. But because reforming America's food system is such a daunting task, organizations need to climb out of their silos and start collaborating with one another to make faster progress. Health groups should work with farm-animal welfare groups. Anti-hunger activists should work with sustainable agriculture advocates. Nutrition advocates should work with environmentalists. While those disparate groups don't see eye to eye on everything, there are countless opportunities where they can build on each other's strengths. And some have already started.
It is in that context that I conceived of Food Day. I envisioned it being like Earth Day, celebrated widely with thousands of events around the country. It would be a vigorous day or week of national focus on food issues that all sorts of people and organizations could tie in with (a smaller World Food Day is celebrated in some churches and campuses). As with Earth Day, I thought that a national mobilization focused on food could accelerate ongoing initiatives aimed at reforming the food system from the farm to the fork.
But, frankly, a year ago, I had no confidence that Food Day would catch on. Would people who are busy with their own lives actually organize activities?
I did know that everyone likes to feel that their modest, local activity -- in Anchorage, Savannah, or Ann Arbor -- is connected to something bigger, something national, that can have a real impact. And I knew that countless students, government officials, non-profit groups, and, yes, companies are concerned about reducing the harm America's food system inflicts on our health and the environment.
My confidence began to build last summer, as I talked to dozens of people who were almost uniformly encouraging. That led to the formation of an advisory board -- and as word got around, people were actually asking to join it. Then the two co-managers of Food Day, Lilia Smelkova and Jennifer Tuttle, and I began to spread the word more broadly to such organizations as the Farmers Market Coalition, the American Dietetic Association, and the Union for Reform Judaism. Again, almost everyone said that they would like to be involved in some way.
But it wasn't until Lilia, Jenn, and their organizers, Hayley Gillooly and Catherine Kastleman, began reaching out to people at the local level that I knew Food Day would be a great success. They would come back from Memphis, Denver, Minneapolis, Savannah, and other cities with stories about how enthusiastically they were received.
Over the past two months, it's been exciting to count daily the number of events on the map on the Food Day website and see that number soar. Today, more than 1,700 events, big and small and from coast to coast are listed -- and that's not counting the 800 schools in Los Angeles, the 100 in Seattle, or the 40 in Tulsa. Many of the events involve lectures, showings of movies, especially healthy meals, and lectures. It's great to see the diversity:
Schools in Bentonville, Arkansas, hometown of Walmart, are having special classes about food for the entire week, and kids are building Junk Food Halls of Shame.
The University of California, San Francisco, and its Hastings School of Law are hosting a conference on food deserts (where fresh produce is scarce), including the food deserts in prisons.
In Washington, D.C., the National Archives is having an open house, with literature tables from half a dozen nonprofit, industry, and government organizations, in association with its exhibit on the history of America's food policies.
Bolthouse Farms, a large California carrot packer, and the North Carolina Research Campus in Kannapolis are creating new farmers markets.
While most of the events are educational or charitable (such as collecting food or money for food banks), some focus on improving policies. Rhode Island is kicking off a food policy council. Montgomery County, Maryland, is doing the same. In California, nonprofit organizations are mounting a petition campaign to generate early support for a smarter Farm Bill.
Actually, every company, government agency, or other organization -- not just ones dealing with food -- should celebrate Food Day. Companies could easily get the junk food out of their cafeterias and vending machines, encourage employees to eat healthier meals, and support a Community Supported Agriculture program (the latter is something that CSPI started doing this year for the first time). Ones in the suburbs might have space for an employee vegetable garden. And large employers could arrange for a weekly farmers market at their facilities.
With Food Day just around the corner, I hope every American will join the celebration. I urge them to go to the Food Day map and see what activities are scheduled in their community and attend one of them. They could sign a brief message there urging their members of Congress to support Food Day's goals. Or they could simply celebrate at home with an especially healthy dinner or a potluck meal with friends -- and make sure that some of the talk is about some of the food problems they'd like to solve.
Image: Maria Dryfhout/Shutterstock.