A Shocking Chart on Vaccination
The Waldorf School of the Peninsula seems to be aimed at very affluent children in the Bay Area. Its tuition for the lower school is $17,000 a year. The school provides the following quote on the "Spirit of Waldorf Eduction":
The Free Waldorf School was founded upon the impulse for social change, upon the need to reform society into a community that takes into account the true Being of Humanity. Into the desire for reform were sown the life-giving forces of the teacher's inner work and Rudolf Steiner's spiritual insight. The goal of this education was that, through living inner work guided by the insights of Rudolf Steiner, the teachers would develop in the children such power of thought, such depth of feeling, such strength of will that they would emerge from their school years as full members of the Human Community, able to meet and transform the world.
So I suppose I should not be surprised to see
this
: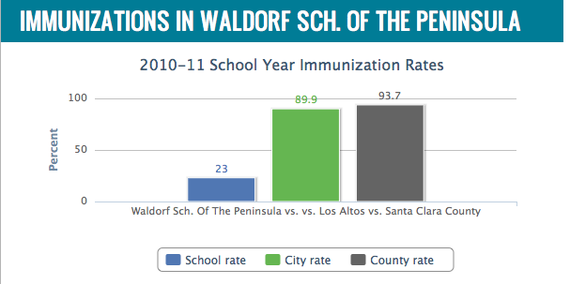 Yet I am surprised--surprised and disappointed.  This is a very dangerous level of immunization -- the level where herd immunity gets lost, disease reservoirs are established, and children emerge from their school to infect infants, immunocompromised adults, and people whose vaccinations didn't take or have waned, with potentially fatal diseases.
We spent most of the last century trying to stamp out the infectious diseases that used to cripple and kill hundreds and thousands of people every year.  Sometimes it seems like the Bobo elites plan to spend the 21st century bringing them all back.