What One Father Learned From His Extraordinary Son's Autism
Fields-Meyer fondly recalls a small moment 12 years ago when his now-15-year-old son Ezra first started to carve his own path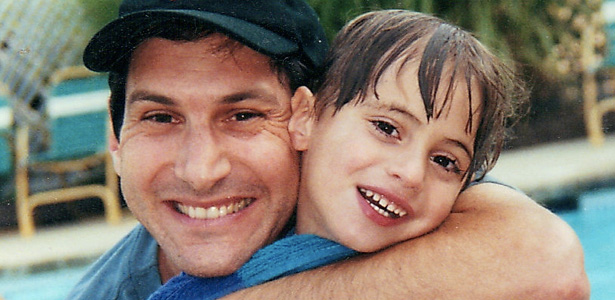 Twelve years ago, the second of our three sons was diagnosed with autism spectrum disorder.
I hasten to point out that Ezra, now 15, is a remarkable child. Like many people with autism, he possesses a stunning memory: He can recite the running times and release dates of hundreds of animated films, and spouts with perfect recall details culled from his prized collection of animal encyclopedias. More important, he greets every day with enviable enthusiasm -- and some mornings (such as the first of each month and the dawn of each season) with particular gusto.
It has been a long evolution from the remote toddler to the strapping teenager who paces around our house holding forth about Cars 2 and koalas. I wrote my new memoir, Following Ezra: What One Father Learned About Gumby, Otters, Autism, and Love from His Extraordinary Son to be the book I would have wanted to read when Ezra was first diagnosed, a story that says: Your life will be different from what you expected, but it'll be okay.
With the U.S. Centers for Disease Control estimating that one in 110 children has some form of autism, there is no dearth of written accounts by their parents. Most such books share a common narrative: the battle against a disease, the search for a cure. Instead, I wanted to describe -- with humor and tenderness -- the remarkable, rich, and often surprising life that comes with raising such a child.
My perspective on that experience was transformed by a moment I shared with Ezra one summer morning many years ago, a moment I later realized was emblematic of our entire relationship. Here, an excerpt from the opening pages of my new memoir:
---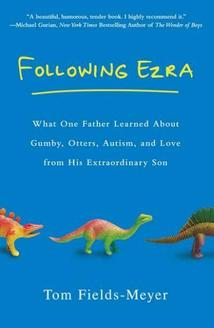 The walk was always the same. Then one day it was different.
In the summer of 1999, my wife Shawn and I spent two months with our three young sons at a retreat center nestled in the arid foothills bordering Simi Valley, California. The campus was a spectacular, sprawling property stretching over gentle, golden ridges dotted with eucalyptus, pepper trees, and cactus. Shawn, a recently ordained rabbi, was teaching Jewish texts and practices to a group of young adults. The job required long hours not only in the classroom but also in intense, private discussions of spirituality over meals in the dining hall, on long strolls, and over snacks late into the night. At the same time she was nurturing the souls of a few dozen twenty-somethings, we were also busy caring for our boys: Ami, who was five; Ezra, three; and Noam, eighteen months.
Some months earlier, Ezra had begun displaying troubling behavior. He isolated himself from his preschool classmates to flip mechanically through picture books. At home, he spent inordinate periods absorbed in solitary, odd activities like lining up plastic dinosaurs and jungle animals in precise, symmetrical patterns across the back porch. His sensory system was clearly in disarray. That summer, he was so tortured by the cacophonous noises of the dining hall that he would cover his ears and run out the doors; at nearly every breakfast, lunch, and dinner we had to designate an adult to keep track of Ezra as he paced alone in small circles on the concrete patio or sought out insects among the boulders and agave plants on a nearby hillside.
Ezra seemed agitated even in his sleep, and when he rose at daybreak, it fell upon me to prevent him from waking the other boys or creating enough of a disturbance to rouse the staff members and families neighboring our small bungalow.
So Ezra and I began taking walks.
The air was cool and crisp at that early hour, the best time to roam the grounds, where peacocks wandered freely and geckos scampered across stone walls and asphalt patches. Ezra was drawn to animals of all kinds, so we wandered down a short dirt road to visit a compact stable that housed the center's small herd of horses, then continued up a knoll and into a modest pen, where Ezra could meander amid a few dozen chickens and, nearby, peek into a small aviary with parrots and a handful of pigeons. For a boy who spent most of the year in a Los Angeles neighborhood with all of the traffic, smog, and noise that came with it, this was heaven.
After a few days, Ezra had worked out a circuit that he insisted on following each morning: paying a visit to the livestock and birds, then continuing a stretch to a little barn, past the swimming pool and sports fields, and up the road to where he had discovered a playground area. There, years before, campers had created a cluster of toddler-size animals molded from plaster. Ezra would sit on each one, always in exactly the same order: the giraffe, the camel, the snail, the turtle. Then we wandered to the nearby swing set, where I pushed him for a few minutes until he was ready to hop off and stroll back to the cabin, just in time to find his mother and brothers beginning to stir.
One morning, instead of turning left to return to the cabin, Ezra turned right.
"Other way, Ez," I said. But he didn't hear -- or chose not to listen. Instead of heading back toward the family, he walked with resolve up the paved road, toddling a few steps ahead of me. I followed closely behind him, calling to him, to no avail. Then I dropped back a few paces. It was a private road, and I knew that at that early hour no cars were likely to come by, not even the groundskeeper's rusty red pickup. So I let my young son walk as I faded ten feet, then fifteen, then twenty feet behind. I wondered whether he might become upset, realizing that I was not at his side. He didn't. Ezra followed the curving road amid the brush and eucalyptus, up a small hill, around a bend, and on for nearly half a mile. A three-year-old boy ambling up a rural road, more and more isolated from everything and everyone he knew, my son seemed completely on his own -- confident and naive, bold and aloof, utterly alone.
I watched, feeling a combination of fear, bewilderment, and wonder. Fear for his safety; bewilderment at his seeming lack of awareness or connection; wonder at his resolve to follow his own path, to take the road he wanted, even if it was unknown.
Read a Q+A with the author.

Excerpted from Tom Fields-Meyer's 
Following Ezra: 
What One Father Learned About Gumby, Otters, Autism, and Love From His Extraordinary Son
 (NAL/Penguin)