Weekend Reading: Recent Food Reports on Obesity, Sugary Drinks
The U.S. Public Interest Group (USPIRG) has a new report out on the effects of farm subsidies on obesity: "Apples to Twinkies: Comparing Federal Subsidies of Fresh Produce and Junk Food." If you want people to eat more fruits and vegetables and less junk food, fixing the subsidy patterns might be a good place to begin.
New England Complex Systems Institute (whatever that might be) has an interesting explanation of the recent rise in world food prices: "The Food Crises: A Quantitative Model of Food Prices Including Speculators and Ethanol Conversion."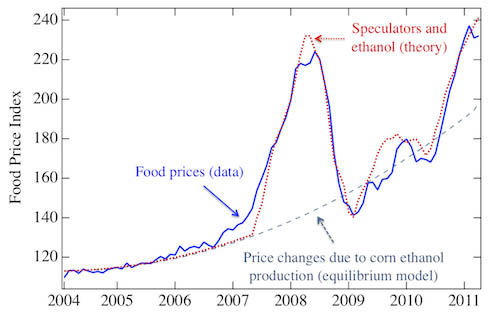 The authors' explanation: commodity speculation and growing corn for ethanol fully account for the rise in prices. The remedy seems obvious, no?
The Robert Wood Johnson Foundation has just funded a report on the soft drink industry from the National Policy & Legal Analysis Network to Prevent Childhood Obesity (NPLAN), a project of Public Health Law & Policy (PHLP): "Breaking Down the Chain: A Guide to the Soft Drink Industry." This is about the industry itself, but also what it is doing to market its products here, there, and everywhere. This is required reading for anyone interested in public health measures to reduce consumption of sugary drinks.

This post also appears on Food Politics.