Study of the Day: The Procedure That Best Treats Varicose Veins
Research out of London is the first to compare the success rates of two common non-surgical vein treatments -- laser and foam therapy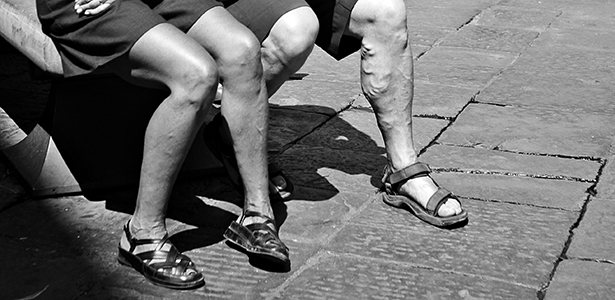 PROBLEM: About half of people 50 years and older are affected by varicose veins. Last week, research from the journal Archives of Dermatology showed that non-invasive endovenous laser treatment (EVLT) fixes problem veins just as well as surgery. But how does EVLT compare with another non-surgical FDA-approved procedure involving foam injections?
METHODOLOGY: Researchers compared the cost and effectiveness of laser and foam treatments with the help of 100 patients who were randomly assigned to either procedure. During the course of the trial, medical costs, treatment durations, recovery times, and average seven-day post-procedural pain scores were monitored.
RESULTS: The two treatments were successful at closing off varicose veins. Foam therapy, however, was more than twice as fast and four times cheaper than laser treatment on average. Participants who underwent foam therapy tended to experience less pain in the week following treatment and to return to normal activity in three days. Those who had laser therapy took an average of eight days to recover.
CONCLUSION: Though both non-invasive therapies are equally effective in treating varicose veins, foam injections are cheaper, less painful, and easier to recover from than laser treatments.
SOURCE: The full study, "Cost and Effectiveness of Laser with Phlebectomies Versus Foam Sclerotherapy in Superficial Venous Insufficiency. Early Results of a Randomised Controlled Trial," was presented over the weekend in the annual meeting of the European Society for Vascular Surgery.
Image: Fabbio/Flickr.