Study of the Day: Scientists Disarm HIV, Move Closer to AIDS Vaccine
New research charts a path to preventing infection and improving immune responses to the virus that kills around 1.8 million per year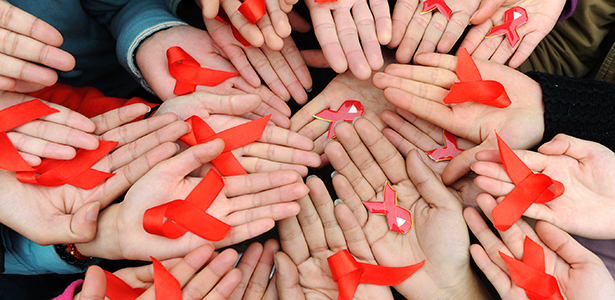 PROBLEM: HIV/AIDS kills around 1.8 million people a year, and ranks as the third leading cause of death in low-income countries. When a person is infected, the body's innate immune system provides an immediate but flawed defense. Some experts say that HIV causes the body to overreact, calling on plasmacytoid dendritic cells (pDCs) that inadvertently cause more harm than good.
METHODOLOGY: The human immunodeficiency virus takes its membrane or "skin" from the cell that it infects. Researchers led by scientists at Imperial College London and Johns Hopkins University exposed HIV by removing cholesterol from this cellular wall using beta-cyclodextrin (bCD), a derivative of starch that binds cholesterol.
RESULTS: High levels of bCD produced a large hole in the virus's membrane, making it permeable. This led to a stronger adaptive response, orchestrated by immune cells called T cells.
CONCLUSION: HIV is unable to damage the immune system if cholesterol is removed from the virus's membrane. With a weakened membrane, HIV cannot activate pDCs, so T cells can fight the virus more effectively.
IMPLICATION: The researchers are investigating whether this inactivated virus could be developed into a vaccine.
SOURCE: The full study, "Over-Activation of Plasmacytoid Dendritic Cell Inhibits Anti-Viral T Cell Responses: A Model for HIV Immunopathogenesis," is published in the journal Blood.
Image: REUTERS/Stringer Shanghai.