Study of the Day: How Can Rescuers Detect Trapped Humans?
Stuck in a building following a major disaster? Don't fret. Thanks to new research, all you may have to do to get rescued is breathe.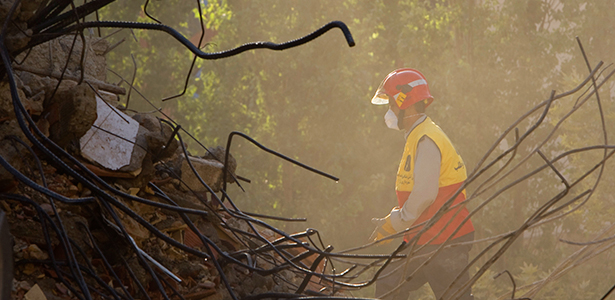 PROBLEM: When trapped inside a collapsed building, disaster victims release volatile metabolites or products of the body's breakdown mechanisms through their breath, skin, and bodily fluids. Complex interactions with building materials, humidity, heat, and wind, however, make these substances more difficult to detect. In the aftermath of 9/11 and more recent disasters in New Zealand and Japan, how can rescuers better detect trapped humans? More specifically, what should their portable sensors look for?
METHODOLOGY: Researchers from the National Technical University of Athens, University of Babe-Bolyai, University of Dortmund, and Loughborough University analyzed molecules in the breath, sweat, and skin of eight trapped people in a five-day simulation of a disaster site. They examined flumes of air to create a profile of molecules that could indicate human life.
The simulator, which was designed, built, and tested by the researchers, had three sections: the environmental section, which maintained airflow, humidity, and temperature; the void section, where the participant stayed in six-hour intervals; and the collapsed-building section, which was composed of densely packed building materials. A variety of high-sensitivity sensors throughout the simulator rapidly detected materials, such as carbon dioxide and ammonia, in the rubble. The authors say the experiment is the first disaster simulation to use human participants.
RESULTS: There was a marked decrease in ammonia levels when the participants were asleep. The scientists also found a build-up of acetone as the participants grew hungrier as well as detectable molecules in their urine.
CONCLUSION: A post-calamity device could be deployed in large numbers and used in the field to detect signs of life for prolonged periods, says co-author Paul Thomas in a news release. Such a tool, he adds, may replace trained search dogs that are working at risk to themselves and their handlers for 20 minutes before needing extensive rest.
SOURCE: The full study, "The Trapped Human Experiment," is published in the Journal of Breath Research.
Image: REUTERS/Morteza Nikoubazl.