Study of the Day: A Gentler Way to Shock Your Heart Back to Life
Forget the defibrillator. Researchers present a new way to potentially restore normal heart rhythm and prevent sudden death.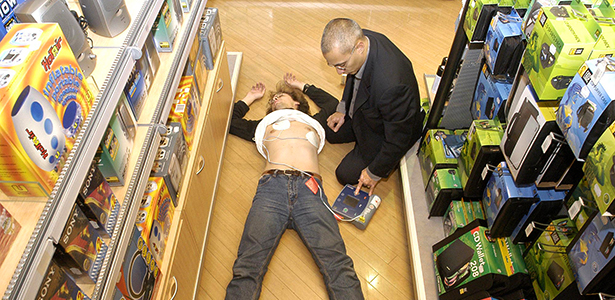 PROBLEM: The heart beats rhythmically, with electrical impulses occurring in waves. Or at least it's supposed to. So when people experience an arrhythmia or out-of-sync impulses that cause the heart to beat abnormally, defibrillators are needed to restore this vital rhythm. Anecdotal and scientific evidence suggests, however, that the shock from these devices is exceedingly painful and can damage heart muscle.
METHODOLOGY: A team of Johns Hopkins University cardiologists and biomedical engineers aimed to find a kinder way to halt ventricular fibrillation, the rapid and potentially fatal irregular heart beat during an arrhythmia. In a series of lab tests with mice, guinea pigs, and rabbits, they experimented with several shock strategies, including a lower amplitude, high-frequency alternating current at 100-200 Hz. They assessed the response of the heart cells to currents using a technique immune to applied electric stimuli called optical mapping. The team also produced a multi-scale computational model of the heart to monitor the response of individual heart cells to electricity.
RESULTS: A less-intense high-frequency alternating current puts the disorganized, rapidly moving heart cells in a refractory state that's similar to suspended animation. When this current is switched off, these formerly erratic cells immediately return to a normal state.
CONCLUSION: High-frequency electric fields can induce a reversible refractory state that stops arrhythmias.
IMPLICATION: Though further tests are needed, the researchers say they are hoping to ultimately develop a device for humans that applies a gentler alternating current to impede the dangerous rhythm during an arrhythmia.
SOURCE: The full study, "Reversible Cardiac Conduction Block and Defibrillation With High-Frequency Electric Field," is published in the journal Science Translational Medicine.
Image: AP/Jens Meyer.