Solving the Public Health Crisis: Lessons From New York City
With enough social and political will, we can work together to prevent non-communicable diseases like cancer, diabetes, and more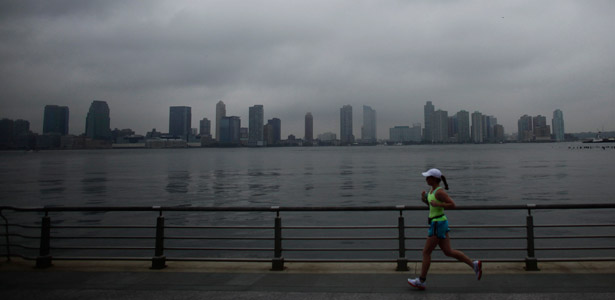 Last Tuesday, Mayor Michael R. Bloomberg addressed the closing plenary at the United Nations, where global leaders had convened to discuss the public health crisis of non-communicable diseases -- an effort in which New York City can help show the way.
The good news is that, with enough social and political will, we can prevent these diseases. Just as the United States vanquished most infectious disease epidemics in the 19th century with clean water, waste disposal, and improved housing quality, we can successfully battle non-communicable diseases today by fixing hazards in our modern environment. Important first steps include smoke-free air indoors and pollution-free air outdoors, healthier food in our stores and restaurants, and cities, neighborhoods, and streets designed for walking and other types of exercise.
In a parallel effort last week, the Centers for Disease Control and Prevention unveiled the "Million Hearts" initiative, a campaign with the ambitious goal of preventing a million heart attacks and strokes in the United States over the next five years. Million Hearts reminds us that, while we may be driven to panic over disease epidemics that could race around the world in days like the one in Contagion, we ought to fear more the far bigger, slow-moving epidemics that are already here. Heart disease and stroke kill 800,000 Americans a year and cause one out of three deaths in the United States.
This problem, of course, does not stop at our borders. Heart diseases and strokes are the leading cause of death worldwide. Together with the other most common non-communicable diseases -- diabetes, cancer, and chronic lung disease -- these illnesses now kill three out of five people globally. UN Secretary General Ban Ki-Moon has called this growing non-communicable disease pandemic "a public health emergency in slow motion."
Here in New York City, we have begun to put these solutions into place, and they work. After we raised cigarette taxes, bringing the cost of a pack to nearly $11, prohibited smoking in indoor public spaces, and ran TV ads showing the ugly consequences of smoking, we reduced the number of smokers in New York by 450,000. This is already saving over 1,500 lives a year and, across the lifespan of people currently alive, should prevent some 50,000 premature deaths. Our work is delineated in a NYC Department of Health report, "Preventing Non-Communicable Diseases and Injuries."
We are making healthy choices easier in many other ways. We were the first jurisdiction in the United States to legally restrict trans fats in restaurants and to require restaurant chains to post calorie information. We are putting fruit-and-vegetable "Green Carts" in low-income neighborhoods. We are opening up playgrounds, painting bicycle lanes, and constructing pedestrian plazas to insert physical activity back into our daily routines. Since we turned Times Square into a pedestrian mall, the hundreds of thousands of daily visitors are now breathing air with 40 percent less nitrogen dioxide. And new city rules on fuel oils will reduce air pollution citywide, preventing some 200 deaths from heart and lung disease each year.
Put that all together, and New York City has become an extremely healthy place to live. Since 2000, life expectancy in New York is increasing faster than in every other major U.S. city and faster than in the United States as a whole.
The beauty of this all -- besides the fact that it works -- is that unlike medical treatment, preventing non-communicable diseases through policy and environmental changes is not necessarily expensive. New York City's restriction on trans fat, the requirement for calorie posting in restaurants, the indoor smoking rules, and city fuel oil emissions restrictions cost the government virtually nothing. Meanwhile, since 2002, city and state excise taxes on cigarettes sold in New York City have generated about $4.4 billion in revenue for government -- revenue that can be used to repair bridges, pay teachers, and fund other public health programs.
People around the world are increasingly facing the same killers: heart disease, cancer, diabetes, and chronic lung disease. And they are caused by the same problems: unhealthy diet, physical inactivity, and cigarette smoke. We are far from solving this crisis of non-communicable diseases in New York City, but we are off to a very good start. At and following the UN meeting, we hope to share the solutions we've found that work. Some, such as trans-fat restriction, calorie posting, and smoking cessation will spread across the United States as part of the Million Hearts initiative. Some could serve as examples for cities around the world to adapt to their local situations and cultures. The common thread to success against our era's epidemics -- here and around the world -- will be shaping our everyday environment to make healthy choices easier.
Image: REUTERS/Eduardo Munoz.