Let's Make 'Let's Move!' Even Better
How the government can nudge people to spend food dollars in a way that benefits local small-scale farms and creates farmers' markets in areas where consumers have no alternative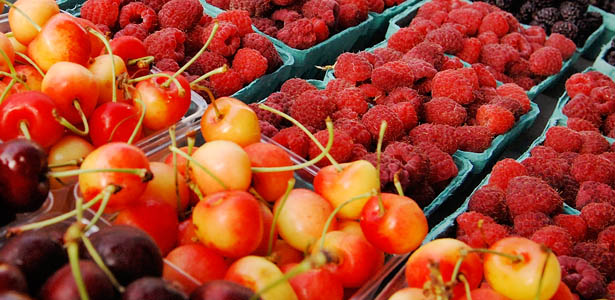 If there's anything that can serve as a great stabilizer in America's growing financial divide, it is the nation's food assistance programs. The federal Supplemental Nutrition Assistance Program (SNAP), better known as food stamps, doesn't only help Americans put food on the table. It serves as a major economic stimulus. For every dollar spent in SNAP benefits, economists say, we see a $1.84 increase in the overall economy. Considering that the USDA directed $68 billion last year to food stamp recipients, taxpayers can rest assured that -- at least in this case -- the government has made a sound investment with their money.
But could the government do more to nudge people to spend those food dollars more strategically -- and in a way that not only prevents malnutrition but supports and expands local agriculture and community food businesses?
Yes. By supporting farmers' markets and local small-scale farmers. According to the USDA, small farms and ranches are disappearing at an alarming rate, but there nonetheless remains a strong opportunity for renewed growth:
We see this "disappearing middle" in a decline of more than 150,000 farming operations with sales of more than $10,000 but less than $500,000 between 1997 and 2007. Some have migrated to larger categories but many just went out of business. But we also recognize that there is an amazing opportunity out there. For example, studies show that regional demand in the Midwest for fruits and vegetables could generate close to $900 million and create as many as 9,000 jobs.
The Obama Administration has signaled that it wants to assist small and medium-scale producers. Deputy Secretary of Agriculture Kathleen Merrigan has made the Know Your Farmer, Know Your Food a key cross-agency initiative in the administration's effort to return America's connection between farmers and consumers while supporting economic growth in rural communities. Merrigan's boss, Secretary Vilsack, has also taken clear steps of support, such as instituting a program that provides $12 million in grant funds to small-scale farmers for hoop houses, which extend their growing seasons. He plans to expand this program in 2012.
As part of her Let's Move! campaign to end childhood obesity in a generation, First Lady Michelle Obama has made numerous appearances at farmers' markets and made strong statements of support for both local and organic food production. However, as Eddie Gehman Kohan astutely recognized in Obama Foodorama, there remains a disconnect between Let's Move! and meaningful support for small and mid-sized American specialty crop growers. (All fruits and vegetables are classified by the USDA as "specialty crops.")
In her effort to eliminate "food deserts" in six years, the First Lady has brokered agreements with Walmart and other large retail chains to open stores in communities that have few places for people to buy healthy fresh foods. While this deal addresses the critical need of increasing food access to low-income communities, much of the money that will be spent at these stores will not necessarily help local farmers.
The White House Task Force to End Childhood Obesity released a report praising local fruit and vegetable incentives as a viable way to let families afford to choose healthier foods for their families. These incentives stretch SNAP dollars by doubling their value when spent on locally grown produce at farmers' markets, farm stands, and CSAs. Wholesome Wave, the group I work with, was a national leader; Fair Food Network has done the same for the entire state of Michigan; Roots of Change leads incentive programs throughout the state of California; Market Umbrella has been doing innovative work on incentives in Louisiana and Mississippi. All told, these programs are now active and successful in nearly 30 states, in more than 250 farmers' markets. It's important to point out that the vast majority of these markets are in neighborhoods where large-scale grocers will not venture without significant tax incentives, courtesy of the American public.
Interestingly, where underserved community markets have run out of these kinds of local fruit and vegetable incentives, SNAP consumers continue to spend their benefits on locally grown produce. Once they get used to buying fresh food direct, they see that it doesn't have to be more expensive.
Walmart's stated commitment to procure local foods demonstrates that the demand for locally grown is far larger than anyone in Washington, D.C., or the local food movement truly understands. Yet even with major retailers committing to open several hundred stores in communities currently defined as "food deserts," many hundreds more food deserts will be left without access to healthful local food -- and thousands of farmers without markets to sell to.
With plenty of room for more food access, farmers' markets continue to provide the most inexpensive, culturally sensitive, and effective option to get specialty crops into America's seriously underserved urban and rural communities. These markets provide jobs and fertile ground for inventive, entrepreneurial approaches to launching food businesses that require low investment -- and can have high impact, creating new jobs and equity opportunities to low-wage workers.
For all of the suspicion of Walmart's forays into organic and local foods -- and I understand why many good colleagues of mine are leery -- the company got off to a very good start when its foundation granted $1 million to Will Allen's Growing Power. There's no question that Allen will put that money to very good use, and will fight with action any accusations of corporate green-washing.
Luckily, philanthropic organizations such as the W.K. Kellogg Foundation stand firm as exceptional examples of how corporate resources can be turned to very good use. Kellogg alone has funded the majority of the sustainable food movement's efforts over the past decade. The majority of its annual giving comes from a portion of the annual stock value of the Kellogg Corporation, so the foundation's work can be seen as a positive outcome of corporate profit (and despite the shared name and the source of its funding, Kellogg is an autonomous rather than a corporate foundation). In the case of the Walmart foundation, with the number of food deserts that exist and the level of need growing, $1 million can only be seen as a start.
With that in mind: Why don't significant retailers that do their own philanthropic giving -- breast cancer, kidney disease, and the like -- take their cue from the Kellogg and Walmart foundations and put some of their philanthropic dollars into the hundreds of farmers' market organizations and food access/food justice nonprofits that make access to fresh and local produce easier and more affordable?
Wouldn't it be groundbreaking if, for every retail outlet Walmart opens in a food desert, it makes three farmers' markets available in communities where it knows it won't be going? Such action, made in tandem with Let's Move, could change the meaning of public-private partnerships.
The Obama Administration has a rare, powerful, and exciting opportunity to bring the whole country toward the new reality Walmart's strategic direction has clearly identified. After all, specialty crop production provides nearly triple the economic value compared to conventional crop production: more jobs, more diverse equipment, and, thus, more manufacturing needs.
Agriculture and scalable retail are complicated subjects, as is the difference between consumer need and demand. There needs to be a place at the table for all types of agricultural production, retail food access, and business opportunities. Let's Move! should revisit its strategic plan to be sure that it includes deals and relationships that provide direct market support for small and mid-scale American agricultural producers. That will give the administration even more reason to be proud of helping every American eat fresh food.
Image: REUTERS/Jonathan Ernst.