In Michael Jackson's Doctor, HLN Finds Its Next Casey Anthony
Tuesday saw the opening statements in a case against Conrad Murray, for which Nancy Grace and company plan to deliver non-stop coverage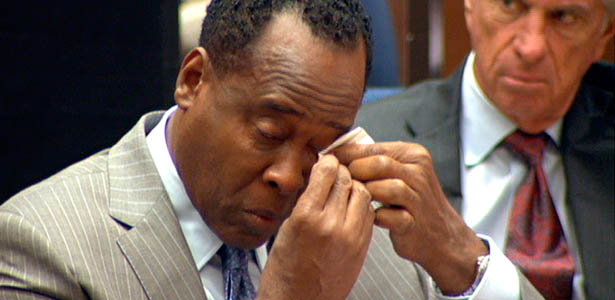 On July 5, when Casey Anthony was found not guilty of murdering her two-year-old daughter Caylee, reported missing three years earlier, HLN (formerly CNN Headline News) knew the ratings were going to go down. For six weeks after the trial began in late May, Nancy Grace, the legal commentator and television host who describes herself as someone considering issues from a victims' rights standpoint, had been yelling and screaming nightly on air: Casey Anthony was guilty. Grace was convinced. And whether because they admired her position or were watching for more reasons to criticize her, people were tuning in.

"She gave it the full P.T. Barnum treatment," Robert Thompson, a television professor at Syracuse University, told the Atlanta Journal-Constitution's Rodney Ho. "She was like a circus advance man whipping up the crowds before the elephants arrive." On the final day of the case, nearly 3 million people tuned in to Grace's eponymous show, setting a record for her six years behind the desk. Hundreds of thousands of comments were left on her Facebook page. When all was said and done, HLN tallied the numbers: The third quarter of 2011 was the network's best ever, even though it was already hemorrhaging viewers before the quarter came to a close. In the month of September, long after the trial wrapped, total viewers during primetime fell 15 percent.
To keep the fading spotlight on herself, Nancy Grace joined ABC's Dancing With the Stars, a show where the introductory episodes and heavy promotional work would suggest that, because viewers need a refresher course, the title is a little misleading. Stuck somewhere between Rob Kardashian (yes, there's a brother) and Chynna Phillips of 1990s "Hold On" fame, Grace has been entertaining audiences for the past few weeks with lively performances of a different kind. But don't let her dancing -- or her breasts, which were recently exposed as Grace Cha-cha-cha'd across the stage in a floor-length dress -- distract you. We move on quickly. And most people only get 15 minutes of fame. But Nancy Grace is just gearing up for her second act.
Just as the circus knows which city is coming next before it even packs up the Big Top, HLN has been quietly preparing for the next blockbuster case. And even though HLN host Jane Velez-Mitchell called the Casey Anthony show the "trial of the century" just two months ago, it could be quickly forgotten when Conrad Murray takes the stand to face charges of manslaughter as Michael Jackson's former doctor. (It is, after all, an idiomatic phrase that's been used to describe the O.J. Simpson trial, the Slobodan Milosevic trial, the Lindbergh trial, and many others.)
After two weeks of jury selection (whittled down from 187 potential candidates), the lawyers from both sides in People of the State of California v. Conrad Robert Murray made their opening statements earlier today for what is expected to be a four- to six-week trial. Nancy Grace has temporarily packed up her dancing shoes and is back in the studio, where HLN was running a countdown clock leading up to the trial's official start time. While Grace's show will only air Wednesday-Friday nights while she competes on Dancing, HLN has promised to deliver "gavel-to-gavel coverage," according to the New York Times, with every member of its line-up (Grace, Velez-Mitchell, Joy Behar, Dr. Drew Pinsky) focusing on Murray.
Will HLN teach us anything about the actual medical and legal issues surrounding the death of America's controversial pop king, who suffered cardiac arrest at his Holmby Hills home two years ago following the administration of propofol, a hypnotic agent, and lorazepam and midazolam, two anti-anxiety benzodiazepines? That remains to be seen. But, if nothing else, you can count on some entertaining television.

Image: REUTERS/POOL New.