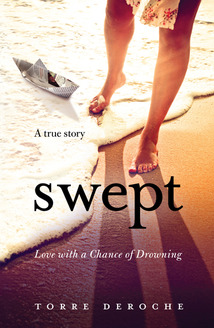 "Bloody hell, Ivan," I say, "Why can't we just agree on this?"
"Look," he says. "You're being unreasonable. I don't want to fight, but we're not going to sink in the middle of nowhere and end up in the life raft so let's just drop it."
I close the slats on the boat's companionway -- our version of a front door -- so we don't scare residents of Marina del Rey (seals and seagulls) with our domestic dispute.
The vinyl sofa squeaks as I sit down and it sticks uncomfortably to my sweaty skin. Ivan sits across from me, arms folded over his chest. I stare at him and begin to rip my nails off with my teeth. I can't believe that I'm discovering now, just a month before leaving, that Ivan's idea of 'safety insurance' for a year on the Pacific Ocean is food, water, a bilge full of beer, and 365 condoms.
"Ivan, I don't understand why you're not factoring in the possibility that we might sink. Why not get a ditch kit just in case we do sink?"
"We won't sink," he repeats.
"Argh! Ivan, please stop making that claim."
I give my fingernails a break while I shuffle through a pile of research scattered over the foldout table. I retrieve a book -- a guide to sailboat cruising -- and start flicking pages, looking for information to validate my argument.