Can a National Food Day Convince Americans to Start Eating Right?
Modeled after Earth Day, Food Day is a nationwide series of events designed to change how Americans eat and think about food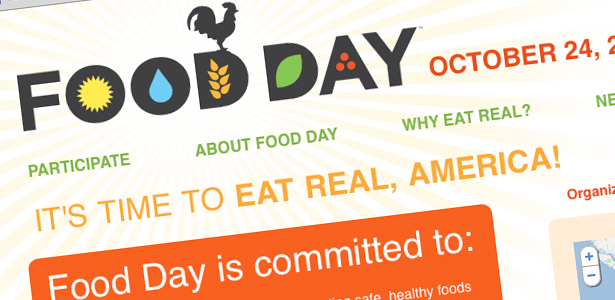 Advocates of the food movement have gotten creative about how they work. Young adults are turning to farming or urban agriculture; low-income people can now spend WIC and SNAP funds at many farmers markets; organizations are using social media to share public health campaign ideas and organize politically. The economic, environmental, and health crises have driven this creativity. But it can feel like the crises are escalating too fast for even the most innovative ideas to keep up with the problems they need to address.
Enter Food Day.
Food Day, which I am helping to organize on October 24, is a new, nationwide event to give an extra push to change how Americans eat and think about food. Food Day is based on Earth Day, in that any individual or group, formal or informal, can plan events on and around October 24 to improve America's food systems.
Food Day events will be diverse: policy campaign kick-offs, cooking lessons, farm tours, film nights, public or private dinners in homes or public spaces, school curricula, filmmaking contests, protests, declarations of new city priorities, and announcements of changes to institutional food-buying or vending practices. The consumer-advocacy group Center for Science in the Public Interest (CSPI), in Washington, D.C., created Food Day, but considers ownership of it to belong to the people planning events at the local level.
Who has enough time or enough caffeine running through their veins to take on national issues like subsidies to huge farms or junk-food marketing to push for systemic change on Food Day? The truth is, we have to make time, because it's going to save us time (and money and health) in the long run.
This is because so many barriers to things food advocates push for -- like healthy and sustainably-produced food for all -- are systemic, economic, and deeply intertwined. This interrelationship means three things: we need to collaborate; we need to show how everything from hunger and food access to farm worker justice is really one large, complex issue; and we need the general public and policy makers to pay attention.
If we all host fairly simultaneous events and campaigns about food-system issues -- food access and hunger, sustainable farming, junk food marketing to kids, food-worker and farm-worker justice, factory farming, and diet-related disease -- it will be clear that these issues are connected. We'll draw focused national attention to the work of the food movement.
In essence, Food Day is the "Stone Soup" of the food movement: CSPI puts the day out there, like a kettle with a stone in it, offering a chance to turn your carrot and my onion and her urban agriculture program and his hunger relief efforts into something remarkable. If groups and individuals organize thousands of Food Day events, big and small, we'll all start to understand not just that public health, sustainability, and food justice are related, but how they are related. It will help us begin to make changes in our own lives and our community's and country's institutions.
Food Day is more than a month away, but plans are already simmering around the country, and the day is shaping up well. Students in universities and colleges as diverse as Stanford, Rhodes, University of Washington, and Babson are organizing events. Mayors and governors in Anchorage, Colorado, Las Vegas, Oregon, and other cities and states are proclaiming October 24 Food Day. Philadelphia, Rhode Island, and Los Angeles are using Food Day to improve their food policies and promote their residents' health. Public health agencies, schools, agricultural groups, food banks, neighborhoods, universities, families, and advocates who may not have worked together before are collaborating on policy projects and events. Individuals are hosting dinners and events in their homes and neighborhoods.
Some of the events are especially creative. University of California, Hastings School of Law and University of California, San Francisco are collaborating on a conference about prisons as food deserts. The Food Bank of North Alabama is collecting recipes from nearby chefs, sharing them with residents who host local-foods dinners for friends and family while collecting food bank contributions, and working with the local housing authority, which is transporting residents to farmers markets to use food vouchers.
The response has been so strong because the American appetite for seeing food as a health, justice, and environmental issue is high. We're alarmed about expanding waistlines, hunger and inequalities, and unsustainable food production. It's the right time to make Food Day as much an annual part of the American consciousness as Earth Day.
Image: Food Day.