11,000 Students Enter California Schools Without Required Vaccines
Despite an outbreak of whooping cough last year, more parents are using a personal belief exemption to get out of vaccinating children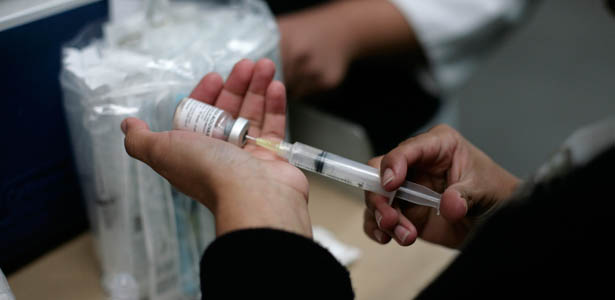 Last year, 10 babies died and more than 9,000 people were sickened when whooping cough spread throughout California. Last week, officials said there were 28 reported cases of measles in the state, a 10-year high. These illnesses are ones most of us in the United States know by name but have no experience with; we've never seen them. And that's because vaccines developed years ago -- and long recommended by both the World Health Organization and Centers for Disease Control and Prevention -- are effective in preventing them.
Despite all of the media coverage that whooping cough and measles received, more than 11,000 students are entering California's elementary schools this year unvaccinated. "At nearly 2.5 percent of the state's 470,000 kindergartners, that's California's highest rate of declined vaccines since at least 1978, the year before the measles, mumps, and rubella vaccine was required," according to the Associated Press.
While the vaccines are still "required," there are two different types of exemptions that parents can file for. The first, a medical exemption, is complicated: A doctor must sign off saying that a child cannot be vaccinated because of allergies or an autoimmune disorder. The second, a personal belief exemption, doesn't require any information at all. And that's the one more and more parents are using thanks, according to John Talarico, chief of the California Department of Public Health's immunization branch, to misinformation on the Internet.
"We really think a lot of it is due to honest, valid concern that parents do the best thing for their child coupled with misinformation that gets out through various forms of communication," Talarico told the AP. While he's hoping that use of the personal belief exemption will slow on its own, Talarico has some back-up plans. State health officials, he told the AP, want to study the exemptions in order to better understand parental behaviors. If that doesn't provide any answers, Talarico may have to wait until there's another outbreak, until parents who have decided to forego vaccinating their children can see they are effective in preventing disease.
Image: REUTERS/STRINGER Mexico.