Why Hospitals in Portland Are Banning Early Births
Induced labor and c-sections are all the rage among patients and doctors alike. They're also more expensive and dangerous than the alternative.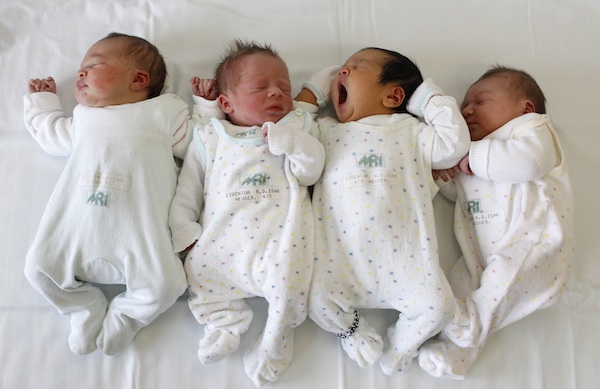 Roughly 9 months after conception, pregnancies end. And in the popular imagination, things proceed as follows: the woman is surprised when her water breaks, she is quickly put into a car, and en route to the hospital a telephone call is placed to the obstetrician, who is invariably roused from bed, Heathcliff-Huckstable-style, before departing to deliver the baby. Familiar! But unpopular too. Going into labor at an unpredictable moment is stressful for parents, being on call is loathed by doctors, and scheduled births, especially by cesarean section, are more profitable for hospitals. The result is that more than one in three American babies is born by cesarean section.
Use of the procedure increased more than 50 percent between 1996 and 2007, a HealthGrades study found, and in the Golden State, a recent California Watch investigation found that "women are at least 17 percent more likely to have a cesarean section at a for-profit hospital than at one that operates as a non-profit. A surgical birth can bring in twice the revenue of a vaginal delivery." As a fiscal matter, this is problematic: we're spending a lot more on childbirth than is necessary at a time when health care inflation is bringing us closer to fiscal ruin.
Were health outcomes improving, the extra expenditure would be worthwhile. But needless cesarean sections are actually harming women and babies alike. California watch found that hemorrhaging from C-sections "is one of several possible factors in the state's increased maternal death rate," with the main risk coming in women who have multiple c-sections. And other recent studies have found that early birth by c-section or inducing labor can do damage to infants, whose brains are developing right up until the end. All bad news -- but there's good news too.
"Starting Sept. 1, birthing may be a little less convenient for Multnomah County mothers and their physicians, but a greater percentage of the babies born here will be healthy as a result of a historic agreement reached this week among local hospitals," the Portland Tribune reports in a little noticed but significant piece of health care industry news. "All 17 Portland-area hospitals have agreed to put what they call a 'hard stop' on elective induction and caesarian section births before 39 weeks, unless those inductions are medically necessary." The story goes on to note that "induced births even one day before 39 weeks will now require patients to present their case to a designated arbiter at the hospital and prove that there is a medical reason why the early birth should take place."
In this undertaking, the participating hospitals will take a hit to their profits, make life less convenient for their doctors, and face greater difficulty efficiently allocating beds in the maternity ward. But they'll also turn out healthier patients. Kudos to the Portland's hospitals for doing the right thing.
Image credit: Reuters