What a Grain Co-op Can Teach Us About Changing the Food World
To make sustainability a reality, small producers might have to forge new coalitions—even with industrial giants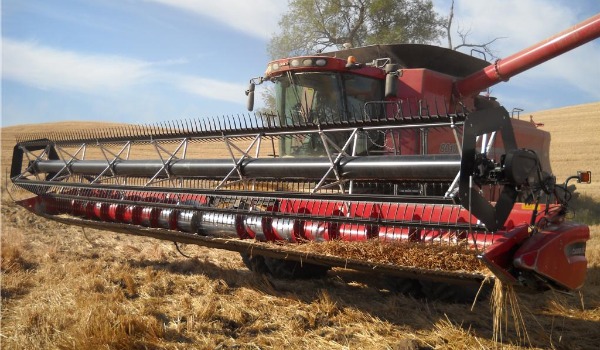 Wheat is not something I think about a lot. Sure, I prefer unbleached flour, and I vacillate between buying white and whole wheat, but, as with most things in food, when I began digging a little I realized wheat has a complicated life story.
One guy who has a lot of wheat history to share is Karl Kupers. Like many farmers I've met, he's homey but also sophisticated, a combination that seems necessary in an ever-consolidating world of farming.
Rather than buy up neighbors' acreage to become large-scale himself, however, Karl and his toweringly tall friend Fred Fleming formed a cooperative relationship 10 years ago with other farmers in Washington State and created Shepherd's Grain. Over 75 families—some of them even farming cooperatively with each other—sell portions of their wheat crop every year to this entity.
Besides joining forces to have some control over pricing, Shepherd's Grain is founded on the belief that not tilling wheat fields builds richer and deeper topsoil. Karl's view of no-till wheat farming is to "plant the seed, feed the soil." He is quick to point out how this approach is a paradigm shift from the now-more conventional practice of "plant the seed, feed the seed" (with chemicals). The co-op's approach has earned Shepherd's Grain's Food Alliance certification for sustainable farming and a "Growing Green" award from the Natural Resources Defense Council.
Last weekend I tagged along as Bon Appétit chefs made their annual pilgrimage to the Idaho border to cook a dinner to thank these farmers. The several wheat farmers I interviewed said their topsoil had doubled in 10 years since they stopped tilling, and the amount of pesticides and fertilizer needed had steadily declined by more than 30 percent. No-till farming introduces less oxygen in soil, which means fewer weeds, so herbicide use (and, more importantly, the toxicity level of those chemicals) has declined concurrently.
The 23-family Hutterite Colony near Reardon, Washington, grows wheat for Shepherd's Grain. Besides wheat, the farmers grow seed potatoes, non-genetically modified canola, and a wide variety of vegetables, and they raise farm animals for their own consumption. Like the better-known Amish and Mennonites, Hutterites dress plainly in homemade clothing, divide labor along gender lines, and have their origins in the Radical Reformation of 500 years ago. They speak English with Swiss-German accents, reflecting their longstanding insularity.
Despite outward appearances, though, the Hutterites have changed over time. I visited a colony living in what visually resembles a small suburban housing complex adjacent to the Hutterites' industrial facility in a very rural part of northeastern Washington. The three elements are striking in such close proximity. The group cooperatively owns farming equipment whose wheels are taller than I am, including a Spudnik potato harvester (the best-ever name for an industrial machine). I'm told it's an essential tool if you farm potatoes on a large scale.
And they do. As a group, they farm acres and acres of no-till wheat, which become part of Shepherd's Grain unbleached flour products.
The wheat is milled at the Continental Mills plant in Spokane, Washington, which I visited with my colleagues before prepping dinner. We followed the grain as it was sifted, sorted, and purified through many steps from the ninth down through the first floor. The plant was designed in the 1930s and has seen little change in ensuing decades—and gravity has always been the miller's best friend.
Had Continental Mills, owned by the $60 billion-dollar corporation Archer Daniels Midland, not accepted Karl's wheat, the Shepherd's Grain idea would have died before it could grow into a viable, regional concern. It took the willingness of a plant manager, who was only supposed to receive rail cars of wheat from nameless Montana farms to take a chance on a quirky experiment so it could thrive. What started as a secret kept from corporate headquarters is now publicly known and supported.
I came away from my weekend with some complicated questions. Can locally baked bread be called "artisanal" if the wheat is from cooperatively farmed wheat fields that end up processed by ADM? What if the opposite were true: if the wheat were milled in an employee-run facility but came from the commodity markets?
Perhaps the lesson is that there's no one path that can suit every region, especially now, with consolidation having left producers with only a few scalable choices. ADM may have bought up most large-scale mills over the last century, giving groups like Shepherd's Grain nowhere else to turn. But if a plant manager takes a political and operational risk, and makes it possible for a co-op that grows wheat responsibly to survive, is that bad?
Re-regionalizing our food system will surely mean creating new alliances, some with small entities wishing to grow bigger, some with large entities whose ways we often (rightly) criticize. Perhaps the most sustainable solutions will be those forged by individuals who need each other's support and resources, at interim steps along the way, regardless of the size of the entities they represent.
Image: Courtesy of Shepherd's Grain