Walking Is Healthy, So Why Isn't It Safer?
Many communities aren't pedestrian-friendly—so people have to choose between being unhealthy and being a bull's-eye
I suppose it should come as no surprise that sprawling, Sun Belt metro regions built completely around the automobile are the nation's most unsafe places to walk. In a new report analyzing traffic fatality data over the last 10 years, the nonprofit advocacy coalition Transportation for America has found that the top four "most dangerous" metro regions for pedestrians in the country are all in the state of Florida. Rounding out the top 10 are regions in Texas, California, Tennessee, Nevada, and Arizona.
Here are the 10 worst places to walk, according to the report:
Orlando-Kissimmee, FL
Tampa-St. Petersburg-Clearwater, FL
Jacksonville, FL
Miami-Fort Lauderdale-Pompano Beach, FL
Riverside-San Bernardino-Ontario, CA
Las Vegas-Paradise, NV
Memphis, TN-MS-AR
Phoenix-Mesa-Scottsdale, AZ
Houston-Sugar Land-Baytown, TX
Dallas-Fort Worth-Arlington, TX
From the organization's web site:
In the last decade, from 2000 through 2009, more than 47,700 pedestrians were killed in the United States, the equivalent of a jumbo jet full of passengers crashing roughly every month. On top of that, more than 688,000 pedestrians were injured over the decade, a number equivalent to a pedestrian being struck by a car or truck every 7 minutes.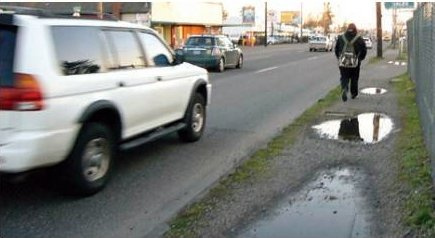 While pedestrian deaths are usually labeled as accidents by local authorities, Transportation for America believes many are, in fact, attributable to poor roadway design that fails to safely accommodate walkers. Because walking is proven to be good for our health, lowering obesity rates, many people in these unsafe areas are forced to choose between an unhealthy lifestyle or an unsafe one. Children, older adults, and racial and ethnic minorities are disproportionately represented in pedestrian fatalities.
The report updates previous data reported here and elsewhere. The new report may be downloaded in full here.
A tragic example of pedestrians put in harm's way by the lack of safe facilities was exposed nationally last month when Raquel Nelson, a working single mother in suburban Atlanta, was convicted of homicide after losing her four-year-old son while trying to cross a busy road after getting off a bus. My friend David Goldberg, who works for Transportation for America, put it this way in The Washington Post:
After a long bus trip with her three young children in April 2010, Raquel Nelson did what other bus passengers did that day, and had done so many days before: She attempted to cross the road from the bus stop, which is directly opposite her apartment complex, rather than walk a third of a mile to a traffic light, cross five lanes and walk a third of a mile back, lugging tired children and groceries.

The family walked without incident to the three-foot median in the road. As they waited on the median for a break in traffic, Nelson's son A.J. followed other adults who crossed ahead of them. He was hit by a motorist who fled and later admitted to having been drinking and taking painkillers. The driver spent six months in jail and is serving the remainder of his five-year sentence on probation. Nelson was sentenced last week to 12 months' probation, fines and community service...

Nelson was found guilty of killing her son by crossing the road in the "wrong" place. But what about the highway designers, traffic engineers, transit planners and land-use regulators who placed a bus stop across from apartments but made no provision whatsoever for a safe crossing? Those who ignored the fact that pedestrians always take the shortest possible route but somehow expected them to walk six-tenths of a mile out of their way to cross the street? Those who designed this road -- which they allowed to be flanked by apartments and houses -- for speeds of 50 mph and more? And those who designed the entire landscape to be hostile to people trying to get to work or carrying groceries despite having no access to a car? Are they not culpable?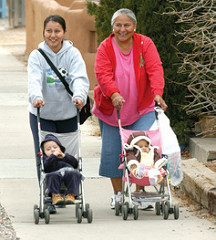 Whatever Raquel Nelson's legal culpability, I find it shocking that Atlanta officials chose to exercise their discretion to prosecute her for homicide.
When her story broke, I hesitated to write about it. David and other friends were reporting it well, and it was just too upsetting in some ways to write about. But the new report underscores why it is important to tell these stories.
As for Orlando, the region found most dangerous in the country, local officials told New York Times reporter Lizette Alvarez that "the data is [sic] somewhat skewed by the number of tourists who visit the state, which inflates traffic." Nevertheless, Alvarez reports that they are taking the matter seriously, building sidewalks, installing audible pedestrian signals, increasing traffic calming, modifying bus stops, creating overpasses, and improving lighting.
---
This post also appears on NRDC's Switchboard.
Images: Stephen Davis and April Bertelson via Transportation for America