Eating Their Words: How Food-Writing Collections Can Shape Us
A look at The Making of a Chef, Babette's Feast, and other books that determined the course of a food writer's evolution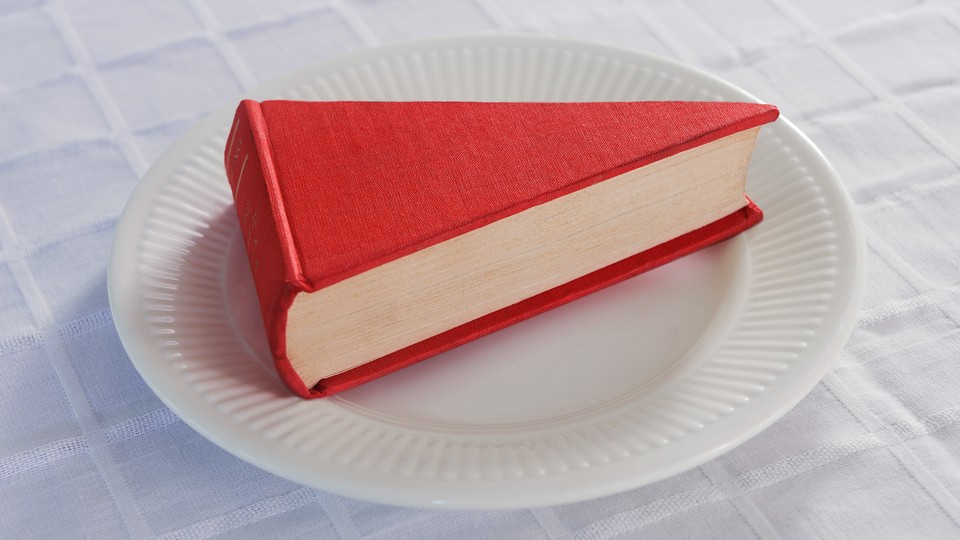 Most people become food writers because they love the pleasures of the table, or maybe even the craft of writing. I became a food writer because I loved books about food.
My love affair with the genre peaked when I was an undergraduate at the University of Chicago, a weird school whose unofficial motto is "Where Fun Comes to Die." Naturally, as a form of spirited competition, its library hosted an annual contest for bibliophiles, the T. Kimball Brooker Prize for Undergraduate Book Collecting, complete with a cool $1,000 prize.
I had begun collecting food writing in high school, at the suggestion of an English teacher: "Read Ruth Reichl and Jeffrey Steingarten. I think you'll like them." So I inhaled Tender at the Bone and The Man Who Ate Everything, reading them voraciously, stopping, naturally, only to eat. And these books became the appetizers for what would entice me.
By the time I entered college, I had amassed what I thought were an impressive 79 culinary titles. So I boldly entered my collection into the T. Kimball Brooker competition, along with an essay I titled "The Gastrophile's Library," wondering if the word "gastrophile" had been used in the past 200 years.
Before submitting my application, I researched previous winners. Titles of collections included "Alternatives to, and Defenses of, Mathematical Orthodoxies," "The Epistemology of Meaning and Communication," and "The Marriage of Philo and Sophia: Love and Knowledge in Medieval Islam and the European Renaissance." Was this contest actually a competition for writing titles for theses? To this day I don't know what constitutes an alternative to a mathematical orthodoxy, but some things in life are better left unknown.
Part of the application process required annotating the bibliography. It was time-consuming, but I began to see my culinary education unfold: Michael Ruhlman's The Making of a Chef had fascinated me, undoubtedly planting the seed for culinary school, which I would attend a few years later. I learned more about the pleasures of the table through Laurie Colwin's Home Cooking and Elizabeth David's Is There a Nutmeg in the House? Reading Brillat-Savarin for the first time made me understand the food writing category wasn't actually that new. Anthony Bourdain's Kitchen Confidential further sparked the eye-opening realization that kitchens weren't all fun and glamour. And then M.F.K. Fisher—or Mary Frances, as she had become to me—reassured me that they always could be.
Calvin Trillin made me laugh. Sidney Mintz's Sweetness and Power gave me a further glimpse into culinary history. Amanda Hesser's The Cook and the Gardener greatly inspired my own voice and narrative, and also led eventually to a friendship. (I sent a fan letter to the email address she gave in the author bio of Cooking for Mr. Latte. Luckily, she didn't think me a creepy fan-stalker.)
And as in any collection, some books remain our first loves; their prose seduces us. Babette's Feast, Isak Dinesen's novella, still touches me more than any other work that pertains to food. In it, her character General Loewenhielm states, "Every evening I shall sit down, if not in the flesh, which means nothing, in spirit, which is all, to dine with you, just like tonight. For tonight I have learned, dear sister, that in this world anything is possible." In the book, food and the meal represent more than the gustatory—that breaking bread with others is, perhaps, the most significant thing man can do. This sentence, one of my favorites in all of food writing, formed the basis of my essay for the contest. It represented why I started my food writing collection, why I transitioned from reader to writer, and why I eventually wrote Four Kitchens, my memoir of working in restaurants around the world.
At the time of the contest, I had never thought that these books would lead me to my career. I just wanted the prize money and maybe a little glory. So I beamed when "The Gastrophile's Library" survived the first round of the contest. Round two required a visit by the judges to my off-campus apartment to verify my collection. They seemed impressed. And just as anyone who enters a contest believes he will win, I, too, was convinced of victory. Yet two weeks later, I learned that "The Gastrophile's Library" didn't cut the mustard.
Instead, the esteemed judges crowned the "Languages and Linguistics of the Former U.S.S.R." as the winner. The collector, a pale girl with wire-rimmed glasses and a rather Soviet style of dressing, claimed her prize while I watched enviously from the back row of the library's auditorium.
As a runner-up, I suffered through my rival's triumph at an intimate celebration dinner held in the library basement. A consolation prize, they said. Librarians pontificated on the importance of books and the joy of collecting. Wine and words flowed.
Waiters served juicy steaks, twice-baked potatoes with perfectly crisped tops, and green beans the color of wet moss. The irony of this meal was not lost on me; in the chapter "S is for Sadness" in An Alphabet for Gourmets, M.F.K Fisher writes, "Most bereaved souls crave nourishment more tangible than prayers: they want a steak. What is more, they need a steak. Preferably they need it rare, grilled, heavily salted, for that way it is most easily digested, and most quickly turned into the glandular whip their tired adrenals cry for." And so, eventually, I too was sated.