When Cigarettes Were Glamorous
A new exhibition recalls when smoking was the world's favorite vice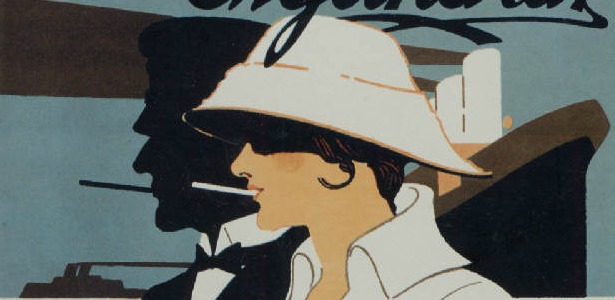 The New York Times antiques column reports an exhibition at the Virginia Museum of Fine Arts of a time capsule of elegant tsarist bling:

Arthur and Dorothy McFerrin, chemical magnates in Texas who have been avidly buying Fabergé since 2005, have lent pieces that they acquired in 2009 at Sotheby's in London. At the auction heirs of Maria Pavlovna, an aunt of Nicholas II, sold about 100 of her bejeweled cigarette cases and cufflinks.

The McFerrins' cigarette cases, made of palisander wood, chartreuse enamel, diamonds and gold, cost up to about $1 million each at Sotheby's.

The Pavlovna trove turned up three years ago in a forgotten vault in Stockholm; Swedish diplomats had protected it from Bolshevik looters. The provenance and authenticity are ironclad, which is rarely the case for Fabergé that appears out of the blue.
Though tobacco is presumably still a leading Virginia crop, the museum's web site doesn't include the cases among the exhibition images, but they're shown here.
There was once a democracy in the tobacco habit, enslaving grand duchesses and assembly line workers alike. Eradicating the glamor of smoking has been one of the successes of health advocates. I have not been able to find a cigarette case in current production on the web sites of either Tiffany or Cartier.
As Christopher Calwell wrote in the Financial Times about graphic cigarette-pack warnings, noting government dependence on cigarette taxes, increasingly paid by those who can least afford them:

One doubts that those who belong to the class of American regulators know any present-day smokers at all. That may explain why there is such a strong element of hypocrisy in these adverts, of an "I'll knock some sense into you" arrogance trying to pass itself off as a sincere compassion.

Is the fatal magic of cigarettes truly dead then, replaced by shared social stigma? Who knows, perhaps Damien Hirst will yet revive the Romanov-Fabergé genre with the government warning photos rendered in semiprecious stones and rare woods.
Image Credit: Wikimedia Commons