Food Fights in Aspen: Fats, Labels, and the Toxic-Sugar Debate
Highlights from the food events at the Aspen Ideas Festival, including controversial speakers and a bacon/M&M smackdown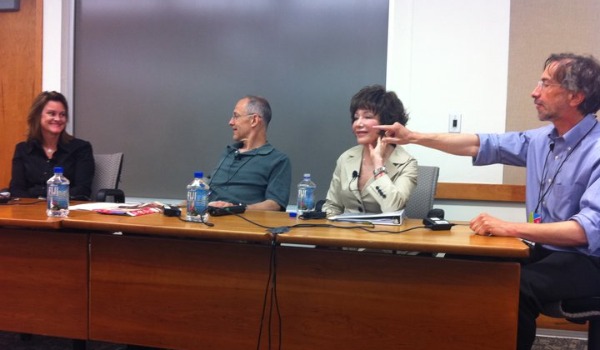 The "track" at the Aspen Ideas Festival this year was called Food Fights, and though there was the potential for plenty of them, audience members familiar with the generally pugnacious stance of many of the panelists might have come away slightly disappointed that there were no pre-Fourth fireworks. I moderated and helped assemble five panels, and was pleased that matters got no more than a bit contentious—pleased because I was more interested in light than heat.
One of the most controversial speakers, Gary Taubes, had what turned out to be one of the most informative sessions of all, because it was just him answering questions from the audience and me for over an hour. Taubes is known for his science reporting, including "Fields of Fear," his 1994 Atlantic piece about electromagnetic fields (we met when I edited the piece), and his book, Good Calories, Bad Calories, in which he lays out his argument that the periodically popular, now widely controversial low-carbohydrate, high-protein, high-fat diets are in fact the most conducive to weight loss, because high carbohydrate consumption can interfere with the efficient regulation of fat by insulin. This goes in the face of nutritionists who believe that the eternal verity is that weight is inexorably a matter of calories in and calories out. His pointing out that randomized control trials demonstrate that people can lose weight by piling on steak and bacon and cutting out potatoes and bread—very 1960s advice—infuriates cardiovascular disease researchers as well as nutritionists. (A New York Times Magazine excerpt of the book used the cover line "What If Fat Doesn't Make Us Fat?".) He's summarized his long, heavily scientific book in the recent Why We Get Fat, which ends with a diet plan from a Duke University clinic that treats severely obese and diabetic patients with the kind of plan he writes about.
Most of the attendees who crowded the room were there not for sanction to eat limitless amounts of bacon but to hear, quaking, if they indeed had to cut out sugar altogether, as his recent Times Magazine cover story called "Is Sugar Toxic?" implied. I brought along a plate heaped on one side with strips of dark, crisp bacon and covered on the other half with a clear jar full of M&Ms and placed it before us, to see which Taubes and audience members would devour first. (I knew I fell on the sugar side of the plate; Taubes was disappointingly restrained.) The story posits that sugar is not only linked to diabetes and obesity but could also lead to "heart disease, hypertension and many common cancers."
No one wants to hear this news—predictably, Taubes received hundreds of emails immediately following the publication of the article, and a number of them were angry. But they do want to hear the reasons, and the length of the panel gave Taubes some time to describe hormonal regulation of body fat, and to make the case for scientists whose work was eclipsed by the school that in the 1970s and '80s demonized fat and either implicitly or explicitly sanctioned high compensatory carbohydrate consumption—exactly what Taubes thinks has led to the obesity epidemic, along with the profusion of high-fructose corn syrup, which he considers to be just another form of sugar.
I don't know how many minds got changed: as is inevitable, many questioners wanted to know just what Taubes eats, and he prefaced his answer by saying that was irrelevant. (He's very fit, and he doesn't eat very many carbs.) But I, and I think many others, am convinced by his call for large-scale, long-term studies of the effects, good or bad, of low-carbohydrate and high-protein—which, as a fellow conference attendee who swears by Good Calories, Bad Calories and lost 30 pounds after he read it pointed out, means high-fat—diets on heart disease, diabetes, and cancer. I did notice that a number of the people who came up to ask Taubes questions, once assured that the bacon had been cooked just a few hours before, cleaned the plate, and no one took an M&M; I had to look for a naive population outside the session to clean out the bowl (it didn't take long).
Other panels took on light, easy-to-solve matters like obesity, salt, and how to fix school lunch. I moderated the school lunch panel, which featured Robin Scheppers, who just left her position as executive director of the First Lady's Let's Move initiative, and the always-entrepreneurial and innovative Robert Egger, of DC Central Kitchen, whose work has attracted numerous Life channel contributors, including José Andrés and Zeke Emanuel, who trained there along with, as he put it "ex-cons"—a term I knew instinctively to be un-PC, and which Egger gently corrected me as being better put as "returning citizens." (He wasn't so gentle about "lunch ladies": even if our Kate Adamick praises the "increasing number of courageous American lunch ladies who recognize that USDA guidelines are the insidious result of corporate lobbying and not just a standard to be met for federal funding" as "hardworking and little-recognized frontrunners in the world of school food reform," Egger declared the term sexist and verboten.)
The revelation to me was my belated introduction to the work of Revolution Foods, whose hybrid public-private funding particularly interested me. Revolution, named before celebrity chef Jamie Oliver's TV series about school food—it started in 2005—serves healthful and reimbursable lunches in schools in the Bay Area, where it began, southern California, Denver, and Washington, D.C., and has plans to expand as fast and as far as it can manage. Only local people work in each area; there's no imposing one meal system from above. "We do not use lunch ladies," Richmond said adamantly. "We hire parents, grandparents, aunts, people who are deeply vested in the community." The company brings some of its veterans in to each area it serves to hold annual "Revolution Foods Universities" to train workers in food standards and hear what students and local workers have to say about meal acceptance. It's a model, and a company, I want to know much more about.
The panel with the highest explosive potential was my last, on food labeling. Two panelists in particular have been on the opposite sides of arguments, or their companies have been. Lynda Resnick, who along with her husband, Stewart, is a patron of the Aspen Institute and numerous museums and hospitals, and is now concentrating her efforts on improving the life and infrastructure of the Central Valley town of Lost Hills, where the Resnick's company, Roll International, has some of its vast agricultural holdings. She and her team founded POM Wonderful and own Fiji water, among other companies, which come in for their share of criticism of many kinds—criticism the company doesn't take lightly. They in turn criticize big beverage companies that, in their view, put deceptive information on their bottles about the actual content of fruit juice their beverages contain. So naturally I invited Dondeena Bradley, vice president of global design and development for nutrition ventures at PepsiCo, to join in the fun.
The subject wasn't outright deception, though, and the goal wasn't a debate between big and super-big and mega-big—Leslie Dach, who has led Walmart's efforts to improve nutrition and reduce sodium in its private-label foods, which I wrote about here, was also on the panel. It was to talk about which pieces of information will be most useful to rushed customers interested in healthier food to see on the front of the package. Zeke Emanuel described some of the thinking from his time as special adviser for health-care policy to President Obama, and Dr. Judith A. Salerno, executive officer of the Institute of Medicine, assured the audience that the IOM's report on FOP, as front of pack is called, information will come out in October.
Even if there were no explosions, the potential for them made the panel the liveliest and fastest-paced of any I led. Points that stuck with me: Dach's statement that Walmart's "big model is to be indifferent to what we sell—we're as happy if people buy an apple" as something unhealthy, and to "drive more sales to whole-grain foods, not just eliminate the price premium" for them that Walmart has pledged to abolish. And the view held by several panelists that "regulation is a game—every manufacturer will look to make an end-run around regulations." Resnick pointed out that Roll, a privately held company, can make changes as fast and extensively as it chooses to and when it chooses, unlike publicly held companies. And she introduced me to a new term I should have known and plan to use (for, needless to say, other people's beverages): bellywash.
I hope we'll post video from that and other panels soon. Meanwhile, please read my colleagues' excellent coverage of the Ideas Festival, collected here, and don't miss James Fallows's picture of the Atlantic Live team that worked night and day to make it possible, at the end of this post. None of us would have gotten there, let alone gotten back, without their constant, no-sleep work.
Image: Bill Resnick