Chart: The Cost of Chronic Overfishing vs. the BP Oil Disaster
Overfishing occurs without much drama. But as the numbers show, its impact on fish is Deepwater Horizon-sized—and then some.
Overfishing occurs without much drama. But as the numbers show, its impact on fish is Deepwater Horizon-sized—and then some.
It comes up again and again: this species is overfished; that species is overfished; sharks, Chilean sea bass, lobsters, bluefin tuna—all overfished. (And those are just a handful of them.) But it's rare to find a precise measure of the economic cost of overfishing, which is just what the Pew Environment Group has come up with in its new (if somewhat unsexy) report, released this week, "The Hidden Cost of Overfishing to Commercial Fishing."
The study, which was conducted on behalf of Pew by the environmental think tank and economic analysis firm Ecotrust, calculates that commercial fishermen in New England, the South Atlantic, and the Gulf of Mexico lost $162.4 million in 2009 as a result of the historical overfishing that has left fisheries nationwide severely depleted. It also offers an alternate, less conservative estimate of $222.5 million. The report adds that across all three regions, only 20 to 29 percent of potential fish landings were realized in 2009 relative to the number of landings that would have occurred without overfishing.
But what do those numbers actually mean? I found them hard to interpret, so I put together the following chart, which shows how they compare relative to the impact of last year's Deepwater Horizon oil disaster on commercial fishing revenues in Louisiana: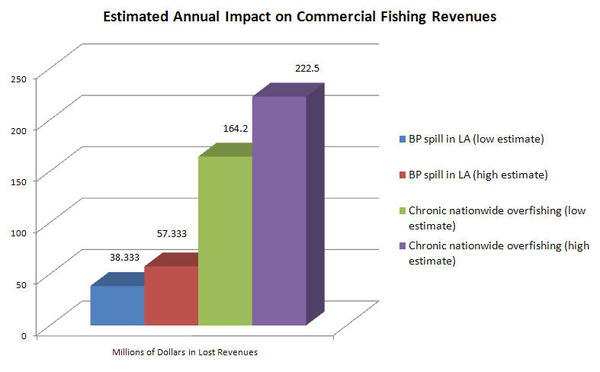 To sum up: On average, chronic overfishing costs U.S. commercial fishermen about four times as much each year as the Deepwater Horizon spill is projected to cost the commercial fishermen of Louisiana in an average post-spill year. (The Louisiana data come from a report
released last October
by Greater New Orleans, Inc., the economic development alliance for the Greater New Orleans region, which estimated that from 2011 to 2013, the disaster would lead to a statewide commercial fishing revenues loss of $115 million to $172 million.)
There's more detail in the Pew report, as well as info on which fish species are most depleted. It's all worth a read. But it's all overshadowed by the following realization. Imagine that three oil rigs have just exploded—a small one in the Gulf, a small one in the South Atlantic, and a big one in the Northeast, the region where fisheries have been hit hardest by far. Now imagine that, going forward, this will take place every single year, and that the rigs will only get bigger. Economically speaking, that's more or less what overfishing has wrought.