A Conversation With Rebecca Onie, CEO of Health Leads
The latest installment in our series of exchanges with experts in health, design, food, travel, and sustainability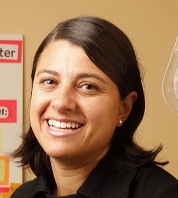 As a sophomore at Harvard, Rebecca Onie was already revolutionizing Boston's health care system by co-founding Project HEALTH, now called
Health Leads
, at Boston Medical Center. Fifteen years later, as Health Leads's CEO, she's breaking the link between poor health and poverty by mobilizing an energetic yet unusual group of health workers: ambitious college students. Her organization, which today serves six cities, teaches student volunteers to help low-income patients fill social "prescriptions" such as better food, housing, and job training.
Onie also received a degree from Harvard Law and worked briefly as an attorney in Chicago. Since returning to Health Leads in 2006, she has been honored as one of TIME magazine's 100 most influential people, a MacArthur Fellow, and a member of O, the Oprah Magazine's "Power List" of women who are "changing the world for the better." Here, she discusses non-medical needs that are nonetheless critical to health, how young people can improve patient care, and her perfect pump-up song.
What do you say when people ask you, "What do you do?"
Health Leads' ultimate goal is a health care system in which doctors are able to prescribe solutions that improve health, not just manage disease. Every day, doctors in poor communities across the U.S. prescribe antibiotics to patients who have no food at home or are living in a car. Of course, medicine alone won't solve these problems, and many of these patients will return with more serious—and more expensive—illnesses.
In the hospitals and health centers where Health Leads operates, doctors can "prescribe" healthy food, safe housing, exercise programs, or other key resources—just as they would medication. Families then take their prescriptions to the clinic waiting room, where Health Leads's corps of 1,000 college volunteers work with them to access these resources in their communities. Nearly 60 percent of Health Leads patients secure at least one critical resource—receiving food, getting their heat turned back on, finding a job—within 90 days of getting their "prescription."
What new idea or innovation is having the most significant impact on medicine or public health?
The medical home model—now a darling of the national health care dialogue—is not new in concept, but is being embraced by health care institutions in ways that may give it real life. The rather obvious idea that patients must be treated comprehensively to achieve better health outcomes is revolutionizing the way that clinics structure their care protocols, their staffing structures, and even their physical design. In many ways, medical homes represent the long overdue integration of "medicine" and "public health," bringing services that address the non-medical but health-critical needs of patients into the clinic itself.
What's something that most people just don't understand about your field?
These days, health care in the U.S. seems so messy: expensive, impenetrable, bureaucratic, and partisan. What people don't see as readily is that what is needed to move the needle on health outcomes is often quite simple. Health Leads's model, for example, is straightforward, cheap, and effective: We're demonstrating that a desk in a clinic waiting room staffed by a couple of college volunteers can empower health care providers to ask their patients a whole new set of questions—and begin to transform the health care system into one that is actually responsive to the full set of factors that impact health.
What's an emerging trend that you think will shake up the health care sector?
With millions of new patients entering the health care system with coverage provided by the Affordable Care Act, the primary care workforce shortage is increasingly dire. At the same time, clinic infrastructure to address the complex needs of those patients is nearly non-existent: At New York-Presbyterian's Washington Heights Family Health Center, for example, there is one social worker for 47,000 low-income patients. Faced with this profound capacity constraint, the U.S. has the opportunity to tap a trend long utilized in global health but only recently gaining momentum domestically: clinic extenders. From community health workers to Health Leads's own college volunteers, the emergence of non-traditional health care workforces could be game-changing.
What's a health trend that you wish would go away?
The health care system continues to focus disproportionately on "care" at the expense of "health." Because Medicaid does not generally reimburse for social workers, case managers, or community health workers under the prevailing "fee for service" payment structure, each clinic must carve out precious discretionary funds from its operating budget for this purpose—resulting in limited capacity to address the real factors impacting patient health.
The challenge becomes self-perpetuating. Overburdened case management staff focus on crisis cases, lacking the time and capacity to attend to other patients and document their needs (and resolutions of their problems). Absent this data, it is impossible to build the business case for these activities.
Over the past two years, certain forces have been set in motion that create an unprecedented window to redefine what the U.S. health care system pays for and thus the scope of care provided. I would like to see a system that is willing to make preliminary investments in interventions that stretch the boundaries of what we currently understand as health care.
What's an idea you became fascinated with but that ended up taking you off track?
When Health Leads launched in 1996, the notion of obesity and asthma epidemics was just creeping into the public consciousness. At the time, Health Leads created and implemented novel disease education programs for youth with asthma, diabetes, sickle cell anemia, and other chronic medical conditions. While popular with our volunteers and physician partners, the programs did not yield the compelling, cost-effective results necessary to justify their costs. Eliminating these programs was a painful decision, but ultimately empowered us to focus our resources on the work of creating patient resource connections and to be as deliberate about what we choose not to do as what we choose to do.
Who are three people in the fields of medicine or public health that you'd put in a Hall of Fame?
Dr. Atul Gawande: An extraordinary narrative storyteller for the health care field, Dr. Gawande makes the opaque and arcane aspects of health care comprehensible to the public, policymakers, and thought leaders alike. When we are tempted to turn and run from the onslaught of the health care debate, he coaxes all of us back into the conversation.
The Mayo Clinic Center for Innovation Team: In 2008, the Mayo Clinic made the unconventional move of hiring a team of architects, graphic and product designers, and other systems thinkers to re-imagine health care delivery. Already, this team has produced innovations that could dramatically alter the way all patients experience health care.
Dr. Barry Solomon, Medical Director at Harriet Lane Clinic, John Hopkins Children's Center: One of my mentors often says, "Ideas don't change the world. Execution does." Dr. Solomon's tenacity in translating the concept of a medical home into front-line clinical practice is unparalleled. His in-the-trenches tactics—such as ensuring that providers complete Health Leads's patient resource needs screening tool by stapling it to the patient billing sheet—exemplifies the kind of leadership necessary to change health care delivery.
What other field or occupation did you consider going into?
When I founded Health Leads as a sophomore in college, I thought I wanted to be a lawyer. After deferring law school for three years to grow Health leads from Boston to Providence and Harlem—and with my LSATs about to expire—I reluctantly left for law school, hungry for expertise and enamored with the legitimacy I thought a degree could provide. After a brief stint as a lawyer, I realized that a discipline that assumed the inevitability of conflict and insisted on incremental change was not for me. And so I returned to Health Leads, with the aspiration to leverage my outsider's perspective to disrupt "business-as-usual" in the health care system.
What's one website or app you wish more people knew about?
Check out the website for the Robert Wood Johnson Foundation's Commission for a Healthier America (http://www.commissiononhealth.org/). Brimming with useful research and models that work, it is a powerful reminder that so many solutions are already at our fingertips.
What song's been stuck in your head lately?
Usher's "Yeah"—a song worth dancing to! Changing health care requires a great soundtrack.
Image: Courtesy of Rebecca Onie