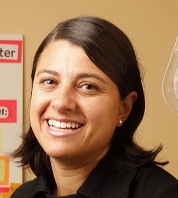 As a sophomore at Harvard, Rebecca Onie was already revolutionizing Boston's health care system by co-founding Project HEALTH, now called Health Leads, at Boston Medical Center. Fifteen years later, as Health Leads's CEO, she's breaking the link between poor health and poverty by mobilizing an energetic yet unusual group of health workers: ambitious college students. Her organization, which today serves six cities, teaches student volunteers to help low-income patients fill social "prescriptions" such as better food, housing, and job training.
Onie also received a degree from Harvard Law and worked briefly as an attorney in Chicago. Since returning to Health Leads in 2006, she has been honored as one of TIME magazine's 100 most influential people, a MacArthur Fellow, and a member of O, the Oprah Magazine's "Power List" of women who are "changing the world for the better." Here, she discusses non-medical needs that are nonetheless critical to health, how young people can improve patient care, and her perfect pump-up song.
What do you say when people ask you, "What do you do?"
Health Leads' ultimate goal is a health care system in which doctors are able to prescribe solutions that improve health, not just manage disease. Every day, doctors in poor communities across the U.S. prescribe antibiotics to patients who have no food at home or are living in a car. Of course, medicine alone won't solve these problems, and many of these patients will return with more serious—and more expensive—illnesses.