Two Must-Buy Father's Day Gifts for Non-Foodies (One Food, One Non-)
Our expert recommends a book of essays and recipes—including, of course, beer-can chicken—and a stylish accessory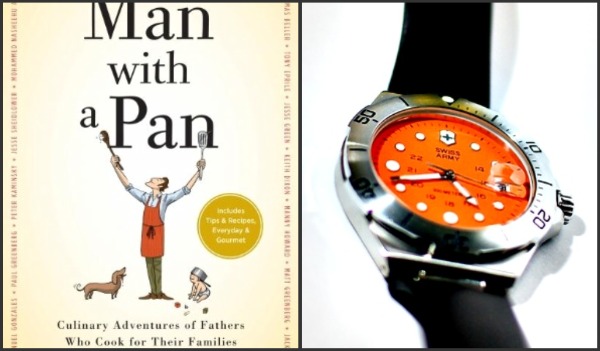 Q. A reader in Washington asks: When I was growing up I gave my dad a Father's Day present, but my mother certainly didn't. Now, though, my husband gives me a Mother's Day gift, so I have to get him a present too. He doesn't cook, or not as much as I'd like him to given that we've got two boys. So I'm not looking for a gadget, even though he does like design. Something to get him more interested in going into the kitchen on a weeknight?
I admit: I don't get the custom of giving your spouse a gift that's supposed to come from your child. But maybe your own children aren't old enough to think of making something endearingly misshapen, and anyway this gives you an excuse to get a pointed gift--one that's a little subtler than the vacuum cleaners I've heard friends say, still incredulously, they've gotten from spouses. So, two ideas, one kitchen-related but not too directive, and one very far from a vacuum cleaner, or even from a cooking tool that, however nicely designed, says, "Get back where I need you to be."
The obvious gift for your reluctant-cook husband is Man With a Pan, a book of wonderfully written essays edited by John Donohue, a New Yorker editor (like a recent Talk of the Town piece? Thank him, I say as an editor) and cartoonist and enthusiastic cook. His own blog, Stay At Stove Dad, is full of recipes and accounts of cooking for his wife and two daughters—and, often, with his friends, who include pretty much everyone cool and interested in food and writing in New York City, by which I of course mean Brooklyn. Compiling an anthology on the same subject must have seemed a natural next step, though as someone who has done similar work I can say I'm sure it wasn't a very easy one.
He makes it look easy. For anybody who likes funny and good writing, the book is like Crackerjacks, which of course you're allowed to stock—you can eat whatever you want, this is a guy's book. There are stars like Stephen King, about whom nothing would surprise me and certainly not his attraction to the microwave or his general good sense about cooking ("I can respect the food even if I'm not especially crazy about cooking it"), Jim Harrison, Mario Batali ("If you ask my son Leo what his favorite thing to eat is, his flat-our response is, 'Duck testicles'"—what an intro), and the Marks Bittman and Kurlansky. There are very frank accounts of hating to cook and resenting prep time to grind toward putting dinner on the table, which I suspect will sound familiar. (Maybe you shouldn't show him the link to my favorite food-related essay of this year, a cri de coeur from my friend Pete Wells about the near-impossibility of holding down an incessantly demanding job and cooking at anything like the standards you want to, or cooking it at all. It became the basis for a really thoughtful discussion between Donohue and Wells that you might be able to use to empathetically ease your husband back into the kitchen.)
But most of all there's terrifically engaging writing, like an irresistibly funny piece by Paul Greenberg on trying to save money by catching and cooking fish—not as easy as it sounds when you live in Manhattan, even if you're good at both—and cartoons at the end of most chapters that make leafing through the book a pleasure. And a lot of really practical stuff, too, like reading suggestions (on barbecue, for instance, after the inevitable recipes for beer-can chicken and three-day ribs--surely your husband does BBQ with your boys) and plenty of recipes. If Man With a Pan doesn't send him back into the kitchen, it will give him good reading—and re-inspire you to actually enjoy cooking for your family.
And aren't the best gifts the ones you want to give yourself? That's what I think I'm getting, giving in to an itch I've had since I went to BaselWorld, an unbelievably serious, crowded, and luxurious watch fair I got happily schlepped along on last March with our dervishlike publisher, Jay Lauf. When I wasn't holding macaron smackdowns with Mark McKlusky, a fellow boondoggler, I was listening to presentations about watch collections from people very able to talk very well, and at length, about their new lines of beautiful, elaborate, intricate, boldly and classically designed watches.
I didn't go in thinking I'd add "persuasively" to the list, as I associated watches almost exclusively with my father: He not only owned several handsome ones, he collects pocket watches, and even presented me with an especially beautiful one on a recent birthday. But since I started carrying a cell phone (now, yes, two), I stopped wearing watches. I'd put the Howard pocket watch I carried on a fob all through high school through the washing machine twice, and after the second time decided to keep better care of the one item in my possession from a grandfather I never knew. And I'd relegated the many watches I bought during the pre-cell era, because I loved their design (especially from M & Co), to a drawer.
But insidiously, the desire grew. I started looking at watch ads in magazines and newspapers. I started looking at the watches people my age and younger, people who can't remember not carrying cell phones, chose and even asking about them. I started coveting expensive watches, and feel sure I'm destined to get one before the year is out—even if, as I also have in my near future, I maneuver my father into presenting me with another example from his collection when I visit him for Father's Day this weekend. Watches are meant to be heirlooms of the future, after all—so you can justify changing course and indulging your husband's love of design by telling yourself you're really getting something for one of your sons.
My own attitude changed down the street from BaselWorld, in an Internet cafe where as I caught up on email I was more or less transfixed on the young couple at the next table. They'd pulled over a big armchair, and the young woman—she couldn't have been more than 19—had draped her strapping young beau across it while she sat on his lap presenting him with a series of oversized and token-y birthday presents. They were literally wrapped up in each other, a mesmerizing interlude interrupted only when she made him sit up to unwrap her last and most serious present, a small cubical plain cardboard box. Inside it was a very large watch (I'd already learned that very large watches are in), which she wrapped around his wrist and fastened. I stayed transfixed while many of the customers pointedly looked away—we were, after all, in Switzerland. But I did realize that watches haven't gone anyplace. And if spouses have to give each other Parent's Day presents, why not enjoy it?
---
To submit a food, drink, or restaurant advice question for Corby's next column, email askcorby@gmail.com.
Images: Algonquin Books, jiannone/flickr
A.